Ad Hoc Committee on Divestment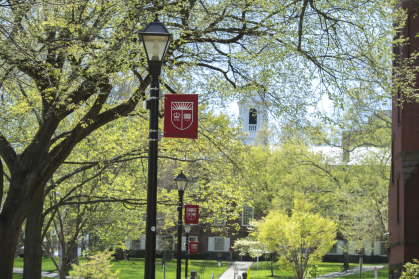 Charge
In spring 2020, a group of Rutgers students submitted a request that the university divest from fossil fuels. The chair of the Joint Committee on Investments (JCOI) and the Chief Financial Officer made a preliminary determination that the students' request appears to meet the standards outlined in the Investment Policy and recommended the establishment of an ad hoc committee to advise the JCOI on the divestment request.
The Ad Hoc Committee on Divestment, chaired by Senior Vice President for Strategy Brian Ballentine, responded to its charge by assessing the views of the university community, carefully considering the ethical and fiduciary responsibilities of the investment committee and the boards, and recommending appropriate next steps. The ad hoc committee committed to conducting an inclusive, thoughtful review process that can serve as an example for future reviews.
Ad Hoc Committee Recommendations
The Ad Hoc Committee on Divestment completed its final report in February 2021, proposing the following recommendations:
Cease all new investments in funds whose strategy is focused on fossil fuel investments
Divest from passive index funds with exposure to fossil fuel investments within one year and reinvest in environmentally friendly versions of those indices. In addition, actively seek new investment opportunities in renewable energy and energy efficiency categories provided they deliver competitive rates of return
Exit all currently held private fossil fuel investments within 10 years, or as soon as practicable
Because some commingled funds may hold minimal exposure to fossil fuels, emphasize the university's stance on this topic to investment partners, urging them to review their own processes and decisions regarding the inclusion of such assets in client portfolios.
Resolution
 On March 9, 2021, acting upon the JCOI's endorsement of the ad hoc committee recommendations, the Rutgers Board of Governors and Board of Trustees approved a resolution to divest from fossil fuels.
Ad Hoc Committee on Divestment
Brian Ballentine, Chair
Senior Vice President, Office of University Strategy
Michael Barnett
Professor, Rutgers Business School–Newark and New Brunswick
Enobong (Anna) Branch
Senior Vice President for Equity
Joanne Ciulla
Professor, Rutgers Business School–Newark and New Brunswick; Director, Institute for Ethical Leadership
Sarah Dadush
Professor, Rutgers Law School
Adam Day
Associate Vice President and Associate Treasurer, University Finance and Administration
Shaunak Kale
Student, Rutgers University Student Assembly
Abhi Kaneria
Student, Rutgers University–Camden
Jason MacDonald, ex-officio
Chief Investment Officer, University Finance and Administration
Sacha (Alexandra) Patera
Associate Vice President, Corporate Engagement Center
Cymie Payne
Associate Professor, School of Environmental and Biological Sciences and Rutgers Law School
Jacob Russell
Professor, Rutgers Law School
Menahem Spiegel
Professor, Rutgers Business School–Newark and New Brunswick; member, Rutgers University Senate
Jordan Warner
Student, Rutgers University–Newark
Zunaira Wasim
Student, Rutgers University Student Assembly

Robert Roesener
Associate Vice President and Deputy General Counsel, Office of General Counsel
Jennifer Soyka
Associate General Counsel, Office of General Counsel
Kristen Baker
Executive Assistant, Office of the President