Information for Faculty and Staff
The Future of Work at Rutgers
The Future of Work Task Force was established by president Jonathan Holloway to focus on lessons learned during the COVID-19 pandemic and how those lessons can be utilized to support the evolving needs of the Rutgers community. The task force aims to create a caring, inclusive, and respectful work environment, where employees are engaged, productive, valued, and rewarded for their contributions.
Culture of Caring Toolkit
Culture of Caring is a series of digital and printed assets that encourage a responsible, healthy post-pandemic community. Messaging includes masks welcome, test to know, and recover at home but does not have direct COVID-19 language. 
You are welcome to help elevate and share these messages in your schools and units. Printed fliers will be displayed on bulletin boards throughout all campuses in student centers, libraries, rec centers, computer labs, and residential halls. Screens will also be updated in student centers.
This toolkit includes posters, fliers, screens, and social media graphics for you to display in your schools, units, and areas.
 
Please help keep our community safe and breed a culture of caring.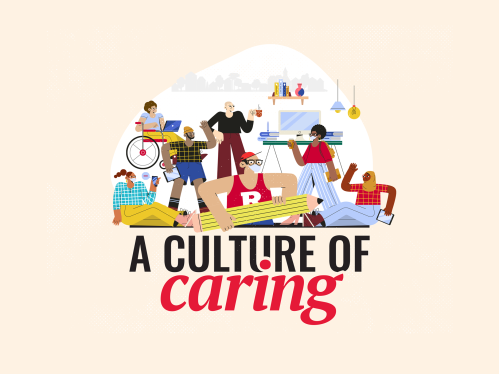 COVID-19 Vaccination
The university requires all employees to be vaccinated against COVID-19 or have an approved medical or religious exemption. Complete vaccinations records must be uploaded to the Rutgers Vaccination Portal by January 4, 2022. In addition, all employees, except those with previously approved medical or religious exemptions, will be required to receive a vaccine booster and upload proof of same.
Navigating Our Classrooms and Student Spaces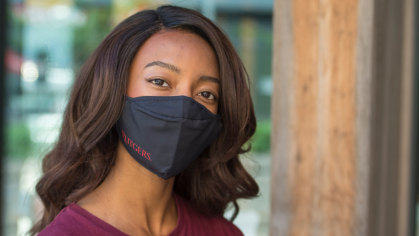 The Navigating Our Classrooms and Student Spaces guide offers faculty and student information for classrooms, residence halls, libraries, and other campus spaces. This quick reference guide offers a high-level view of information pertaining to spaces, transportation, face coverings, vaccination, and testing, among other things.
My Wellness App Now Available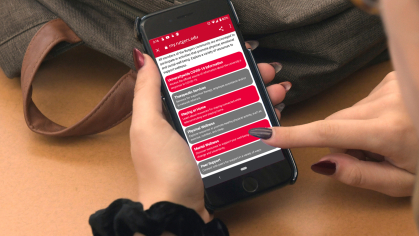 The My Wellness app is nowavailable within the Rutgers University mobile app and within the myRutgers portal. The purpose of the app is to support the physical, emotional, and social well-being of Rutgers employees by providing quick and easy access to wellness content from your mobile device.
Health and Safety Resources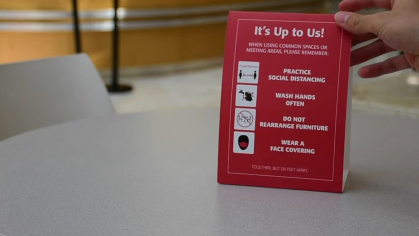 Please visit coronavirus.rutgers.edu for health and safety information and to learn more about what Rutgers is doing to ensure a safe return to campus.
Returning to Rutgers Safely: The Three Ws
Returning to Rutgers safely will require everyone's cooperation. Follow the three Ws: Wear a mask; Watch your distance; Wash your hands.
Returning To Rutgers Safely: Building Signage
Rutgers buildings are now outfitted with signage reminding people of how to socially distance properly.
A Conversation on the COVID-19 Vaccine and Campus Repopulation Efforts
Recorded on Friday, January 8, 2021. Sherri-Ann P. Butterfield, Executive Vice Chancellor at Rutgers University-Newark, moderates a conversation about the COVID-19 vaccine and the repopulation of Rutgers with Vicente H. Gracias, M.D., Rutgers Vice President for Health Affairs, and Antonio M. Calcado, Rutgers Executive Vice President for Strategic Planning and Operations and Chief Operating Officer.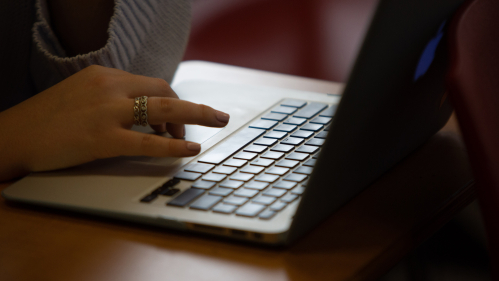 Return to Rutgers Tech Checklist
As you plan your return to campus, take a look at these technology reminders and resources. 
Prohibition of Cannabis on Rutgers Property
Cannabis remains illegal under federal law and, therefore, is prohibited on Rutgers property. The prohibition of possession and use of cannabis applies to students, employees, and visitors while on Rutgers property and at university events.
Transportation and Parking
Faculty Resources and Online Tools