Prohibition of Cannabis on Rutgers Property
The New Jersey Cannabis Regulatory, Enforcement Assistance, and Marketplace Modernization Act decriminalized the possession and use of cannabis and hashish for individuals 21 years of age and over in the state of New Jersey. However, cannabis remains illegal under federal law and, therefore, is prohibited on Rutgers property. 
For Rutgers and other public universities, receipt of federal funds in the form of student loans, grants, and research support is conditioned on our compliance with federal drug laws. 
Frequently Asked Questions
This prohibition of possession and use of cannabis applies to students, employees, and visitors while on Rutgers property and at university events.
The following resources and FAQ are provided to ensure our community is aware of the university's policies regarding cannabis possession and use on campus. For additional information about the university's policies on cannabis, you may send questions to cannabisinfo@ipo.rutgers.edu.
 
Resources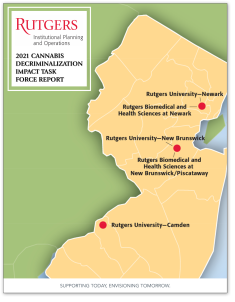 2021 Cannabis Decriminalization Impact Task Force Report
President Jonathan Holloway convened a universitywide task force to examine the overall impact the new state law would have on Rutgers operations. The task force released a report with its recommendations, including revisions to several policies to clarify the university's position on cannabis use and possession. 
Relevant University Policies
Important Communications