Where Excellence Is Earned
Standing among the nation's leading research universities, Rutgers is acclaimed for the excellent achievements of our people and for their contributions to society in the pursuit of education, research, and health care.
Rutgers University advanced significantly in the U.S. News & World Report college rankings, with Rutgers–New Brunswick ranked as the #15 public university in the nation this year and all three of the university's locations in Newark, Camden and New Brunswick among the top 100 national universities for the first time in the ranking's 40-year history.
An Academic Powerhouse
Additionally, over 40 Rutgers graduate programs rank in the top 25 across a wide range of disciplines. U.S. News and World Report consistently ranks Rutgers graduate programs among the best in the nation.
Rutgers' BEAST Is a Game Changer for Structural Tests
When a bridge is compromised, the transit impact and repair costs are substantial. The Rutgers Bridge Evaluation and Accelerated Structural Testing facility (BEAST) is the world's only laboratory that gathers critical data on how extreme weather and heavy traffic weaken a bridge's structural integrity—creating, in just one year, a decade's worth of real-world wear and tear. Armed with this data, transportation departments can make better informed bridge management decisions, saving billions in infrastructure costs and keeping traffic flowing.
Rutgers Fosters Civic Engagement
Civic engagement is a critical component of education and a path toward appreciating our differences, restoring civil discourse, and serving the common good. Rutgers Scarlet Service provides Rutgers undergraduates from all campuses paid internships at government offices and public service-orientated nonprofits. 
Students gain hands-on experience addressing important issues while developing a better understanding of themselves and building relationships with others. The program began in 2022 with 100 students interning in and around the state of New Jersey and has grown in 2023 to include a cohort in Washington, D.C.
Rutgers is redefining honors education. Recognized as a national model, the Rutgers Honors Living-Learning Community selects students who have not only achieved academic excellence but are also committed to creating a more just and equitable society. Addressing real problems in the local community, our scholars envision and implement actual solutions—making a difference right away. Through a curriculum designed to have an impact today, Rutgers HLLC scholars leave prepared to change tomorrow.
By the end of the decade, millions more nurses will be needed to deliver high-quality health care. Watch how Rutgers is meeting this demand head on through the Rutgers School of Nursing, one of the nation's top ranked schools in graduate nursing education. 
 
Rutgers' nurses are ready to have an immediate impact, ensuring that all patients have access to a better quality of care.
Jeffrey DiGiovanni, a communications sciences and disorders scholar with extensive higher education experience, has been named dean of the School of Health Professions (SHP) for Rutgers Biomedical and Health Sciences (RBHS).
He comes to Rutgers having served as the acting associate dean of research for the College of Allied Health Sciences at the University of Cincinnati. He also was a professor and chair of the college's Department of Communications Sciences and Disorders.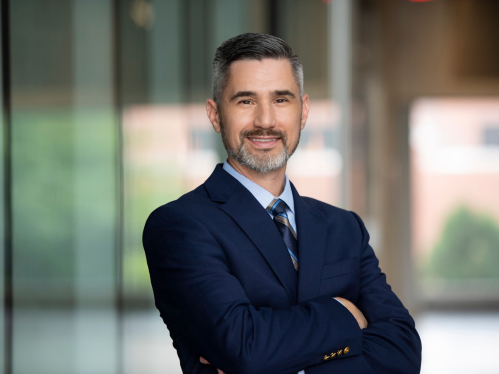 Great Things to Know about Rutgers
Great Things spotlights what makes Rutgers a distinctive and highly respected institution. Take a look at Great Things for facts, figures, videos, and stories that convey Rutgers' reach and impact. Featured are some of the standout Rutgers people in our beloved community who contribute to the common good as they strive to improve the world in the ways that matter most.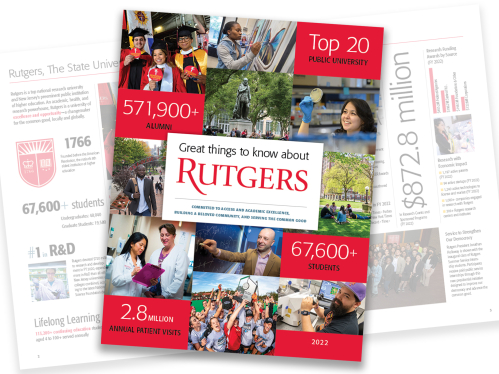 Explore
Excellence is earned at Rutgers, where we are committed to the relentless pursuit of new knowledge, cultivating a beloved community of students, faculty, staff, and neighbors, and endeavoring to benefit the common good.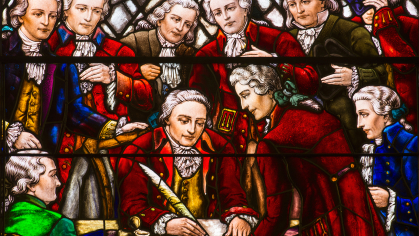 Chartered in 1766, Rutgers is the eighth-oldest college in the nation. Our charter was granted by King George III of England and signed by William Franklin, the last Royal Governor of New Jersey and son of Benjamin Franklin.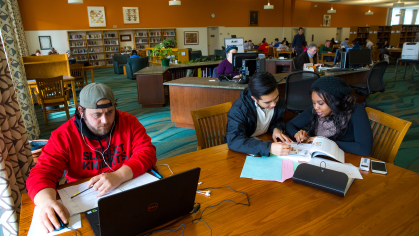 Rutgers perennially appears in the most respected annual listings of the world's top universities. And we are the only university in the United States that is a colonial college, a land-grant institution, and a leading national public research university.
Rutgers faculty include members of the National Academies and winners of the National Medals of Science and Technology; Pulitzer Prizes; Guggenheim, MacArthur "Genius," and Simons Fellowships; Fulbright Scholarships; and NSF CAREER Awards.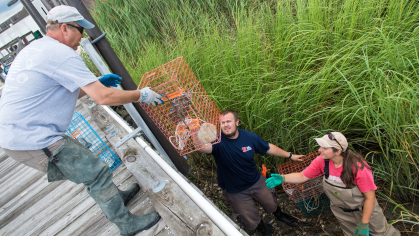 Rutgers is proud to be The State University of New Jersey, the Garden State's premier, comprehensive public research university, with educational and outreach programs that reach residents in all 21 New Jersey counties.
Rutgers and its partners form one of the nation's largest academic health care systems, and the largest in New Jersey.
Our students receive an outstanding education that prepares them for a future of leadership and success and is also a great value. Forbes magazine ranks Rutgers as #29 in the nation as "Best Value Colleges."