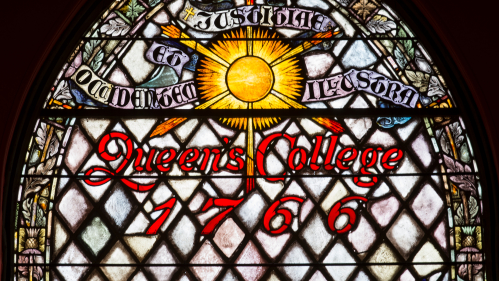 Our Revolutionary Roots
Select Milestones in Rutgers' Impressive History
Rutgers History
Revolutionary for more than 250 years, Rutgers, The State University of New Jersey, is the nation's eighth oldest institution of higher learning. As one of only nine colonial colleges established before the American Revolution, Rutgers has a centuries-old tradition of rising to the challenges of each new generation.

Founded in 1766, a decade before the American Revolution, Rutgers' history parallels the history of the nation. Browse highlights of the university's history.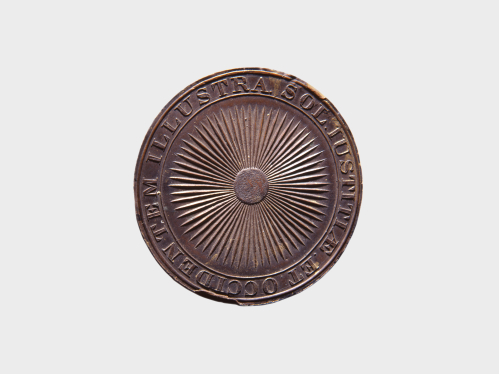 Our Revolutionary Founding Roots
1766 Royal Governor signs Queen's College Charter 
1781 Alumnus Simeon De Witt, Surveyor General of the Continental Army, plays key role in British defeat at Yorktown 
1789 Alumnus James Schureman elected to first U.S. Congress
1825 Queen's College renamed Rutgers College to honor benefactor and Revolutionary War hero Colonel Henry Rutgers
1864 N.J.'s Land Grant, Rutgers Scientific School, established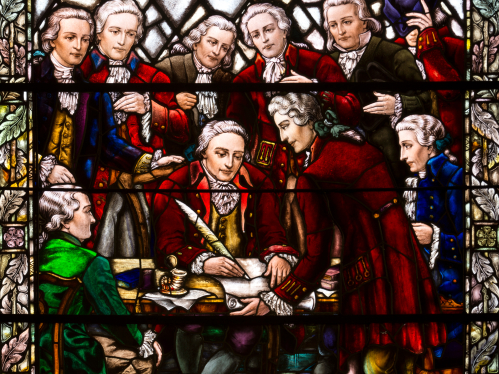 The University Takes Shape
1946 Rutgers University–Newark founded
1950 Rutgers University–Camden founded
1956 Rutgers Law of 1956 affirms Rutgers as the State University; Board of Governors created
1966 Unprecedented construction starts universitywide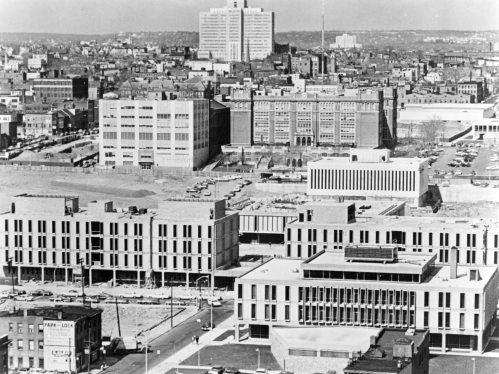 Inclusion and Access
1867 Kusakabe Taro is first Japanese student to enroll in a U.S. college

1892 James Dickson Carr is first African American to graduate from Rutgers

1918 Founding of New Jersey College for Women, which would become Douglass Residential College
1919  Paul Robeson gives the valedictory speech to fellow graduates in the Class of 1919. Robeson, an accomplished student and athlete at Rutgers, would go on to become a world-renowned actor, singer, and global human rights advocate

1969 Black students advocate for diversity in Conklin Hall takeover, sparking inclusion across the university

1972 Rutgers College admits its first full class of women students

1997 Rutgers University–Newark ranks as nation's most diverse university by U.S. News & World Report, beginning a 22-year run in the top spot

2017 Rutgers renames landmarks to honor African Americans in Rutgers history
2021 Rutgers announces historical plaques will be installed at four New Brunswick locations: Hardenbergh Hall, Frelinghuysen Hall, Wood Lawn Mansion, and Livingston Campus. The plaques will acknowledge Rutgers' connections to early benefactors whose families made their fortunes through the slave economy.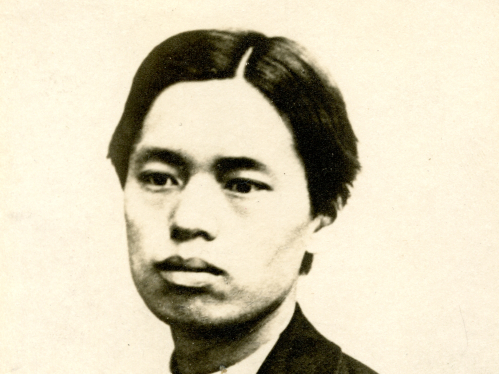 Becoming an Academic Powerhouse
1989 Rutgers University–New Brunswick is invited to join Association of American Universities

2012 The N.J. Medical and Health Sciences Education Restructuring Act integrates most units of the University of Medicine and Dentistry of New Jersey into Rutgers

2013 Rutgers Biomedical and Health Sciences established as a leading academic health center in New Jersey as a result of the N.J. Medical and Health Sciences Education Restructuring Act.

2014 Rutgers–New Brunswick joins the Big Ten Conference and Academic Alliance

2015 Rutgers' Newark and Camden law schools merge forming Rutgers Law School

2015 Rutgers University–Newark School of Public Affairs and Administration becomes the first U.S. school to earn full international accreditation from the International Commission on Accreditation of Public Administration Education and Training Programs

2018 Rutgers University–Camden is reclassified as a Doctoral University: High Research Activity institution by the Carnegie Classification of Institutions of Higher Education—an elevated status reflecting high-impact research and graduate education. The university now appears in rankings of America's top national universities.

2018 Rutgers and RWJBarnabas Health launch health care partnership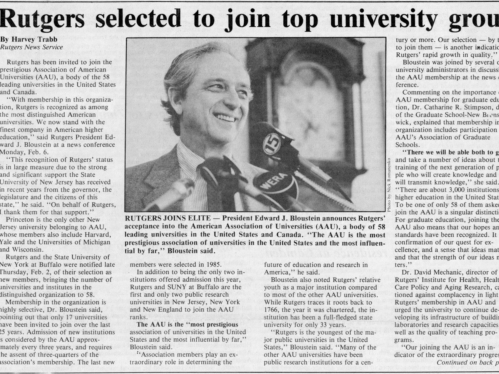 Firsts at Rutgers
1783 The nation's first college newspaper begins publishing

1869 Birthplace of college football: Rutgers defeats Princeton in first intercollegiate football game

1961 Rutgers selected as first Peace Corps training site
1971 First performance by New Jersey native son Bruce Springsteen at Rutgers occurs on December 17, 1971; tickets are $1
 
1972 First intercollegiate ultimate frisbee game: Rutgers defeats Princeton, exactly 103 years after Rutgers defeated Princeton in first football game
 
1972 Women's Rights Law Reporter, the first legal periodical of its kind in the U.S., is established at Rutgers; its first faculty adviser is Ruth Bader Ginsburg, then a Rutgers law professor

1976 Rutgers hires the nation's first full-time women's head basketball coach
2007 Nation's first PhD program in childhood studies debuts
2020 First SARS-CoV-2 coronavirus test allowing people to collect their own saliva at home and send to a lab for results developed by Rutgers lab and collaborators, and approved for use by the FDA.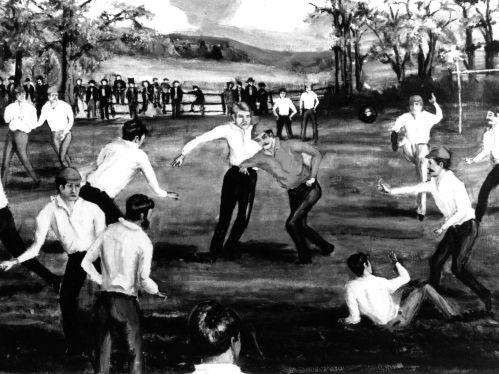 Inventions and Discoveries
1819 Alumnus invents first Transatlantic steamship engine
1934 Rutgers Tomato dominates market through much of 20th century
1943 Streptomycin, first effective treatment for tuberculosis, discovered 
1964 Surgeon General's first report of dangers of smoking relies on research of Oscar Auerbach 
1979 Fred Grassle leads first expedition to explore undersea hydrothermal vents
1981 Alumnus Michael Gottlieb is first to report what would come to be known as AIDS
1984 Steroid treatment for multiple sclerosis discovered 
1987 Rutgers plastics sorting invention gets America recycling 
2009 First Transatlantic undersea robotic glider crossing likened to Lindbergh aircraft crossing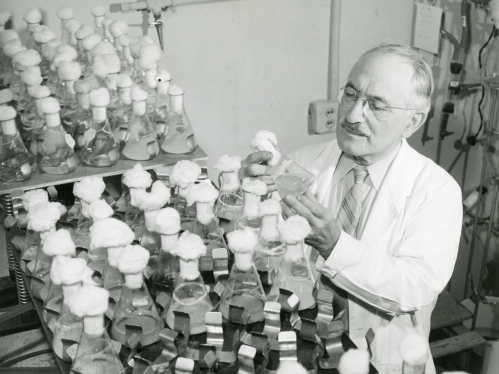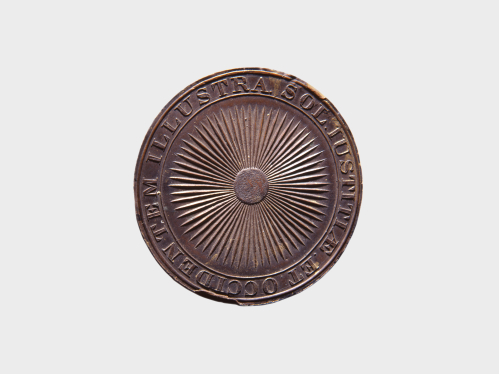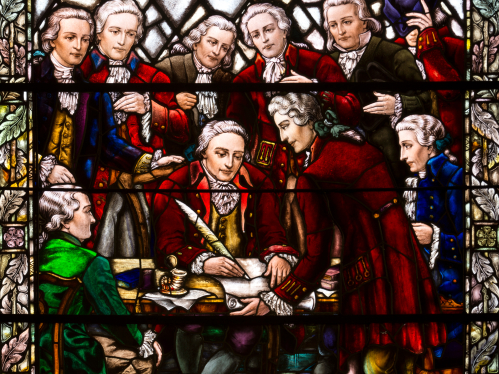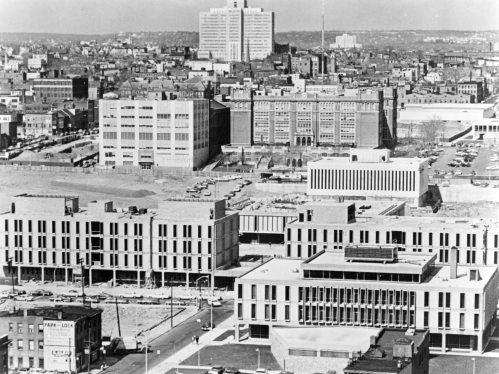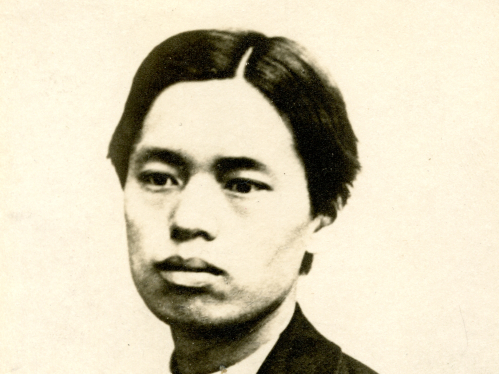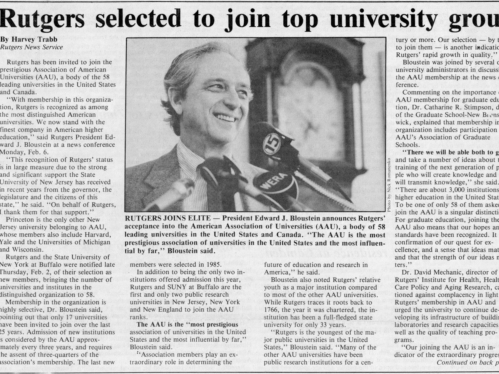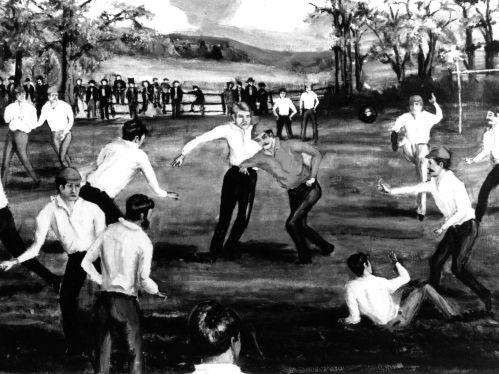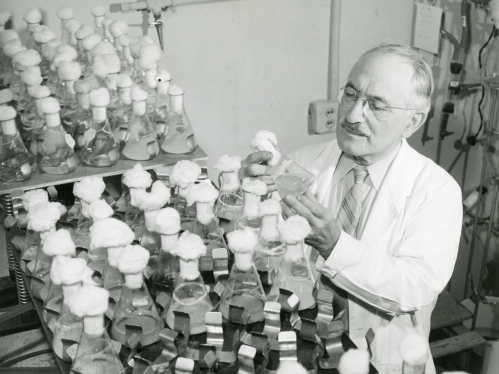 University Archives
It's a treasure trove. The University Archives document the history of the university and provide source material for administrative use and for researchers interested in studying the university's impact on the history of American social, cultural, and intellectual development.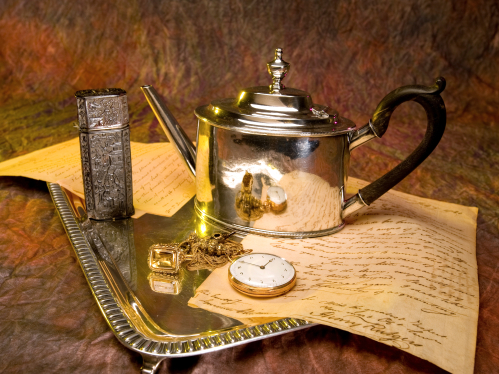 Rutgers Commemorates 250 Years
Rutgers celebrated its 250th anniversary with a yearlong celebration featuring hundreds of events across New Brunswick, Newark, and Camden—including then President Barack Obama delivering the 250th anniversary commencement address.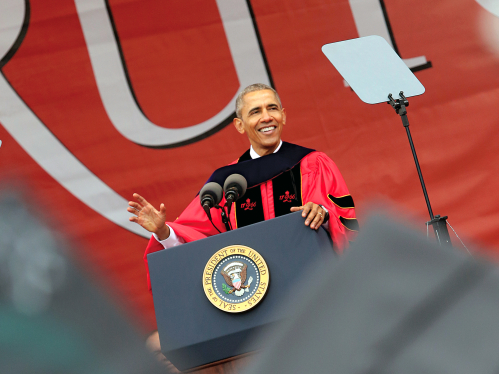 Past University Presidents
From its roots as a colonial college to its emergence as one of the nation's leading public research universities, Rutgers has been molded by its leaders. Learn about Rutgers' past presidents and their roles in shaping Rutgers.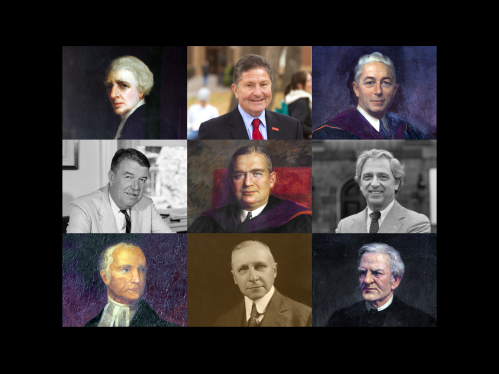 Rutgers Traditional Songs
From the alma mater, "On the Banks of the Old Raritan," to the educational song "The Rutgers History Lesson,"  the Rutgers spirit is strong in song. Read the lyrics and hear the Rutgers Glee Club sing the catalog of traditional Rutgers songs.