RCM at Rutgers:
Five-Year Review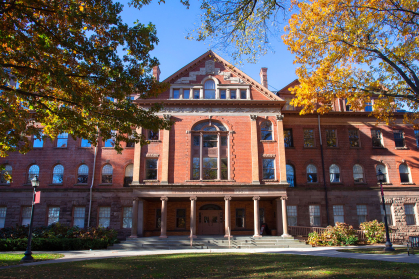 Charge
The RCM Review Committee will complete a five-year review of the responsibility centered management budget model. This review, led by the academic leaders of the university, will address the following aspects of RCM:
Assess how effectively the current RCM model is being used to support institutional priorities, such as academic excellence; public mission; diversity, equity and inclusion; and strategic clarity
Review RCM formulas and allocation methodologies to assess how the university's campus and school-level needs are balanced against strategic and discretionary funding
Recommend improvements in the mechanics of RCM that would help achieve desired institutional outcomes
Devise strategies to make the mechanics of the model transparent to stakeholders and facilitate communication and honest dialogue between units across the university
Final Committee Report
The RCM Review Committee submitted its final report to President Jonathan Holloway on June 11, 2021. 
Review Process
An RCM review committee comprised of academic leaders, with the support of financial leaders from a range of areas, are reviewing certain aspects of the model according to the charge above. The committee will review how RCM supports institutional priorities and the effectiveness of its mechanics across the domains of research, undergraduate education, graduate education, and health care.
Institutional Domains: The pillars that support our institutional priorities
Research enterprise
Undergraduate education
Graduate education
Health care
Institutional Priorities: The mission and values that we are we are trying to achieve.
Beloved community: Fostering a community in which we collaborate; value diversity, equity, and inclusion; and encourage public engagement with the broader community
Academic excellence: Achieving excellence through our teaching and research
Strategic clarity: Developing a coherent and collaborative definition of Rutgers
Mechanics: RCM components that apply to each institutional domain and are the budget levers to support institutional priorities.
Budget process and support
Documented service expectations for each cost center
Consistent use of Cost Pool Advisory Committees
Cost pool construction (number of pools, simplicity of model) 
Space and other allocation metrics
Resourcing strategic initiatives
Deliverables and Outcomes
Produce a concise, actionable report by the end of June 2021 that makes concrete recommendations in the areas above. Some recommendations may be implemented for the FY23 budget cycle, while others may need further review or/and take longer to implement.
Increase the understanding of RCM and instill a great sense of ownership over the budget and planning process among Rutgers leadership through an open and transparent process.   
Develop a model for future RCM reviews at Rutgers and institutionalize a process for continuous assessment.
Track issues for future consideration.
Providing overarching guidance to the charge, structure, and scope of review, and ensuring that the review committee is representative of the broader Rutgers community

Brian Ballentine, Chair
Senior Vice President, Office of University Strategy
Nancy Cantor
Chancellor, Rutgers University–Newark
Margaret Marsh
Interim Chancellor, Rutgers University–Camden
Christopher J. Molloy
Chancellor, Rutgers University–New Brunswick
Brian L. Strom
Chancellor, Rutgers Biological and Health Sciences; Executive Vice President, Health Affairs
Antonio Calcado
Executive Vice President and Chief Operating Officer, Institutional Planning and Operations
J. Michael Gower
Executive Vice President for Finance and Administration, Chief Financial Officer, and University Treasurer
Prabhas V. Moghe
Executive Vice President, Office of Academic Affairs
Romayne Botti, ex-officio
Vice Chancellor for Finance, Rutgers University–New Brunswick
Ashwani Monga, ex-officio
Provost and Executive Vice Chancellor, Rutgers University–Newark

Comprised of academic leaders, including deans, directors and faculty members, and financial leaders from across the university

Romayne Botti, Co-Chair
Vice Chancellor for Finance, Rutgers University–New Brunswick
Ashwani Monga, Co-Chair
Provost and Executive Vice Chancellor, Rutgers University–Newark; Professor of Marketing

Academic Leaders

Monica Adya
Dean, School of Business–Camden, Rutgers University–Camden; Professor of Management
Wanda Blanchett
Dean, Graduate School of Education, Rutgers University–New Brunswick; Distinguished Professor
Jolie Cizewski
Distinguished Professor of Physics, Rutgers University–New Brunswick
XinQi Dong
Henry Rutgers Distinguished Professor of Population Health Sciences; Director, Institute for Health, Health Care Policy and Aging Research, Rutgers Biomedical and Health Sciences
Taja-Nia Henderson
Dean, Graduate School–Newark, Rutgers University–Newark; Professor of Law
Paul A. Jargowsky
Professor of Public Policy; Director, Center for Urban Research and Education, Rutgers University–Camden; Professor of Public Policy
Robert Johnson
Dean, New Jersey Medical School, Interim Dean, Robert Wood Johnson Medical School, Rutgers Biomedical and Health Sciences; Professor of Pediatrics
Laura Lawson
Interim Executive Dean, School of Environmental and Biological Sciences, Interim Executive Director, New Jersey Agricultural Experiment Station, Rutgers University–New Brunswick; Professor of Landscape Architecture
Gwendolyn M. Mahon
Dean, School of Health Professions, Rutgers Biomedical and Health Sciences; Professor, Clinical Laboratory and Medical Imaging Sciences
Peter March
Executive Dean, School of Arts and Sciences, Rutgers University–New Brunswick; Distinguished Professor of Mathematics
Jacqueline Mattis
Dean, School of Arts and Sciences–Newark, Rutgers University–Newark; Professor of Psychology
Michael Palis
Provost and Executive Vice Chancellor, Rutgers University–Camden; Professor of Computer Science
Denis Paré
Distinguished Professor of Neuroscience; Director, Center for Molecular and Behavioral Neuroscience, Rutgers University–Newark
Dipak Sarkar
Board of Governors Professor and Distinguished Professor, Department of Animal Sciences, Rutgers University–New Brunswick
Menahem Spiegel
Professor of Finance and Economics, Rutgers Business School–Newark and New Brunswick, Rutgers University–Newark; Member, Rutgers University Senate
Ann M. Stock
Distinguished Professor of Biochemistry and Molecular Biology; Associate Director, Center for Advanced Biotechnology and Medicine, Rutgers Biomedical and Health Sciences

Financial Leaders

Kathleen Bramwell
Senior Vice Chancellor for Finance and Administration, Rutgers Biomedical and Health Sciences
Adam Day
Associate Vice President and Associate Treasurer, University Treasury, University Finance and Administration
Ernesto D. DiSandro
Associate Vice President and University Controller, University Finance and Administration
Jeetendra Eswaraka
Associate Vice President, Animal Care, Office for Research 
Larry R. Gaines Jr.
Senior Vice Chancellor for Administration and Finance, Rutgers University–Camden
David Moore
Chief Budget Officer and Assistant Vice President, Financial Planning and Budgeting, University Budget Office, University Finance and Administration
Michele Norin
Senior Vice President and Chief Information Officer, Office of Information Technology
Amber Randolph
Senior Vice Chancellor for Administration and Economic Development and Chief Financial Officer, Rutgers University–Newark
Henry Velez
Vice President, Institutional Planning and Operations

Support on project management, timeline, survey and data development, and logistics

Kristen Baker, Senior Project Coordinator, President's Office
Andrew Gootman, Project Manager, University Finance and Administration
Erin M. Johnson, Interim Director for Strategic Initiatives, Office of University Strategy