David W. Major reflects on his many years as editor of Rutgers Magazine: A life of rock 'n' roll for alumni Lenny Kaye and Terry Stewart • It rains cats and dogs for these alumnae • A scholarship program warms hearts and gets results • Everyone in the pool! • Sharing dessert at the White House with alumnus Bill Yosses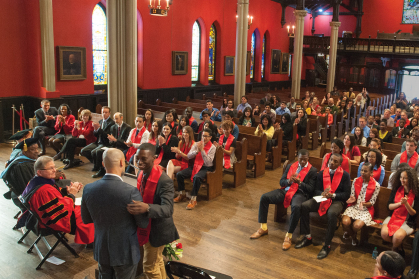 Scholars Extraordinaire
Over the decades, the magazine published so many wonderful stories about extraordinary students succeeding, academically and otherwise. The ones that particularly resonated with me as the editor of Rutgers Magazine were about students who managed to prevail, even though the deck had been stacked against them for any number of reasons. One story that stands out is about the Rutgers Future Scholars (RFS) program, an initiative introduced in 2009 that identifies promising eighth-graders in one of Rutgers' three host cities (and now also Rahway). The program provides them with support throughout high school and, if accepted to Rutgers, underwrites a free college education. The RFS program has been widely successful and is emulated by other public universities operating in urban settings. Two students who personified the experience of the program were Jason Gaines SAS'17 and Yauris Hernandez SAS'17, members of the first class of RFS college graduates. They appeared on the Fall 2009 cover of the magazine, a couple of nervous kids smiling awkwardly for the camera. Eight years later, after completing high school and earning a Rutgers degree, they graced the Fall 2017 cover, all grown up and ready to go out into the world as young adults. Fortunately, their story is being replayed over and over as hundreds of students thrive in the program.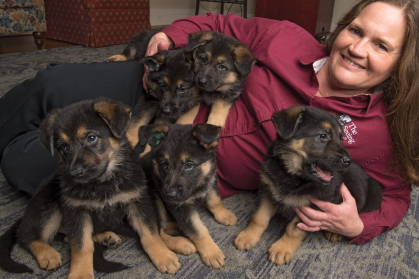 Pets R Us
When the opportunity presented itself, we liked to do stories about cats and dogs—and specifically people who helped them. They were very popular with Rutgers readers, many of them pet owners. The magazine featured Regina Benjamin DC'80 and Jane Nagy DC'81 in the Winter 2014 issue for their roles as trainers for Canine Companions for Independence, an organization that trains dogs to assist people with disabilities. Appearing in the Winter 2015 issue, Petra Ford SHRP'98, a pet therapist and proprietor of Aqua Dog Rehabilitation, explained how she helped dogs recovering from injuries and staving off advancing age through unique therapies. Peggy Gibbon CC'82 (pictured), who appeared in the Spring 2017 issue, continues as the director of canine development at The Seeing Eye, the prestigious guide-dog school in Morristown, NJ. For the Winter 2023 issue, Laura Houston CCAS'90, GSC'94 described her job as the director of the Animal Welfare Association, a progressive no-kill shelter located in a state-of-the-art facility in Voorhees, NJ, that has a remarkable record of finding homes for cats and dogs in just weeks. Like the other alumnae dedicated to helping our furry friends, her heart was big and her passion unwavering.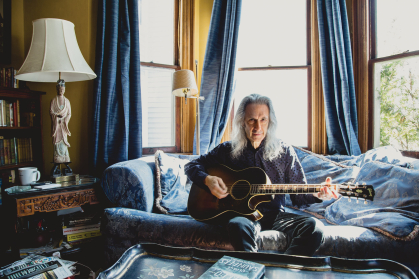 It's Only Rock 'n' Roll (But He Loves It)
During its yearlong 250th anniversary celebration in 2016, Rutgers held many public events. The Day of Revolutionary Thinking lecture series featured, among others, Lenny Kaye RC'67, a charter member of and lead guitarist for the Patti Smith Group. Kaye recalled his college days playing in the rock band The Zoo at parties where they sent students into a frenzy with "Louie, Louie," "Do You Love Me," and "Shout." He explained his love for the electric guitar; his moonlight career as a rock historian and critic (pick up Lightning Striking: Ten Transformative Moments in Rock and Roll, Ecco Press, 2022); and meeting Patti Smith in 1971 at Village Oldies, a New York City record store where he worked. What was remarkable to me, given his status in the rock world, was his humility, sincerity, and generosity in sharing stories about his career and life—and the place Rutgers has in it. The magazine team traveled to his home in East Stroudsburg, PA, to photograph him for a profile appearing in the Spring 2017 issue. Once again, I encountered this remarkably friendly man, a charming raconteur who made droll observations on so many topics. And, appropriately, his house contained a flea market's worth of rock 'n' roll memorabilia.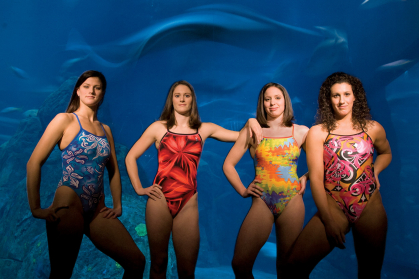 Swimming and Diving Competition
Being an avid swimmer (the Sonny Werblin Recreation Center was my second home at Rutgers), I was drawn to stories about the swimming and diving teams. I realized that the sport was not everyone's cup of tea, but if the magazine could present these powerful athletes through compelling photography, the readers would give it a shot. For the Winter 2008 issue, I arranged to have (from the left) Catherine Whetstone RC'10, All-American Kelly Harrigan CC'06, Shayna Longacre RC'10, and Kasey Kesses RC'10 to be photographed at the Adventures Aquarium in Camden, standing in their colorful swimsuits, full of self-confidence in posture and expression, before the floor-to-ceiling tank full of curious sharks. The photograph of them, requiring all of us to be in the pitch black until the moment that magazine photographer Nick Romanenko took the shot and the flash went off, eclipsed my expectations.
Nick pulled another rabbit out of his hat for the Spring 2011 issue by photographing diver Jennifer Betz ENG'11 at the cavernous Werblin pool. The idea was to have Nick situated high above on the vertigo-inducing 10-meter platform, shooting down on Betz as she dove off the three-meter springboard, with a solid wall of shimmering blue water below her. Nick had planned on using strobe lights, which provide flash for every frame of the camera when it's operating on motor-drive. The problem was, the lights didn't work, forcing Nick to shoot a single frame for each of Betz's dives. She was a sport, probably diving 30 to 40 times into the pool before Nick got the shot he wanted: "Well, I just got my workout in for the day," she enthusiastically reported. But the effort was well worth it, producing one of the most evocative photographs that the magazine published.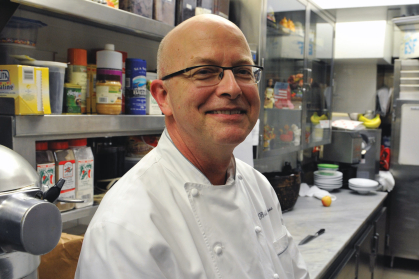 A Tasty Treat
To report and write stories about alumni, road trips were sometimes necessary—and always fun. Bill Yosses GSNB'78, I learned in 2012, was the executive pastry chef at the White House, serving in both the Bush and Obama administrations. With photographer (and self-appointed authority on regional cuisine) Nick Romanenko at the wheel and art director John VanCleaf serving as copilot, we headed down I-95 to the nation's capital to do a story on him for the Spring 2011 issue. When we met up with Yosses, he was in a state of bliss: the night before, he had prepared a Meyer lemon pudding for 365 guests attending a state dinner honoring England under a big tent on the South Lawn on an unusually balmy evening in March. To his great relief, his fluffy concoction had held up in the heat. After showing us the kitchen in which he prepared his delectable treats, we headed out to the South Lawn to photograph him near First Lady Michelle Obama's kitchen garden. With Secret Service agents lurking on the roof of the White House and in the hedges, Nick got some nice shots. As we were finishing, Bo, the First Family's Portuguese Water Dog, came running up to us. Imagine: I was stroking the very ears that the President of the United States had petted that morning: one degree of separation. Back inside the White House, the ever-gracious Yosses gave the three of us a private tour of the public rooms. What a treat.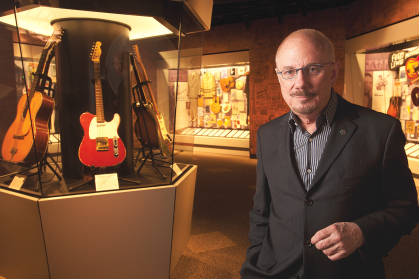 Rock On
When word reached me that Terry Stewart ENG'69, ED'69 was being inducted into the Rutgers Hall of Distinguished Alumni in 2011 for his role as the president and CEO of the Rock and Roll Hall of Fame and Museum, another road trip was clearly in order. Our gang of three piled into the university's Honda Odyssey minivan and headed west to the I.M. Pei-designed facility in Cleveland, Ohio, overlooking Lake Erie. Stewart was, in his own way, as cool as Keith Richards, a man of reserve who had no interest in gushing about his encounters with rock royalty (although he did become animated when discussing his record collection of 500,000 titles). He grew up in Daphne, Alabama, listening to the music of Ray Charles and James Brown, and now he was primarily interested in musicians to the extent that they wanted to help support and advance the scholarship and collections of music-related artifacts. Before the museum opened on our second day, Stewart escorted us around the facility, pointing out the provenance of celebrated items. I wanted to know how the museum scored all of Jerry Garcia's guitars, which greeted visitors as they entered. Nick was preparing to photograph Stewart by a glass case containing vintage guitars when John, overseeing the shoot, suggested that Nick pull back and move his camera to the left, allowing the neon lights of "Rock and Roll" to enter the frame. The resulting shot, for the Spring 2011 issue, became one of our more memorable covers.