David W. Major reflects on his many years as editor of Rutgers Magazine: Women faculty members advocate for women • Providing remote instruction during COVID • The Rutgers alumnus who taught Philip Roth life lessons • President Barchi engineers the introduction of the biomedical and health sciences at Rutgers • Professors share the secret to giving a masterful lecture • Alumna Mary Howard sets the scene for photographer Annie Leibovitz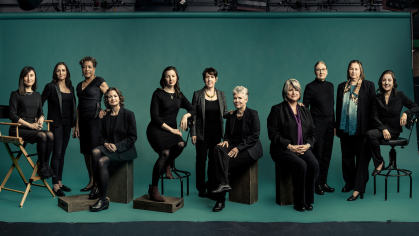 A Room of Their Own
In 2018, at the height of the #MeToo movement, I wanted to acknowledge some of the leading researchers at Rutgers and their varied roles in advocating for women. As the editor of Rutgers Magazine, I arranged for 11 scholars, representing a variety of academic disciplines universitywide, to participate. This wasn't a lightweight crowd, by any stretch. It included esteemed historian Deborah Gray White; Gloria A. Bachmann, the director of the Women's Health Institute; and Debbie Walsh and Kelly Dittmar, from the Center for American Women and Politics. I envisioned all of them wearing black and having them photographed against a seamless monochromatic backdrop that would dramatize their portraits. We chose the university's iTV studio, located on Livingston campus at Rutgers–New Brunswick, as the setting. As the magazine staff prepared for the photo shoot, with each woman taking her turn sitting for "hair and make-up" before being photographed individually and in various groupings, the group hung out in a reception area while enjoying a catered lunch. What was so edifying for me was to witness the unguarded eagerness and curiosity that the women showed in one another personally and professionally. How can we collaborate? How would your research complement my own? How could this be done better? It was a remarkable afternoon, and the day produced the Spring 2018 cover story, "#WeToo: Rutgers Scholars and Their Impact on the Women's Movement."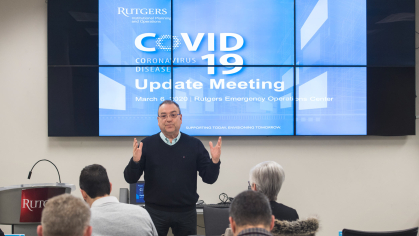 Crisis Management
When COVID-19 struck America in March 2020, most everyone at Rutgers was told to go home and do his or her best. Overnight, students, faculty, and staff had to learn, teach, and work remotely. Zoom what? Putting together the Spring 2020 issue of the magazine was particularly challenging. We drastically reduced the production schedule and refashioned 70 percent of the scheduled stories to reflect how Rutgers was responding to the growing crisis. Researchers in the health sciences—no surprise—were contributing quite a lot to the national conversation in detecting, avoiding, and eradicating COVID-19. Amid the uncertainty of those early days, the leader of the crisis management team tasked with devising safety protocols for Rutgers, Anthony Calcado, came down with the virus and nearly died. The Fall 2020 issue contained my profile of Rutgers' new president, Jonathan Holloway, who took office in early July with nary a soul on campus. Interviewing him at the president's residence from a socially distanced 6 feet away, I could see he was doing his best with a bad situation, equanimous as he bid his time. The issue also contained thoughtful comments from alumni about how they were holding up. Nothing like a pandemic to help the magazine staff produce two of its better issues.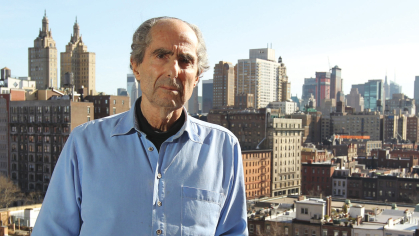 Requiem for a Mentor
A big thrill for me was persuading Philip Roth, one of my favorite novelists and one of the nation's most celebrated, to write an essay about Robert Lowenstein RC'28 for the Spring 2013 issue of the magazine. I had learned that Lowenstein, who had recently died at age 105, had been Roth's homeroom teacher in 1946 at the legendary Weequahic High School in Newark, where the author grew up. The high school and other points of interest on the city map figure prominently in Roth's fiction. Over the years, Lowenstein and Roth had become close friends; as Roth put it, "I believe we fell in love with each other." Lowenstein was the basis for the character of Murray Ringold, a retired high school teacher, in Roth's novel I Married a Communist. In a passage describing Ringold, Roth, who attended Rutgers–Newark for his first year of college, from 1941-1942, writes in the magazine essay that it could just as well have been a picture of Lowenstein: "He was altogether natural in his manner and posture while in his speech verbally copious and intellectually almost menacing. His passion was to explain, to clarify, to make us understand, with the result that every last subject that we talked about he broke down into its principal elements no less than meticulously than he diagrammed sentences on the blackboard."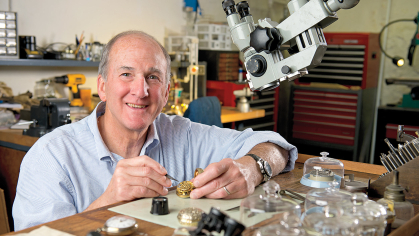 Built to Last
I first met the newly appointed Rutgers president Robert Barchi (2012-2020) at his handsome Philadelphia rowhouse. It was 2012, and I had arrived to conduct the first of three interviews with him that would be the basis of a magazine profile appearing in the Fall 2012 issue that introduced him to the Rutgers community. In short order, photographer Nick Romanenko, art director John VanCleaf, and I followed him into the basement, which was devoted to his hobby of building timepieces and repairing antique clocks. A neuroscientist by training before moving into university administration, he even machined the cogs and moving parts. When I saw the president eight years later to write a profile for the Fall 2019 issue as he was winding down his tenure, Barchi wanted to be photographed in front of the Honors College at Rutgers–New Brunswick, built during his tenure. A prominent feature of the building is a big clock, which, no surprise, he had designed. In between my first and last meetings with him, however, he had built and designed something far more demanding: the integration of the University of Medicine and Dentistry of New Jersey into Rutgers, a herculean task that turned the university into a biomedical and health sciences powerhouse. Barchi was uniquely suited to do the job, and he did it on time.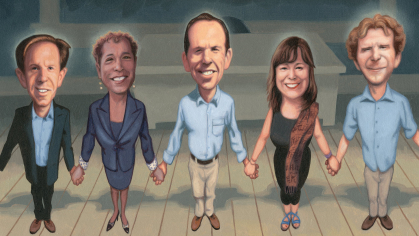 The Art of the Lecture
A big part of the college experience for students is attending lectures. Delivered by a professor with passion and knowledge, a lecture is a catalyst for learning and curiosity. Presented as an unemotional monotone, it can be deadly. What, I wondered, is the experience like for professors? What goes into preparing for—and delivering—a compelling presentation, especially in this era of distracting smartphones? In the summer of 2011, I interviewed five professors affiliated with the School of Arts and Sciences at Rutgers–New Brunswick. What was clear after speaking with them is that they thought a lot about the elements of an effective lecture. They shared with me the challenges of stage fright early in their careers, of finding the balance between being the authority in the lecture hall and a facilitator of debate and inquiry. From arriving at a personal style of oratory to constantly revisiting how to convey complex topics, they left nothing to chance. The result was the cover story for the Fall 2011 issue, "The Art of the Lecture."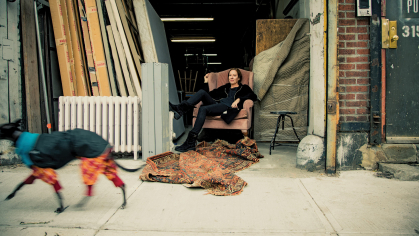 Creating a Scene
Art Director John VanCleaf and I made a point to emphasize photography in the magazine. When I was assembling a roster of stories for a given issue, uppermost in my mind was the visual potential of each. When on assignment with our photographers, we gave a lot of consideration to composition and lighting and setting. So, the magazine staff was in for a treat when we traveled to Red Hook, Brooklyn, to assemble a feature story on Mary Howard MGSA'83 for the Winter 2017 issue. She was the longtime set designer for photographer Annie Leibovitz, who was famous for her portraits appearing in Rolling Stone, Vogue, and Vanity Fair. For years, her tableaus of glamorous movie stars in elegant repose, settings largely created by Howard, were the centerpiece of VF's annual Hollywood Issue, which preceded the Oscars. When we arrived in Red Hook, photographer Bill Cardoni and Howard poked around Howard's vast warehouse, or prop shop, looking for a suitable location to photograph her. As Bill nodded in approval, Howard assembled a bunch of boxes and stools and used five-gallon drums of paint—all set in front of a background of flat surfaces. What are they thinking, I wondered? Then Howard, dressed in black, sat in profile on a stool, put her boots up on a box, stared back at the camera, and gave Bill lots of "attitude" to work with. The result was one of my favorite covers, her black figure popping off the array of colors, shapes, and textures. Now I understood why Leibovitz depended on her all those years.