Jonathan Holloway, the 21st university president, envisions a culture that emphasizes diversity, inclusion, and respect as Rutgers refines its mission of becoming the very best in public research universities.
When he was a young adult making his way in the world, Jonathan Holloway would hear from his father calling from the family home in Maryland. A lobbyist for the Ford Motor Company following a career as a high-ranking officer in the U.S. Air Force, Wendell Holloway had convictions about what it took to build a successful career. It helped to come from the right family, he told his son, and to be in a solid marriage. You had to develop the "golden résumé," a trove of one sterling achievement after another. And you had to look the part of a person out to make a mark. Being tall and having broad shoulders got you noticed, his father stressed. You stood out, literally, from the others. It was all part of assembling what he considered "the complete package." Jonathan, certainly aware of his father's love for him, realized that his dad saw him as a figure sent from Central Casting.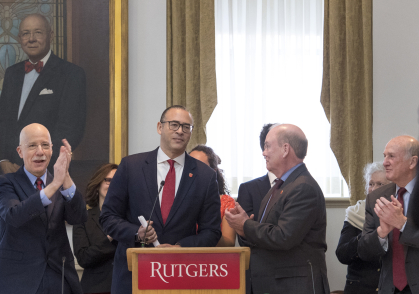 As Holloway walked onto the biggest stage of his life, the packed historic Scarlet Room in Winants Hall in New Brunswick on January 21 to be introduced as the 21st president of Rutgers, he personified everything his father had envisioned for him. Yes, he did come from a good family, which spanned five generations of professional achievement, and he was happily married with two children. He had burnished his résumé to a golden glow with degrees from Stanford and Yale, professorships at the University of California and Yale, and top leadership roles at Yale and Northwestern. Standing at the podium as he addressed the Rutgers University Board of Governors and Board of Trustees, Holloway indeed was a commanding presence: tall, broad shouldered, and brimming with confidence and gratitude as he delivered his remarks.
"It was a coming together of all my father's narratives and all my training," says Holloway, recalling the day. "My parents aren't around anymore; I just wish they could know. As I was concluding my remarks, I got very emotional and I didn't see it coming. In that way, it was a lovely moment, very special."
The moment culminated two decades of hard work and a swift ascent in teaching and executive positions for Holloway. A tenured history professor at Yale by age 31, he was chair of the university's African American studies department; head of one of Yale University's 14 residential colleges; dean of Yale College, the university's undergraduate college; and provost of Northwestern, the number two position at the university, before being approached for the presidency at Rutgers. Holloway arrives at a time when Rutgers, too, has reached significant milestones over the past 20 years: the physical transformation of its campuses; the recruitment of top faculty and record student enrollment; the addition of a significant biomedical and health sciences component to its expanding education, research, and outreach mission; and membership in the Big Ten and its academic alliance, representing an association of preeminent national research universities. And not the least of Rutgers' appeal to Holloway is its historical commitment to providing educational opportunity to underserved students, many of them the first in their families to attend college.
Holloway had this array of assets to consider as he flew back to Illinois in late January with his family to wind down his provostship at Northwestern. Beginning in April, he planned to return regularly to New Jersey to facilitate the transition to his presidency, which officially began on July 1. He couldn't have imagined that he wouldn't be setting foot on campus again until late June because of COVID-19.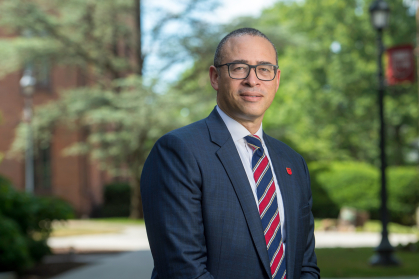 ''The pandemic clarified things for me," Holloway says, speaking on a crisp fall afternoon from the president's residence in Piscataway. "Having been in other crises—and I got battle-tested during them—I know that a crisis is simplifying. The 15 things you were considering are now reduced to two or three; there are no other options. We have a lot of hard work to do, lots of things to figure out, namely addressing university finances, which are kind of unspooling because of the pandemic. What's reassuring for me, though, is that the Rutgers team knew that this was going to be really hard, but that we'd manage it. There is this resolve."
"The good news is that Rutgers has the ingredients to succeed in the face of these challenges," Holloway said in his Message to the Rutgers Community on July 1. "I am certain of this. Scholars throughout the university have been making major contributions to our understanding of every aspect of the pandemic; similarly, Rutgers voices have been heard on matters related to the social, economic, and racial inequities that have destabilized this country."
Because of the persistence of the pandemic, remote learning has remained in place for the fall semester. Holloway has announced some belt-tightening measures to help compensate for the steep drop in revenue for Rutgers. He is also trying to see a way through to bring more students to campus next semester and move toward a semblance of normalcy. But there is only so much that he can do. It's been a frustrating five months for Holloway, who is eager to discharge the full range of his duties. As has been his leadership style elsewhere, he plans on being highly visible, not only meeting people in formal settings but also looking forward to spontaneous encounters. But to protect his health and those of others, he has thus far been conducting his presidency mostly from his residence, relying on phone and web communications. On the occasions when he has seen people in person, the opportunity is somewhat circumscribed by the need for everyone to wear masks and socially distance. Yet, he has made the best of it, managing to meet safely with students, alumni and donors, and members of the faculty and staff.
Mission control for Holloway is located in a small upstairs den, featuring an oversized computer screen conducive for his countless Zoom and Webex meetings. The floor-to-ceiling bookshelves are lined with titles that have informed much of his scholarship on the subject of post-emancipation U.S. history. He spent the summer with his family in the home but now is temporarily alone. His wife, Aisling, and their son, Ellison, have returned to Illinois while he completes his senior year of high school, and their daughter, Emerson, is a junior at Oberlin College. Holloway, though, is not entirely by himself. The family's cats, Lucy and Sully, keep him company, and the dogs, yellow Labradors named Joey and Parker, try to spark his interest in taking them for a walk whenever he comes downstairs. Despite the circumstances, Holloway is biding his time, accepting of what he can control and what he cannot.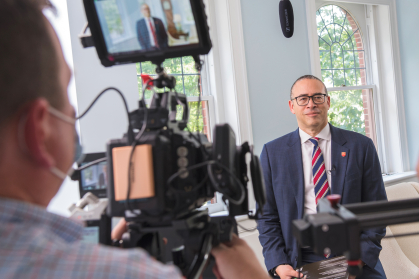 In his first few months, Holloway has solidified his understanding of Rutgers and what will make it even stronger. In his remote address to the University Senate, comprising faculty, students, staff, and alumni, on September 25, Holloway spelled out the three propositions that will be the touchstones of his presidency: the relentless pursuit of academic excellence; the need to develop strategic institutional clarity; and the achievement of what he calls "a beloved community." "These are not the only things that will occupy my time as your president, of course," he told members of the senate and the wider Rutgers community, "but it is my hope that through my words and actions over the coming years, you will be able to look back at this moment and see that I was committed to these values from the very start of my tenure."
Holloway gives members of his leadership team the independence to execute his agenda, fully empowering each of them to do great work. At their invitation, he is available to offer additional guidance, whether endorsing a strategy or suggesting a midcourse correction to it. Holloway intends to spend much of his time being the person who embodies the university and advocates for it. "This is important work," he says. "I take it seriously."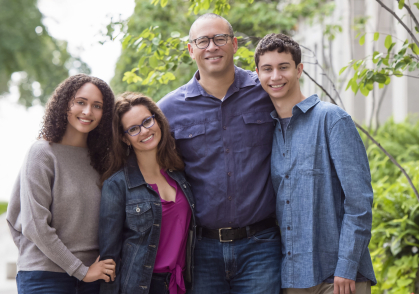 While Holloway was being considered for the presidency, he conducted his own research about the university and was impressed by the academic excellence that abounds here. But he was also confused. The facts that he was learning didn't mirror Rutgers' academic reputation. "In the academic arena," he says, "Rutgers punches below its weight." Holloway intends to enlighten presidents and provosts at peer institutions so that they realize Rutgers is an institution to reckon with. He will rely heavily on the new executive vice president for academic affairs, Prabhas Moghe, to bolster academics while recruiting and retaining top scholars. Holloway won't be satisfied, he says, until Rutgers is mentioned in the same breath as the University of Michigan and the University of California, Berkeley, the nation's two top-ranked public universities, in his view.
"My job is to make Michigan and Berkeley nervous to the point where if we are all trying to lure professor A, Rutgers is going to get professor A," he says. "I don't want those schools to presume that they will land professor A if Rutgers is at the table. Likewise, I want to be surrounded by people I have to fight to retain because other institutions want to hire them. So, that's the ambition. It's a 10-year job, and even that timeline is a stretch. I have high expectations. I am only interested in excellence. You want a president who has that kind of ambition for the place."
But what is this place called Rutgers? Holloway's initial assessment of the university revealed to him that the university—a sprawling enterprise of teaching, research, and outreach excellence that includes a robust biomedical and clinical health division—is a mouthful to define. This "narrative complexity," the product of Rutgers' historical accrual of disparate academic parts, makes it difficult for Holloway as Rutgers' chief fundraiser to tell a concise story to legislators, investors, foundations, alumni, and businesses. To address his second goal, the new president has created the Office of Strategy, a four-year pilot project to develop and support the execution of major universitywide priorities, bringing coherence to a university strategy that will strengthen Rutgers' position in New Jersey and in higher education nationally.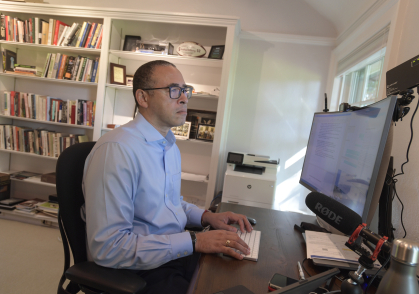 Holloway's third goal is to foster what he calls "a beloved community," a university culture defined by tolerance, mutual respect, diversity, and the spirited exchange of opinions and ideas. It's a place of inclusion and equality, where everyone, from administrator to custodian, is recognized as integral to Rutgers' success, where his or her voice is not only heard, but truly listened to. The dynamics of such a culture, by its openness, will reveal uncomfortable truths yet will invite people to find the right responses to them, not the easy ones. Whether it's in the lecture hall or across the negotiating table, members of the Rutgers community must be willing to acknowledge opposing points of view.
Diversity and inclusion, Holloway believes, are cornerstones of a beloved community. During the summer, he requested the first internal equity audit of the central administration, a study that revealed the administration's strong belief in the importance of diversity and inclusion—but operational shortcomings in fulfilling them. To meet the ideals that will allow Rutgers to emerge as the national leader, Holloway has created the position of senior vice president for equity.
"I want my administrative leaders to be in that sweet spot where they are empathetic and recognize that this isn't a sign of weakness but of strength," he says. "And I want people who naturally are inclined to acknowledge others who would otherwise be ignored. Rutgers is not unusual in that the lowest-paid workers on the campus are Black and brown. People may think this is a bunch of hot air from me. But, no; actually, it's very important. This is how I want to be in the world, frankly."
When he was the head of Calhoun College (since renamed Grace Hopper College) at Yale, Holloway was in the habit of taking his Labradors for an afternoon walk on campus, stopping to talk to anyone and everyone. After nine years, Holloway, grateful for the administrative experience but exhausted, planned to step down and return to the faculty. Unexpectedly, he was approached to take on the far larger role of dean of Yale College, responsible for all undergraduate study at the university. He agonized with his wife over what to do. Meanwhile, a rumor was circulating that he was leaving Yale altogether. When Aisling was walking the dogs, she was approached by a campus security officer who figured that she must be Holloway's wife. He told her that he and other staff members were sad to hear that Holloway was leaving. "It always meant so much to us, knowing that he was there," he said. Later that night, she turned to her husband and declared, "You're taking that job." Holloway was soon named the dean of Yale College.
Another opportunity to speak out on behalf of the underrepresented emerged following the death in May of George Floyd while in the custody of Minneapolis police, the incident that provoked sustained protests nationwide. Holloway, with his deep knowledge of African American history, had imagined that he would address racism during his presidency. He couldn't have anticipated, however, the urgency of events surrounding Floyd's death as it rose to the forefront of the nation's conscience.
"The reaction to the Floyd murder made it enormously easier for me to talk about race issues," Holloway says. "So, out of the tragedy came the opportunity. This moment is different, the largest social movement in U.S. history, no doubt about it. We have experienced a lot of the pieces, but all of them at once? No. People, more than ever before, are feeling inconvenienced because of COVID-19, and now they are getting a taste of what it's like for people to be inconvenienced on a daily basis. So, it's allowed me to be a lot more direct than I would have been."
A course that Holloway taught at Yale in 2010, "African American History: From Emancipation to the Present," was one in a series of podcasts called Open Yale Courses. The popularity of his lecture led to Holloway receiving dozens of letters from all over the nation. The letter writers had had little idea of the breadth and depth of racism and, with the lecture as a catalyst, had taken it upon themselves to do some reading on their own. The letters to Holloway had one thing in common: each person was hungry to learn more.
"It became this enormous opportunity because people wanted to know how we got here," says Holloway. "It was my job as a historian to explain how. And that experience was a motivation for me to talk about things in a way that would have been a challenge had this interest not been sparked. Now, people are desperate to know."
Holloway was thrilled to announce that the Andrew W. Mellon Foundation awarded Rutgers a $15 million grant in September to create the Institute for the Study of Global Racial Justice, a universitywide initiative that will attract top scholars committed to studying race and inequity. The institute will have centers on the New Brunswick, Newark, and Camden campuses and welcome participation from Rutgers Biomedical and Health Sciences. The institute represents a declaration by Rutgers of its investment in the full exploration of racism and social inequality at home and abroad.
"As I have been communicating since I arrived at Rutgers," Holloway said to the Rutgers community in announcing the gift on September 24, "we are living in a moment of global racial reckoning, a moment that calls upon us to be a country that lives up to the aspirations in its founding documents and takes concrete actions to end the social, economic, and racial inequities that persist."
Holloway provides a nuanced meditation on the experience of Black professionals in the decades following Reconstruction in his book Jim Crow Wisdom: Memory and Identity in Black America Since 1940 (University of North Carolina Press, 2013). Part memoir and part contemporary U.S. history, the book explains how generations of his family, and the relatively few like it, achieved professional recognition despite living during the dark chapters of Jim Crow America. Holloway attributes their success, in large part, to their selective memory, consciously remembering the good experiences of affirmation and consciously disregarding the negative ones. In action and words, his forebears emphasized the good and modeled the uplifting. This conscious formation of self-identity was a psychological self-defense against the indignities, or worse, that lurked. Holloway's father, for instance, would remind young Jonathan and his older brother and sister to use the bathroom before climbing into the car for a lengthy trip. The unspoken reason? They might be unwelcomed at a public restroom.
"I grew up quite privileged," says Holloway, who spent most of his youth in Potomac, Maryland, after briefly living in Montgomery, Alabama, where his father was a lieutenant colonel in the U.S. Air Force and the first Black instructor at the Air War College. "We weren't wealthy or anything like that, but I was privileged. My attitude has always been that I am going to work really hard and hope that things work out. When I am confronted by a new thing, my reaction is that people with fewer resources than I can claim have done it. Why can't I? I can do this.
"I was raised to believe that I can do whatever I set my mind to—which flies completely in the face of the history of this country and flies in the face of my parents' history," he continues. "But this is my determination. I guess it comes from my parents. From my father, I got discipline and rigor and ambition. From my mother, who I loved in very uncomplicated ways, I learned the idea of grace and being able to listen. If ever there is a time when people need to be authentically listened to, it's now. They are crying out for it. So, it's important to me to be graceful. To grant grace."