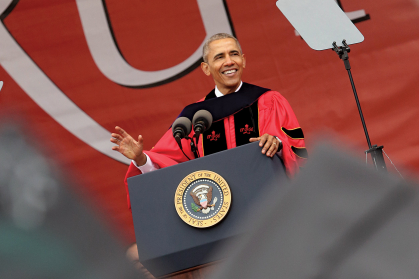 David W. Major reflects on his many years as editor of Rutgers Magazine: President Obama speaks at the 250th anniversary commencement • Rutgers honors distinguished alumni in a big way • Richard L. McCormick revisits his presidency • Alumna Stephanie Klemons teaches us the dance steps in Hamilton • A husband-and-wife team look to save our depleted microbiomes • Researchers are doing something about climate change 
Rutgers Celebrates Its 250th Anniversary
The year 2016 was magical at Rutgers as the university celebrated its 250th anniversary. The biggest source of joy was President Barack Obama's last-minute acceptance of Rutgers' invitation to be the commencement speaker, culminating a three-year courtship. On a cold May morning, students, faculty, staff, and guests filed into Rutgers' football stadium in Piscataway, having arrived early to accommodate heightened security protocols. By noon, as the mood of anticipation reached a crescendo, Marine One carrying Obama circled the football stadium and the crowd exploded with applause. Before long, the president took the stage and, with his oratorical skills on full display, had the exuberant audience in the palm of his hand. It was captured in the Spring 2016 issue, featuring Obama on the cover. For the next issue, Rutgers Magazine acknowledged the 250th anniversary by assembling a special commemorative issue that relived the history of Rutgers (the nation's eighth oldest college) and the memorable personalities who have come through its gates. The expanded Fall 2016 issue was about as ambitious as any that I put together, and the magazine staff was right there with me in producing the keepsake, one that I am particularly proud of.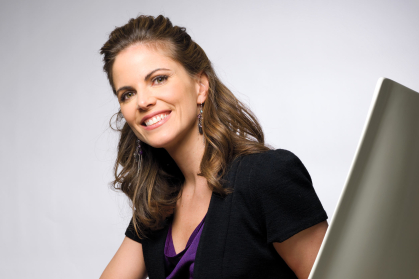 Distinguished Graduates
In 1987, Rutgers introduced the Rutgers Hall of Distinguished Alumni, which each year honors select graduates who stand out in a range of endeavors, be it business, philanthropy, the arts, public office, or the sciences, and in giving back to the university. In the Spring 2009 issue, the magazine began featuring the recipients of this unique honor, corresponding with the university hosting gala dinners for each year's class. The first inductee I profiled was journalist Natalie Morales RC'94, today the co-host of The Talk on CBS who at the time was an anchor on NBC's Today show. She met me after the conclusion of a morning broadcast in her office at Rockefeller Center, where I interviewed her. "I don't know if I would be here had I not gone to Rutgers," she said to me. "It gave me the perfect opportunity." Her sentiments were echoed again and again over the years when the magazine interviewed and celebrated the recipients. Each of them was humbled by the recognition and vividly recalled the importance of Rutgers as a means to an excellent education and as a springboard to opportunity and adulthood.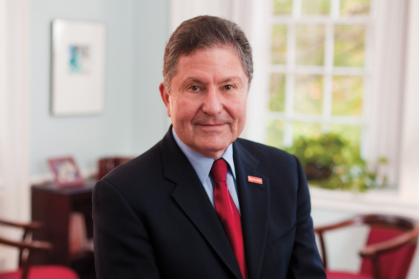 Raised at Rutgers
I had the good fortune to interview Rutgers president Richard L. McCormick (2002-2012) four times during my editorship. On each occasion, he was remarkably forthcoming and courteous and impressively knowledgeable. He is a scholar of American political history. Having grown up in Piscataway, the son of esteemed former Rutgers University Professor of History Richard P. McCormick RC'38, GSNB'40, he had a deep understanding of Rutgers' history, its culture, and how it evolved, by fits and starts, into a big public university. It explains why he was ideally suited to broker the 2007 transformation of undergraduate education at Rutgers–New Brunswick, a milestone in reorganizing the university, and for having the foresight to lay the groundwork to add a biomedical and health sciences component to Rutgers. Barry Qualls, the beloved English professor at Rutgers–New Brunswick, once told me: "I have never met anybody with such self-control." That signature command over his emotions faltered briefly when he recounted for me his deep respect for the late Rutgers president Edward J. Bloustein (1971-1989), who led Rutgers into becoming a bona fide public research university. Richard McCormick will always be my definition of a gentleman.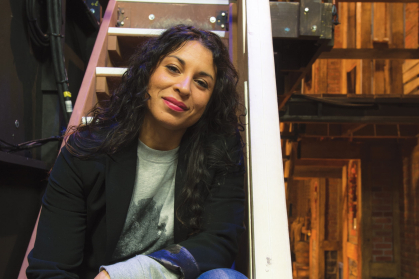 Revolutionary Steps
At the height of the popularity of the Broadway hit musical Hamilton in 2015, I learned that Stephanie Klemons RC'04 had a big role in the production. She was the dance captain, the one responsible for teaching the steps to all the performers—and there were a lot of them in that show—and making sure they followed them just so over the course of the show's run. Within days, in preparing a profile of her for the Winter 2016 issue, the magazine's photography team was on the stage of an empty Richard Rodgers Theatre, sharing banter with show creator Lin-Manuel Miranda and Klemons as somewhat weary cast members arrived to prepare for another evening performance. As always, they rose to the occasion and sent theatergoers into the street happy. After the show, Klemons invited me and other guests to a post-production meet-and-greet—also on stage. There, dressed in jeans and sweatshirts, was Daveed Diggs who played Thomas Jefferson and Jonathan Groff who played King George III, among others. I noticed a short guy standing to my right wearing a long overcoat. What do you know? It was Jason Alexander—George Costanza from Seinfeld. When it was time to go and the guests wound their way through the wings to the stage door, we got lost in the labyrinth of little rooms and walkways. Without warning, we heard Alexander bellow, as only George could, "How do we get outta here?!"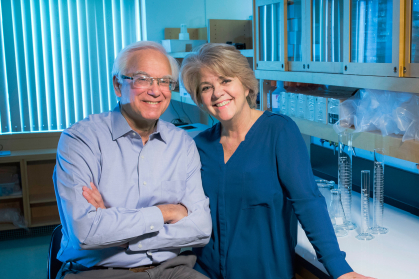 Gut Instinct
Of the dozens of scholars and scientists I interviewed for magazine stories over the years, among my favorite were Martin J. Blaser and Maria Gloria Dominguez-Bello, who appeared in the Spring 2019 issue. The married professors packed a lot of personality, charm, and good humor into our conversation. More importantly, they are experts in studying the microbiome, the human ecosystem of bacteria that regulates our health. They believe that populations in Western civilizations, with diets heavy in processed foods and overly reliant on antibiotics, are compromising the diversity of bacteria responsible for choreographing optimal health and leaving people susceptible to a host of illnesses, from obesity to perhaps even autism. To counter the trend and reintroduce diversity in microbiomes, they envision a repository that contains strains of all known bacteria, akin to the Svalbard Global Seed Vault in Norway, which houses the world's largest collection of crop diversity. Aside from their fascinating research, they clearly adored each other and showed such respect for each other's work. They also joshed each other playfully, particularly during the portrait session when Gloria stood off camera and made faces at Martin, trying to throw him off his game.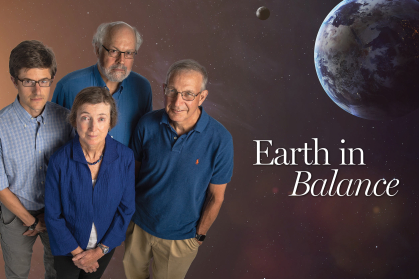 Severe Weather Ahead
During my 16 years as editor of Rutgers Magazine, the subject of climate change became a bigger and bigger story. How was Rutgers confronting this existential threat? It was no surprise to learn that the university was doing quite a lot. The Fall 2018 issue featured scientists at Rutgers with international reputations for their pioneering research ("Earth in Balance"): climatologist Alan Robock, marine biologist Malin Pinsky, geologist Kenneth Miller, and climatologist Jennifer Francis. For the Spring 2021 issue, I wrote "Shoring Up the Jersey Shore" about Coastal Climate Risk and Resilience, an initiative that deploys graduate students to help New Jersey shore communities prepare for and mitigate calamity—namely high seas and flooding. Most recently, for the Winter 2023 issue, I wrote "How About That Weather?" that looked at the undergraduate program in meteorology at Rutgers–New Brunswick, one of the best in the nation in uniquely preparing graduates for a host of careers. The program prepares its share of students who become television broadcast meteorologists, such as NBC's Dylan Dreyer SEBS'03, with others answering the bell, from academic researchers to private sector analysts, at a time when weather forecasting has never been more important.