Whether it was the discovery that sleep meds may help curb addiction, a warning of a microbiome collapse or the launch of clinical trials for COVID-19 treatments, Rutgers provided crucial research in health sciences
Here are some of the top picks by staff of notable health sciences stories at Rutgers for 2022. 
1. Sleeping Medications Used for Insomnia May Combat Addiction 
Rutgers researchers said they identified a biological process for drug and alcohol addiction and believe existing insomnia treatments could be used to reduce or eliminate cravings. 
The researchers published a review explaining how ongoing work at the Rutgers Brain Health Institute and elsewhere demonstrates that the brain's orexin system – which regulates sleep and wake states, reward systems and mood ­– motivates drug-seeking behavior. They noted many drugs of abuse increase orexin production in both animal and human brains and that blocking this system reverses addiction in animals. Another study has demonstrated that one of the three orexin-blocking sleep aids approved for insomnia treatment reduces opioid cravings in human subjects. 
2. Rutgers Microbiologists Are Subjects of a Feature-Length Documentary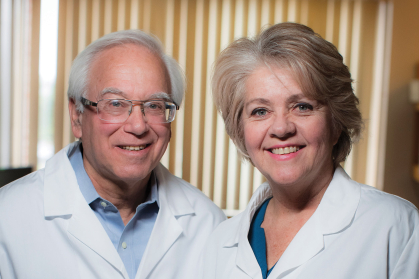 Martin Blaser and Maria Gloria Dominguez-Bello, microbiome experts at Rutgers, warn of an "invisible extinction" that's harming human health in a new feature-length documentary. 
Blaser and Dominguez-Bello, who are subjects of The Invisible Extinction, have researched the link between the microbiome – the bacteria, fungi and viruses that help us digest food and keep us healthy – of a human body and diseases disease diabetes, asthma and autism. In China, as elsewhere, this knowledge was being put into clinical practice.
(A screening of the film was held Nov. 29 at the Robert Wood Johnson Medical School Research Tower in Piscataway.) 
3. Can You Get the Flu From Touching Surfaces? No, Says Rutgers Researcher. 
In the early stages of the COVID-19 pandemic, the coronavirus was everywhere – stuck to our cell phone screens, smeared on our mail, dangling from doorknobs, even clinging to our cereal boxes. Except that it wasn't. 
Emanuel Goldman, a professor of microbiology at the Rutgers New Jersey Medical School, was among the first scientists to challenge conventional wisdom by warning that hygiene theater – overzealous disinfection of surfaces – had "become counterproductive" for public health.  
4. Rutgers Awarded $5 Million Grant to Improve Access to COVID-19 Testing 
The New Jersey Alliance for Clinical and Translational Science at Rutgers received a $5 million National Institutes of Health grant to launch outreach campaigns and expand access to COVID-19 testing for underserved and vulnerable communities in New Jersey. 
The grant will fund a Rutgers-led study called the New Jersey Healthcare Essential WoRker Outreach and Education Study - Testing Overlooked Occupations, or NJ HEROES TOO, under the NIH's Rapid Acceleration of Diagnostics (RADx) initiative, RADx Underserved Populations program. NJ HEROES TOO focuses on the Black and Latinx communities disproportionately affected by COVID-19 in places where Rutgers academic medical centers are deeply rooted. 
5. Rutgers Scientists Develop Tests for COVID-19 Variants  
Early in 2022, Rutgers scientists announced they developed a lab test that can quickly and easily identify which variant of the virus causing COVID-19 has infected a person, an advance that helps health officials track the disease and treat infected patients. 
The researchers describe how to employ so-called "molecular beacons," a technique that seeks out molecules that carry genetic information to make proteins, coinvented by Sanjay Tyagi, a professor of medicine at the Public Health Research Institute at Rutgers New Jersey Medical School. 
Later in 2022, researchers at Rutgers New Jersey Medical School developed a rapid test that detects all known COVID-19 variants, including the highly transmissible Omicron variant, has been developed by researchers at Rutgers New Jersey Medical School. 
The test, which can be performed at laboratories experienced in COVID-19 testing can quickly detect clinical samples that contain the SARS-CoV-2 virus with signature mutations for each known variant of concern. 
6. Rutgers Conducts Clinical Trials for COVID-19 Vaccine and Medication for Children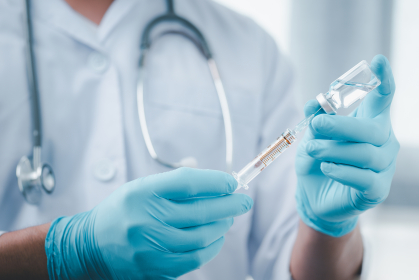 Rutgers learned in the fall it had been selected as a clinical trial site for the global Pfizer-BioNTech research study to evaluate the safety and efficacy of the bivalent COVID-19 vaccines in children under the age of 5. 
Partnering with Pfizer/BioNTech, the Pediatric Clinical Research Center at Rutgers Robert Wood Johnson Medical School is studying the bivalent vaccine in children less than 5 years old. The trial will include a substudy of children under 2 years old who have never received a COVID-19 vaccine and a substudy for children under 5 who have received doses of COVID vaccines. 
Earlier in the spring, Rutgers selected as a clinical trial site for the global Pfizer-BioNTech research study to evaluate the safety and efficacy of a potential oral antiviral treatment for children less than 18 years old with COVID-19 who have health conditions that put them at risk for severe illness. 
The phase 2/3 clinical trial will evaluate the safety and tolerability of the treatment — a combination of the medications nirmatrelvir and ritonavir branded under the name "Paxlovid" — to identify the appropriate dose for each pediatric age group. 
7. Yoga App Can Reduce Urinary Incontinence 
People with loss of urinary control who used the Yoga of Immortals mobile app – which combines specific yogic postures in the Sanatan tradition with breathing exercises, sound therapy and meditation – found significant improvement in the frequency and severity of urine leaks at four weeks of practice, according to a Rutgers study. Treatments for urinary incontinence includes medications, pelvic floor muscle physical therapy to strengthen pelvic floor muscles or surgical procedures. 
"Although these treatments are effective, there are many shortcomings: Medications have poor compliance and potential significant side effects, patients often lack the knowledge to identify specific pelvic muscles and motivation to complete physical therapy and the surgical procedures are invasive with potential complications," said Hari Tunuguntla, an associate professor of urological surgery at Rutgers Robert Wood Johnson Medical School.
8. Cannabis Users Can Misperceive How Well Romantic Relationships Are Functioning 
Cannabis users may think their approaches to managing conflict in romantic relationships are better than they are and don't recognize potentially problematic dynamics that might exist, according to a collaborative study conducted by Rutgers and Mount Holyoke College. Researchers examined how cannabis use is associated with how couples relate. They said the findings can assist couples in which at least one of the partners uses cannabis better navigate conflict discussion and resolution.   
"We looked at different indicators of relationship functioning: how satisfied and committed  
people felt about their relationship, their behavior and physiology during a laboratory-based conflict interaction and their perceptions about their conflict discussion and relationship afterward," said author Jessica Salvatore, an associate professor in the department of psychiatry at Rutgers Robert Wood Johnson Medical School.