Faculty, staff and students rallied to address the global public health crisis
Anastasia Dudzinski recalls giving her first dose of a vaccine for the SARS-CoV-2 coronavirus that has ravaged the world.

"It was my first day vaccinating and she was an older woman who was by herself," said Dudzinski, a Rutgers University–Camden senior nursing student, nurse extern in a COVID-19 intensive care unit and AmeriCorps volunteer. "After I vaccinated her, she said, 'Thank you so much. I cannot wait to be able to see my grandchildren again. I haven't seen them in over a year,' and then she started to cry. Most people are very emotional and they're so grateful. A lot of people feel so relieved."

Dudzinski volunteers to help provide COVID-19 relief through AmeriCorps because the disease significantly affected her life and the life of her partner, an ICU nurse, last year. They hunkered down for months in their apartment, terrified of potentially harming their loved ones, but they both came down with COVID-19 in December, likely due to community exposure. "I have never been that sick in my life," Dudzinski said, adding that she's fine now.

The New Jersey COVID-19 Service Corps (part of AmeriCorps) that Dudzinski belongs to helps administer vaccines at the Camden County Vaccination Center, and corps members plan to help open several other vaccination clinics around the county. They want to focus on underserved and minority communities by dispelling myths about vaccination and highlighting its benefits through an Instagram account launched by Dudzinski: @nj_csc.

Dudzinski's endeavors exemplify the efforts of Rutgers students, faculty and staff since New Jersey officials announced the first presumptive positive case of SARS-CoV-2 infection in the Garden State on March 4, 2020. The year, which has been unlike any other in Rutgers' 254-year history, has centered on keeping the Rutgers community safe, providing top-notch health care, developing the first saliva test for the coronavirus and helping society cope with the biggest global public health crisis since the 1918 influenza pandemic.

"The Rutgers community has been incredible in responding to and coping with the pandemic," said Rutgers University President Jonathan Holloway. "I can't say enough about the brilliance of our researchers, the heroism of our front-line health care workers, the endurance and resilience of our students, the commitment and adaptability of our faculty, and the dedication of our staff over the past year. And my thoughts are with everyone in our community who has suffered in tragic ways during this heartbreaking year."

Most faculty, staff and students have worked remotely during the pandemic, with teaching conducted via Zoom and other virtual platforms. As a result of the mostly virtual setting and a novel approach to testing and tracing for the limited on-campus population, confirmed cases of SARS-CoV-2 infection at Rutgers have remained relatively low. Rutgers encompasses more than 23,600 faculty and staff and 71,000-plus students at Rutgers–New Brunswick, Rutgers–Newark, Rutgers–Camden and Rutgers Biomedical and Health Sciences. 

Employing rigorous science, Rutgers experts have worked on innovative ways to address the pandemic. They developed improved testing and treatments and helped oversee vaccine clinical trials, among many other achievements.

With vaccines being distributed, optimism is rising as Rutgers approaches the end of the 2020-21 school year and looks forward to the fall 2021 semester, when many students may be back on campus, albeit not all at the same time.

"In the face of incredible challenges and tragedies, Rutgers has been a global leader in developing the scientific and clinical innovations required to fight COVID-19. I am incredibly  proud about how this community has come together and contributed, saving lives locally and worldwide, in this terrible pandemic. The losses have been horrendous, but the Rutgers contributions to ameliorate them have been fantastic," said Brian L. Strom, chancellor of Rutgers Biomedical and Health Sciences and executive vice president for health affairs at Rutgers. "A year into this sprint to stem the pandemic, we can now see a light at the end of the tunnel – a light sparked in no small measure by Rutgers. Though this anniversary is solemn, it is also a moment to reflect upon, and take pride in, our collective contributions."
 
Here are some of the

Rutgers highlights

from the last year.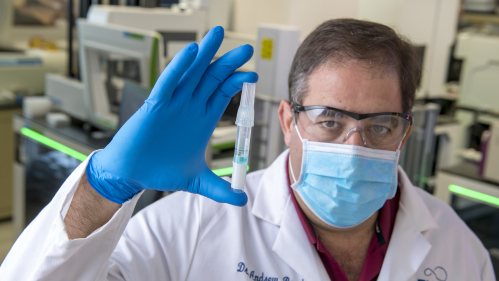 Rutgers' Groundbreaking Saliva Test
In April, the U.S. Food and Drug Administration gave emergency use authorization to Rutgers' RUCDR Infinite Biologics and its collaborators for a SARS-CoV-2 coronavirus test that uses saliva. The approval – the first of its kind by the agency – garnered major media attention and the saliva test has played an important role in the fight against the COVID-19 pandemic. In May, the FDA granted emergency use authorization for a home collection version of the Rutgers saliva test. Unfortunately, Andrew Brooks, a 51-year-old research professor in the School of Arts and Sciences Department of Genetics who led the creation of the saliva test, died unexpectedly in January.

"The Rutgers saliva test, one of the most accurate available, was a breakthrough on several levels," said Jay A. Tischfield, founder and CEO of RUCDR Infinite Biologics, Duncan and Nancy MacMillan Chair in Genetics and Distinguished Professor at Rutgers–New Brunswick's School of Arts and Sciences, and executive director of the Human Genetics Institute of New Jersey.
"It was the first test granted an emergency use authorization that showed you don't need a nasopharyngeal swab, which is uncomfortable to acquire and requires a skilled person wearing personal protective equipment (PPE) to collect the sample,'' Tischfield said. "At the time, and to a lesser extent today, PPE was in short supply and it needs to be changed between tests if nasopharyngeal swabs are collected. A person can self-collect a saliva sample and it involves little interaction with health care workers.''

So far, about 5 million Rutgers saliva tests have been done and the number is expanding, Tischfield said.

At a media briefing on the coronavirus in April, New Jersey Gov. Phil Murphy called the Rutgers saliva test "just absolutely extraordinary work."

"So having an FDA-approved test that can provide us rapid results is critical," Murphy said. "Through their saliva-based test system, Rutgers University is in position to help us get there. Moreover, this is a tremendous point of Jersey pride for us all. Our state, after all, is the historic home of innovations, especially in the life sciences. Now we have a huge breakthrough coming from our very own flagship university. To be clear, Rutgers is an invaluable partner among so many in the expansion of testing statewide, and so much is being made possible because of this, and I look forward to this continued partnership…. And if things continue to go well, Rutgers alone can be the source of a lot of our salvation in terms of the testing we're going to need to have the confidence to reopen."
Research
In March 2020, Rutgers created a new center to coordinate the university's myriad research and public health and outreach efforts to combat COVID-19. The center's goal is to serve as an institutional hub for Rutgers' COVID-19 research activities and information dissemination.

In April, Rutgers launched the nation's largest prospective study of health care workers exposed to COVID-19. The study includes clinical trials to explore new drug treatments, antibody testing and long-term health tracking aimed at providing insight on how to treat the illness and prevent its spread. According to baseline results, nurses have the highest prevalence of coronavirus infection.
Service
Approximately 1,000 Rutgers health care workers heroically kept treating patients during the pandemic, putting both themselves and their families at risk. Many of them treated COVID-19 patients in the earliest days of the outbreak when little was known about the best treatments. To help grow the ranks of health care workers on the frontlines, Rutgers was one of the first institutions in the country to allow students to graduate early from New Jersey Medical School, School of Nursing, and Ernest Mario School of Pharmacy.

In April, faculty, students and staff across Rutgers produced face shields and intubation boxes with off-the-shelf materials to help relieve the PPE shortage at area hospitals as a worldwide shortage of such lifesaving equipment challenged health care settings.

In June, Rutgers announced a partnership with the state of New Jersey to launch the New Jersey Community Contact Tracing Corps program, a key step toward slowing the community spread of COVID-19. The program is led by the Rutgers School of Public Health.
Rutgers Leads Vaccine Clinical Trials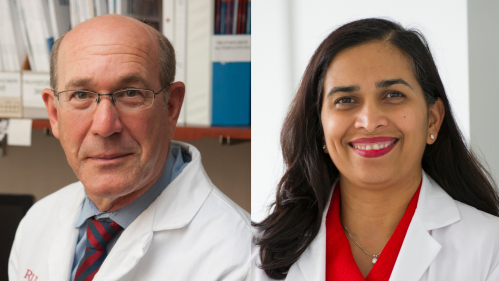 In September, Moderna selected Rutgers New Jersey Medical School and Rutgers-affiliated University Hospital as one of 90-plus sites in the United States to recruit adults to volunteer for a COVID-19 vaccine trial. The FDA gave emergency use authorization to the Moderna vaccine in December.

In November, Rutgers University became a clinical trial site for the Janssen Pharmaceutical Companies of Johnson & Johnson's phase 3 clinical research study to evaluate the safety and efficacy of Janssen's COVID-19 vaccine candidate. The site, based at Rutgers Robert Wood Johnson Medical School, enrolled 840 participants from the university and throughout New Jersey, the second largest enrolling group in the world. The FDA recently issued an emergency use authorization for the vaccine.
Reaching Underserved Populations
Throughout the pandemic, many Rutgers faculty, staff and students have assisted underserved populations in New Jersey and beyond. Many people in racial and ethnic minority groups, including people of color, are at increased risk of contracting COVID-19 and dying from it, according to the U.S. Centers for Disease Control and Prevention.

In the fall, the New Jersey Alliance for Clinical and Translational Science (NJ ACTS) at Rutgers University received a $5 million National Institutes of Health grant to launch outreach campaigns and expand access to COVID-19 testing for underserved and vulnerable communities in New Jersey. The grant is funding a Rutgers-led study that aims to better understand COVID-19 testing patterns among underserved and vulnerable populations; strengthen the data on disparities in infection rates, disease progression and outcomes; and develop strategies to reduce the disparities in COVID-19 testing.
Liz Ševčenko, founding director of the Humanities Action Lab (HAL), a national coalition led by Rutgers-Newark that creates participatory public memory projects on urgent social justice issues, secured a $500,000 Mellon Foundation grant to build a national network of minority-serving institutions to help their communities address the pandemic's disproportionate effects on communities of color and share stories and strategies of resistance and resilience. Raquel Escobar, HAL's public engagement manager, oversees the project: Climates of Inequality and the COVID Crisis: Building Leadership at Minority Serving Institutions. 

"Our approach creates mutual and reciprocal mentorship among three groups of people – students, faculty and community partners," Escobar said. "They're equal partners. They teach each other and everybody learns from each other in very different ways than usual or traditional."

"The ultimate goal is to develop, tap into and foster leadership through the interrelated COVID-19 and climate crises, using public history and public humanities techniques," she said. "We're focusing on how to build a new generation of leaders who can draw on human stories and storytelling as part of how they do their work, as well as what kinds of classroom setups work best."

See how we've united against COVID-19 at rutgers.edu/united.