Cultivating a Beloved Community
Rutgers values and encourages a culture of diversity, inclusion, and respect—the cornerstones of President Jonathan Holloway's vision for a beloved community. Across Rutgers, that vision has taken hold and continues to grow and deepen.
Before Sheryl Lee Ralph electrified Broadway audiences with her performance as Deena in Dreamgirls and or won an Emmy for her portrayal of all-knowing kindergarten teacher Barbara Howard on ABC's Abbot Elementary, she found her calling on student stage at Rutgers College.
The Rutgers alumna and revered entertainer returns to her alma mater on Sunday, May 14, when she will address graduates at the 257th anniversary commencement of Rutgers University-New Brunswick and Rutgers Biomedical and Health Sciences.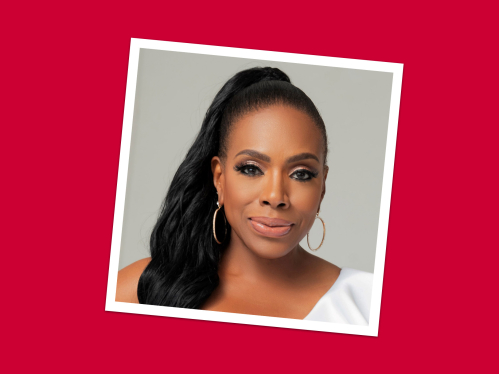 President Holloway's Vision of Civic Engagement
The Rutgers Summer Service Internship (RSSI) Program grew out of President Jonathan Holloway's vision of civic engagement as a critical component of a Rutgers education and a path toward appreciating our differences, restoring civil discourse, and working in service to the common good. 
This past summer, 100 students were selected to complete internships at nonprofit organizations or direct-service government offices through a unique course curriculum created and coordinated by the Eagleton Institute of Politics, Rutgers-Camden Career Center, Rutgers-New Brunswick Office of Career Exploration and Success, and Rutgers-Newark Career Development Center.
Faces & Voices of Rutgers
Faces & Voices tells the Rutgers story through its greatest asset – the students, faculty, staff, and alumni who make it a dynamic place of discovery. Join President Jonathan Holloway as he learns about each individual through conversations illustrating the university's diversity, scope, and impact. On the heels of our return to campus, this series engages members of our beloved community and reminds us that this is what excellence looks like.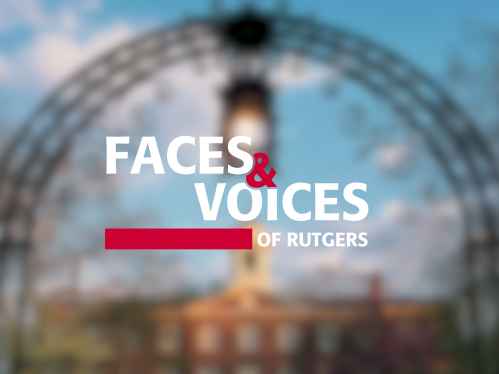 A Commitment to Diversity, Equity, and Inclusion
Rutgers believes that delivering on the principles of equity and inclusion requires constant attention and a determined commitment to improve.
In doing its part in repairing the world, Rutgers is committed to identifying and taking concrete and measurable actions to address social, economic, and racial inequities.
This work grows out of community conversations and engagement as well as presidential initiatives that reflect institutional best practices in the broader world of higher education.
Providing jobs to more than 22,000 faculty and staff, Rutgers ranks in the top 65 on the Forbes list of the 500 best large employers in the nation and is also ranked on its list of America's best employers by state.
Rutgers is among a short list of universities named in the top 100 large employers and is ranked first among all New Jersey organizations.
Providing a respectful workplace and a commitment to veterans and valuing diversity and inclusion are just some of the many reasons why Rutgers is a great place to work. 
Pictured: Yalidy Matos, Assistant Professor Department of Political Science; Dione Sandiford, School of Nursing Facilitator; and David Dreyfus, Assistant Professor Supply Chain Management, Rutgers Business School, on the steps to Old Queens on the College Avenue campus.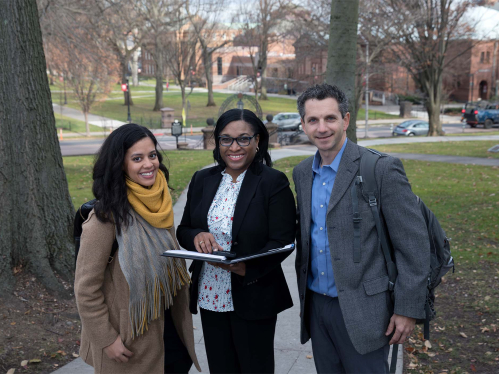 White House Recognizes Law School Team Fighting Pandemic Evictions
Rutgers Law School faculty and students were invited by the White House to recount their efforts to halt pandemic evictions in Newark through pro bono work and an inventive outreach collaboration with community organizers and local artists.
The Stop Evicting Newark Project began in as a response to the Supreme Court ruling against eviction moratoriums imposed at the start of the COVID-19 pandemic, a decision expected to result in a "tsunami" of displaced tenants in the months ahead, said Norrinda Hayat, a law school professor and director of the Housing Justice and Tenant Solidarity Clinic in Newark and the  Economic Justice and Public Benefits Clinic.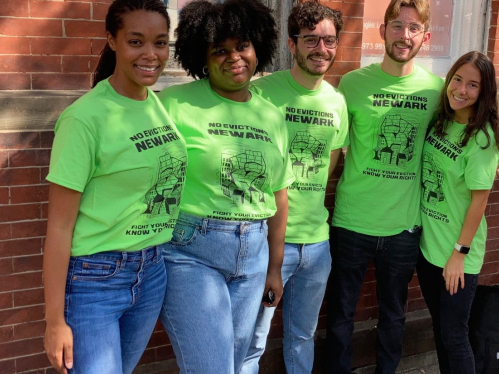 President Jonathan Holloway's dedication to excellence in all aspects of university life, and his belief in the university as a beloved community, already have raised us up and given us more than good reason to believe that the best by far is yet to come.
His distinguished scholarship in post-emancipation American history and African American studies, his remarkable integrity, and his outstanding record as a higher education administrator inform President Holloway's institutional priorities and his transformational vision for the future of Rutgers.