Whether nabbing top national scholarships, pushing for a new minor at the university or creating a career of crafting mosaics of sports stars using puzzle cubes, students and alumni made headlines 
Here are some of the top staff picks of student and alumni success stories at Rutgers–New Brunswick: 
1. Rutgers Students Succeed in Quest for Asian American Minor 
Jillian Cuzzolino, a School of Arts and Sciences student and a leader in the Rutgers Asian Student Council, began laying the groundwork for a program she had long envisioned for Rutgers: a minor in Asian American studies.    
Cuzzolino knew the time was right to push for change at Rutgers. It was spring semester 2021, one year into the COVID-19 pandemic and a time when attacks against Asian Americans were rising sharply nationwide. She and other Rutgers students got to work, finding courses, researching programs at other colleges and working with faculty in the Department of American Studies to develop the minor. 
It became official in 2022: Rutgers–New Brunswick undergraduates can now minor in Asian American studies. 
2. Four Rutgers Students Win Prestigious Goldwater Scholarships 
Four Rutgers–New Brunswick students – Eesh Gupta, Sohaib Hassan, Andrew Schwartz and Julia Shneidman – joined the next generation of research leaders as Goldwater Scholars, awarded for excellence in mathematics, science and engineering. 
Named after the late Sen. Barry Goldwater, the undergraduate research scholarship recognizes outstanding students and encourages them to pursue careers in mathematics and natural sciences and engineering. Rutgers–New Brunswick was awarded the most 2022 Goldwater Scholars in New Jersey, with all four students nominated from the School of Arts and Sciences selected for the honor. The 2022 group ties a 2015 record for the most students from Rutgers named in a single year. 
3. The College Cuber Creates Mosaics of Sports Stars From Cubes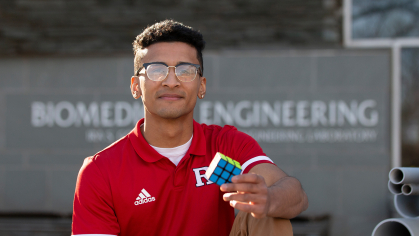 Dylan Sadiq, a Rutgers–New Brunswick graduate with a degree in biomedical engineering, became a self-taught artist with a social media presence who now works with some of the biggest brands and personalities in professional sports. Known as the College Cuber, the first-generation college student creates mosaics of sports stars and other celebrities using puzzle cubes. 
"The first thing you have to do is define a problem," Sadiq said. "After you define the problem, you need to do research on your problem and map out how you are going to solve it. Then you create your product and communicate the results on why it's important. I use that engineering concept in school and in my artwork." 
4. Communication Major Launches Routure Magazine 
Lashindra Sam spent her childhood looking up to supermodels and the glamorous lifestyles portrayed on television. As a student at Rutgers–New Brunswick, she joined every fashion-related student organization she could find. When she learned there was no fashion magazine on campus, Sam decided to start her own.  
Her publication, Routure, is Rutgers' first fashion magazine. The student-led publication, is run as a club and includes members from the Rutgers School of Communication and Information, the Rutgers Business School, the School of Arts and Sciences and the Mason Gross School of the Arts.  As for the magazine's name? "You can't spell 'couture' without RU," Sam said. "Google defines the word couture as 'fashionable made-to-measure' and that is the exact word to describe Rutgers fashion." 
5. Rutgers Grad Works to Recruit Minority Men in Medicine 
Kevin Carolina, who earned a public health degree from the Rutgers School of Arts and Sciences and the Edward J. Bloustein School of Planning and Public Policy, aims to be a physician so people like his grandfather and other Black men he knows can gain trust in the medical community and no longer get sick and die prematurely. 
Carolina, who now attends Sidney Kimmel Medical College at Thomas Jefferson University in Philadelphia, has made it part of his mission to try to increase the number of underrepresented minority men in medicine. With the help of three friends, he started the Minority Men in Medicine at Rutgers. The purpose of the organization is to provide an academic and social support network to increase the number of underrepresented minority men matriculating into medical school. 
6. Student Sheds Light on the Mummy Who Rests at Rutgers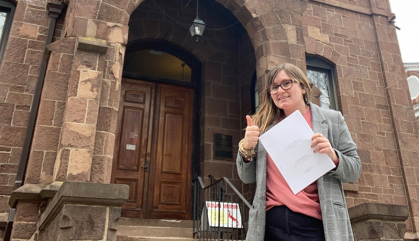 Julia Fuchs, a self-described "museum nerd" and a recent graduate of the School of Arts and Sciences worked tirelessly over her junior and senior years to shed light on Egyptian artifacts and recover their history. 
Rutgers University is home to a small but historically rich collection of antiquities from ancient Egypt, including a mummy containing the remains of a woman named Iset-Ha who lived some 2,200 years ago. For her senior honors project, Fuchs catalogued all the artifacts, created a website to display them, and wrote a 30-page paper on the collection titled: Death is Only the Beginning: The Afterlife of Egyptian Artifacts at Rutgers University. 
Fuchs, who graduated in May with majors in history and anthropology, said her interest in the collection was piqued during an internship at the Rutgers Geology Museum, where most of the items are held. (Others are at the Zimmerli Art Museum.) 
7. A Double Major in Humanities and Science Wins Awards in Each Field 
The science of physics and the art of poetry might seem a universe apart, but Nicole Falcone finds both paths lead to better understanding the world. The 2022 graduate double majored in physics and English, winning top honors in each, and enjoyed a deep dive into the Rutgers campus experience. 
Falcone in the spring learned she won two Henry Rutgers Scholar Awards – one for a research paper on particle physics and the other for a collection of her original poems. The award recognizes seniors who have completed outstanding independent research projects leading to a thesis. 
8. Rutgers Graduate Gives Gift of Life to Leukemia Patient 
Avery Kiihne was days into their first year as an undergraduate student at Rutgers-New Brunswick in 2018 when they joined the Gift of Life Marrow Registry at a recruitment drive at the Hillel Center on College Avenue. 
During their four years at Rutgers, Kiihne never gave that cheek swab another thought.  
Then in April, weeks before graduating with a degree in astrophysics, Kiihne learned they were a perfect candidate to help save a 70-year-old woman with leukemia. Days after commencement, Kiihne boarded a plane for Gift of Life's headquarters in Boca Raton, Fla., where they prepped for a week to bolster their peripheral blood stem cell count before sitting for the four-hour cell collection process.