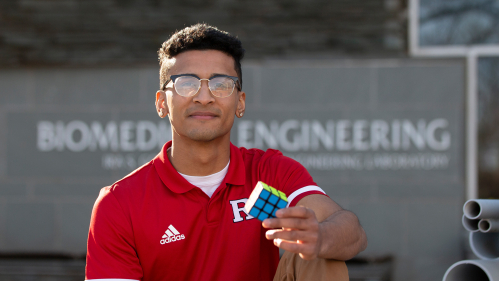 Faces & Voices of Rutgers: Dylan Sadiq
When Dylan Sadiq was 10 years old, he was challenged by his older brother to solve a Rubik's Cube. The reward for completing the task has evolved into something much larger than the Xbox video game he earned at the time; it laid the foundation for a commitment to self-challenge that has propelled the 2022 biomedical engineering graduate into the high-profile world of professional sports as "The College Cuber."
Whether in his basement home studio or at center court in some of the world's most famous arenas, Sadiq builds mosaics commissioned by sport's biggest brands to drive engagement at events and across the globe through social media.
On Tuesday, March 22, President Jonathan Holloway sat down with Sadiq in a third-floor conference room in the Biomedical Engineering Building on the Busch campus for a wide-ranging discussion on the first-generation college student's personal journey and Rutgers experience. Among the topics discussed are his family upbringing, the mentorship and education he has received, and how he applies the many lessons to his art.
"The first thing you have to do is define a problem," Sadiq tells Holloway. "After you define the problem, you need to do research on your problem and map out how you are going to solve it. Then you create your product and communicate the results on why it's important. I use that engineering concept in school and in my artwork."
The two also discuss the many individuals Sadiq has worked with, and the high-profile settings in which he has performed. Through the conversation, we learn that the many skills acquired on his initial path in prosthetics engineering have proven incredibly useful while performing on a road that few have taken.
"There was an event at Madison Square Garden, and the PBR (Professional Bull Riders) reached out to me and said they had seen all my work, had something similar, and could I please come and perform at Madison Square Garden," Sadiq tells Holloway. "Any type of person that you are, the end-all, be-all dream is to perform at Madison Square Garden."
Check Back Weekly for New Episodes