A mega drive seeking donors for the Gift of Life Marrow Registry is planned this fall, open to the 35,000 students on the Rutgers-New Brunswick campus
Avery Kiihne was days into their first year as an undergraduate student at Rutgers-New Brunswick in 2018 when they joined the Gift of Life Marrow Registry at a recruitment drive at the Hillel Center on College Avenue.
"Just a quick cotton swab on the inside of your cheek, fill out some basic information and you're in the system," said Kiihne, who uses the pronouns they/them. "I thought it would be a good thing to do to be on the registry in case I could help someone in the future, but I didn't think a lot about it."
Kiihne is one of hundreds of Rutgers students to join the registry at Gift of Life's annual drives at Rutgers Hillel, held since 2015 to find genetic matches for patients battling blood cancer. Efforts to register students will expand in the fall with the first mega drive open to all 35,000 students at Rutgers-New Brunswick.
During their four years at Rutgers, Kiihne never gave that cheek swab another thought.
Then in April 2022, just weeks before graduating with a degree in astrophysics, Kiihne learned they were a perfect candidate to help save a 70-year-old woman with Leukemia.
Days after commencement, Kiihne boarded a plane for Gift of Life's headquarters in Boca Raton, Fla., where they prepped for a week to boost their peripheral blood stem cell count before sitting for the four-hour cell collection process, which they likened to giving blood.
"I decided it was a very easy thing I could do to help someone else out," said Kiihne. "This was a very small thing that had a very direct impact. It was helping save a specific person's life. If I ever have cancer, I would want someone to do this for me. So, I saw this as a way to pay it forward."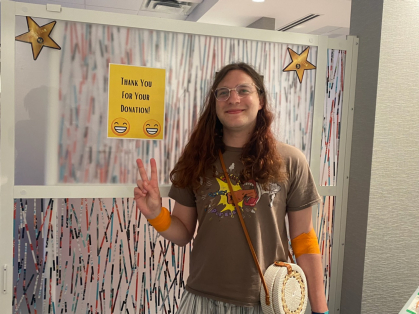 Being able to help others is also what inspired Sarah Allen to take the lead in organizing the first Rutgers-New Brunswick mega drive this fall. Allen, 21, a senior studying cell biology and neuroscience, responded to a Gift of Life Facebook ad calling for Campus Ambassadors as a way to honor her mother who died of a pulmonary embolism five years ago and to gain experience with a medically-related organization.
"I know how illness and loss affects other people, and I want to do anything I can do to prevent someone from going through that – whether it's someone being sick or their family watching them suffer," said Allen, who is from Cherry Hill and plans to follow in her parents' footsteps by studying medicine after graduating in May.
A Gamma Phi Beta sorority sister, Allen is coordinating multiple drives throughout the fall semester through Greek Life to create Rutgers' first-ever mega drive. The first is Oct. 9 with Alpha Omega Epsilon, followed by an Oct. 27 tabling event with Omega Phi Alpha at the College Avenue Student Center. At both events, Allen and other volunteers will educate students about Gift of Life and provide them with an opportunity to join the registry.
"I just want to have a positive impact on people's lives, and this program is a direct way of doing that," said Allen. "It's really cool that I get to educate my peers and spread awareness about blood stem cell and bone marrow transplants."
Launched in 2015, Gift of Life's Campus Ambassador Program has added 74,798 college students to its registry. Of those registrants, 2,598 donors have been matched with blood cancer patients, saving 300 lives.
Gift of Life was founded more than 30 years ago by Jay Feinberg with the goal of diversifying the worldwide donor registry and increasing the likelihood of blood cancer patients from all ethnic groups finding their genetic match. It arose from Feinberg's own search for a donor when he was diagnosed with Leukemia in 1994. He was told by doctors it was likely he would die waiting for a match because there were few donors of European Jewish descent in the registry. He and his family decided to take action and registered thousands of people, then once his donor was found and he recovered from the transplant, Jay vowed that no one should have to search for years to find a donor, and he founded Gift of Life.   
"Many families of European and Jewish ancestry were deeply affected by the Holocaust and have fewer family members likely to be able to donate," said Brian Small, Recruitment Manager with Gift of Life specializing in Jewish organizations and colleges in the northeast. "When Jay Feinberg was first diagnosed, his chances of finding a match were between 5 and 10 percent. Now there is a 75 to 80 percent chance you will be able to find a match."
Small added that since such strides have been made adding donors of Jewish descent to the registry, Gift of Life has broadened its mission in recent years to further diversify the pool of donors. It makes good sense to branch out into college campuses where student populations are prime candidates for making stem cell donations.
"The 18-to-35-year-old crowd is the most requested by doctors seeking donors," said Small, who added that donors remain registered until their 61st birthday. "Generally speaking, they are the most healthy and statistically less likely to develop the issues and health problems that would prevent them from being able to donate."
To learn more about future Gift of Life registry drives at Rutgers email giftofliferu@gmail.com or visit https://rutgers.campuslabs.com/engage/organization/golrutgers and @giftofliferutgers on Instagram. To read the stories of stem cell and marrow donors – and their recipients – visit giftoflife.org.