Move-in starts next week across Rutgers for undergraduates as the university gears up for a return to a vibrant campus life. From registration and financial assistance to making the most out of commuting and when to grab a bite, here are some tips from across the university for incoming students on how to make the best of the upcoming semester.
"We are very excited to be welcoming back our students this fall,'' said Salvador B. Mena, vice chancellor for student affairs at Rutgers-New Brunswick. "We know the start of the semester can be overwhelming but we have an array of services and programs available to help students prepare and adjust to campus life.''
Here is a checklist to be prepared.
Getting Started
For issues relating to term bills, payments, refunds and more, check out the Scarlet Hub for resources, answers to common questions and important upcoming deadlines.
Designated One Stop Student Services Centers at Rutgers-Newark, Rutgers-Camden and the newly renovated Samuel DeWitt Proctor Hall at Rutgers-New Brunswick provide

 integrated services in the areas of financial aid, student accounts and registration.

Make sure all necessary documents, including vaccination records, are uploaded and verified prior to arriving to campus.
Want to change your course schedule? September 8 is the last day to drop classes and September 9 is last day you can add a course.

Check the website of your school for scholarship and grant opportunities specific to your area of study.

More tips for getting ready also available online from Rutgers-Newark and  Rutgers-Camden.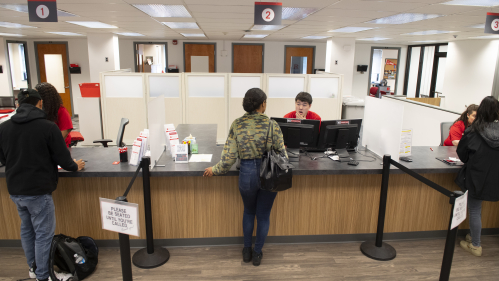 Preparing for Classes
Build your course schedule with ample time between classes especially if they are on different campuses.

Find your textbooks and all supplementary materials for your courses through the Rutgers B&N College website.

Download the myRutgers app for quick access to bus schedules, course modules, academic scheduling, resources, ScarletMail and more.

All university offices will be closed on Labor Day, September 6. You should follow your Monday schedule on Wednesday, September 8. For other course schedule changes throughout the academic year such as around Thanksgiving break, visit the official academic calendar for more information.

Reach out to your school's office of student services to find contact information and schedule a meeting with your academic adviser at least once a year to ensure you are on track to finish on time and build a connection.

Log into relevant learning management systems like Canvas prior to the start of the semester and make sure your notification settings are to your preference for alerts, assignment reminders, messages and more.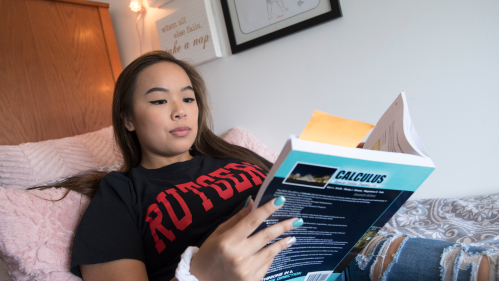 Getting Involved
Make sure to leave time for fun. Whether you're living on campus or you'll be commuting to class, here are some tips for ways that you can immerse yourself in life at Rutgers.
Residential Life
In most residence halls and apartments, you will find a twin extra-long bed frame and mattress, closet or wardrobe, dresser, desk, chair, drapes or blinds, carpeting or tile floor, mini fridge, high-speed internet, and cable television service. Visit your residence hall page to learn what comes in your room and what you will find in your building.
After receiving your room assignment, contact your roommate and discuss what you're planning to bring in order to avoid duplication of large items and electronics and ways to personalize your room. Successful roommate relationships begin with reviewing and completing the roommate agreement.   
Review lists of what to bring including all the basics (bedding, clothes, toiletries, decorations, etc.)  and leave at home including pets, candles, incense, refrigerator, toaster, hot plate, air conditioner and other items.  Check out residence hall guidelines for New Brunswick, Newark and Camden.
More tips for getting ready are also available online from Rutgers-Newark and  Rutgers-Camden. 
Some tips to observe during move-in days:
Face Coverings. On move-in day, face coverings are required indoors. Masks are not required when outdoors on Rutgers property.
Limit Two. Bring up to two individuals to assist you. Those who are currently ill or are at-risk should not accompany you.
Move Quickly. Focus on getting all your belongings in quickly. Organize items once all items are inside and you move your car to long-term parking.
Talk Outside. Meet roommate(s) and their move-in group outside to avoid hallways or enclosed areas for prolonged periods.
Keep Hands Clean. Frequently wash hands and use hand sanitizer after touching doors/surfaces.
Hand Trucks. Bring hand trucks/dollies; move-in carts will be extremely limited at all locations.
Have Patience. It will be a busy day. Practice staying calm and be patient while moving in.
Move-In Schedule. Some halls are required to follow floor-by-floor, timed schedules. Check your hall-specific move-in schedule to find the date and time for your arrival.
New and First-Year Students. Don't forget to attend your resident assistant's first-floor meeting and your campus' Convocation.
Dining Halls. Dining hall meals will begin Wednesday, August 25, 2021.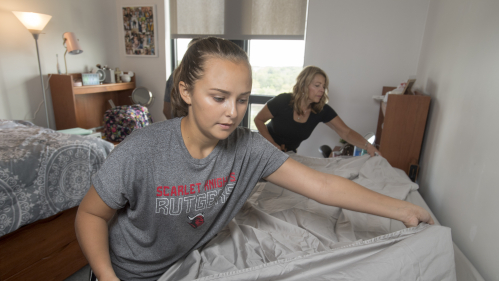 Commuter Tips
Though you don't live on campus, commuting students have many opportunities and resources to experience college life at Rutgers and get assistance when you need it at all Rutgers campus locations. If you are looking for resources specific to your campus, check out the New Brunswick and Newark offices for commuter students.
The Rutgers Commuter Students Association (RCSA) is one group commuting students can join to find others with similar experiences. Below, the RCSA offers some tips just for commuting students.
Severe weather or vehicle emergencies can occur. Always keep water, nonperishable snacks, a jacket and umbrella with you or in your car (a full Commuter Checklist is available on the Student Centers and Activities website).

If you drive to campus, always keep a spare tire, and jumper cables or a battery jumper in your vehicle and know the number for your auto insurance company.

Keep up on your studies on your way to campus: listen to recorded lectures to study material while commuting.

Place your alarm clock or cell phone away from your bed at night so you have to get up on time.

Always leave 15 to 20 minutes earlier than directions state in case of unexpected traffic or inclement weather.

Save money on gas by signing up for gas stations' rewards cards and programs.

Make sure you keep in touch with your friends and plan activities while you are on campus. Visit getINVOLVED to join a student organization, attend events (including those hosted by RCSA) and meet new people with similar interests, or join a fitness or wellness program through Recreation for health and wellness activities.
Want to connect with other commuting students for a question or concern? Use the academics channel on the RCSA Discord server if you have any course questions.
 
Medical and Counseling Services
College is an exciting time, but it can also be stressful and pressure-filled. Here are the services available for help and guidance when you need to talk to someone or not feeling well.
First Days of the Semester
Be sure to check out Welcome Week events scheduled on the New Brunswick, Newark and Camden campuses!
Convocation for the Newark campus this year will be virtual, held on August 23. Check Newark's Convocation 2021 website for more information.
Convocation for the New Brunswick campus will take place at the Rutgers Athletic Center (RAC) on the Livingston campus on August 27 at 4 p.m.