A Quick Guide to College Life
Whether this is your first semester at college, or one of your last, adjusting to life on campus can be overwhelming. Below, we list five quick tips for college students to follow, wherever you are in your academic journey.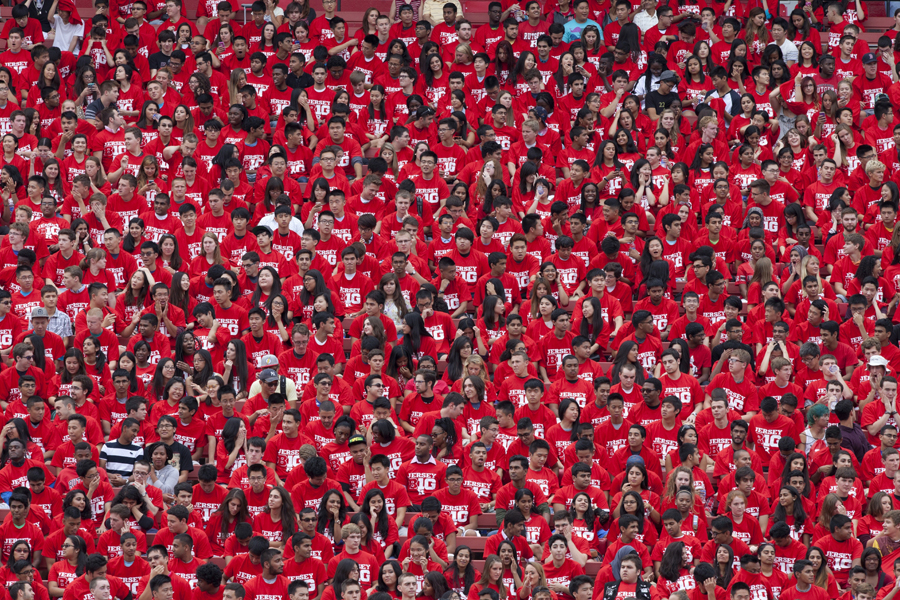 #1. EXPECT YOUR RELATIONSHIPS AND GOALS TO CHANGE
You will lose touch with friends – but you will meet new ones, too.
Whether you were the most popular person in high school or someone who just couldn't wait to get out of there, that part of your story is over now – and the rest is waiting to be written.
"College is an exciting opportunity to put yourself in different types of environments and learn from different people. Be open and willing to put yourself in those different spaces but without losing sight of who you are and that inner wisdom you bring," said Lida Pascual, a licensed clinical social worker and licensed clinical drug and alcohol counselor with the Rutgers-Newark Counseling Center.
It's OK to change your mind – and your major.
As you get exposed to new viewpoints and ideas, your position on any given topic may be challenged or reconsidered – and that may apply to your major, too. Just ask Victoria Bruno, a Rutgers-Newark junior who came to realize that being an accountant was not the "dream job" she thought it would be when she was younger.
"Rutgers has expanded my global mindset completely and I am now able to apply this to my academics, work and extracurricular activities," she said. "I realized that accounting was not for me. Rutgers helped me to understand my passion for serving people and guided me to switch to a public and nonprofit administration major. I found love for this field and continue to learn how to better myself to ensure I can serve, learn and grow."
For more, see these Rutgers resources:
#2. MONEY MATTERS
Even if your net worth is "broke college student," your college years are a great opportunity to learn more about being smart with money. You should:
Start keeping track of your income and expenses.
Make sure you understand your financial aid package, and that you're not borrowing more money than you need.
Open your mail and read your bills so you don't get caught by any surprise late fees or penalties.
Understand how to use a credit card responsibly.
The One-Stop Student Services Center at Rutgers-Camden serves as a central location to help students understand and take care of the transactional side of college life, including financial aid, registration, academic records, bill payments, payment plans, parking and cashiering.
"The center has financial aid counselors available to meet with students and families to help them gain a better understanding of financial aid applications, eligibility, disbursement and refunds, cost of attendance budget components, different aid types, loan comparisons, special circumstances and satisfactory academic progress," said Danielle Barbee, executive director of Enrollment Management.
RUTGERS RESOURCES:
#3. YOU'RE IN CHARGE OF YOUR OWN LIFE
No one will tell you when to go to bed, when to study, when to clean your room or how to cohabitate amicably with your fellow dorm dwellers. It's up to you to manage your time, new living space and relationships.
While you may at times feel overwhelmed or burdened by these new responsibilities know that it's completely normal and you're not alone in these feelings.
"Students, often separated from family and friends for the first time, are learning to adapt to the academic rigor of higher education and the pressures of starting a career while navigating new social circles," said Melodee Lasky, assistant vice chancellor for health and wellness for Student Affairs at Rutgers University-New Brunswick. "It can be a period of increased vulnerability to a wide range of mental health challenges, including depression and suicidal thoughts."
Know that:
Between classes, studying, club and social activities and often part-time work, long days are inevitable. Eating healthy, exercising, and getting enough sleep will help – a lot.
Living in close quarters with a roommate can present its challenges. Know what you can be flexible on and what you're not willing to compromise on.
College is an exciting chapter in a young adult's life that can also be stressful and pressure-filled. For many students, mental health issues surface for the first time. But they can turn to their campus communities for help and guidance.
RUTGERS RESOURCES:
#4. STUDY SMART
Being a college student is in many ways a pretest for life as an adult.
Can you manage your priorities and meet your deadlines?
Can you use your time effectively?
Do you know how to give your professors what they are looking for?
Being able to answer yes to questions like these is a good indicator that you're serious about success in college and beyond. Students should also be mindful of these study tips:
Don't assume that just because you didn't have to study for a subject in high school that you won't need to in college.
If you find yourself struggling, make sure to take advantage of opportunities like study groups, peer tutoring and the office hours kept by your professors.
"It can get really easy to skip classes and push off homework, but if you set up a simple schedule for yourself and try to stick to it daily, then each day becomes more manageable and you always know what to expect without any surprises," said Carlee Scott, a fourth-year communications major from Bordentown, New Jersey.
As a returning apartment assistant at Rutgers-New Brunswick, Scott sees plenty of students trying to navigate college life. Her pro tip? Manage your schedule with an app or a planner. "I cannot stress that enough. Deadlines and exams come up quick so it is very necessary to stay organized with some type of planner."
RUTGERS RESOURCES:
#5. STAY SOCIAL
Research shows that students who are involved socially in their institutions find themselves working harder to achieve higher academically and have much more satisfaction.

A college campus is a big place with lots of activity, and there is almost certainly something for everyone – even if you commute to school.  
"You don't have to live on campus to have an authentic college experience," said Allison Wisniewski, associate dean of students at Rutgers University-Camden, where 85 percent of the student population commutes to class.
Join one of Rutgers' more than 500 social, academic, service or athletic clubs that match your interests.
Consider visiting a welcome to campus event, like Rutgers-New Brunswick's Involvement Fair, where you can explore hundreds of student organizations.
"When you find these small niches and groups, it helps you feel a lot more at home," said Jeff Broggi, associate dean of students with Student Affairs. "When you're not involved and don't have that group, you don't feel as connected. You don't achieve as highly in the classroom."
RUTGERS RESOURCES:
INFORMATION FOR CURRENT STUDENTS

Your days are jam-packed; there's a lot to juggle. Keep organized to get the most out of your educational experience.