University housing staff offers a checklist of the items you shouldn't forget when packing for college
The return to vibrant campus life at Rutgers brings back many fall rituals including move-in days, when campuses at Rutgers will become bustling centers of activity packed with students once again.  
In preparation for the rite of passage that is living in on-campus housing, check out the list below of what to pack for your home away from home from Student Affairs at Rutgers University-New Brunswick.
And remember before coming to campus, there is one important thing students must do: upload your vaccination documentation on the Rutgers Student Immunization portal.
"We know it is still going to be a challenging year, but we are still very excited to have our students return to living on campus,'' said Salvador B. Mena, vice chancellor for student affairs at Rutgers-New Brunswick. "We are working hard to be ready to give our students a safe and full college experience this fall.''
Move-in tips are also available online from Rutgers-Newark, Rutgers-Camden and Rutgers-New Brunswick's FAQ page
What to Bring: 
Cellphone and Charger 
First-Aid Kit 
Prescription Medications 
Essential Documents 
Face Coverings/Masks
Sheets and Pillows 
Comforter and Blanket 
Alarm Clock 
Swimsuit 
Athletic Clothes 
Laundry Bag 
Under-the-Bed Storage 
Ironing Board and Iron 
Shoe Rack 
Umbrella and Raincoat 
Winter Clothes 
Winter Boots, Hats, and Gloves 
Sunglasses 
Vacuum 
Cleaning Supplies 
Towels and Washcloth 
Bathrobe 
Shower Shoes 
Hygiene Products 
Shower Caddy 
Hair Dryer 
Comb and Brush 
Television and Coaxial Cable 
Laptop and Charger 
Office Supplies 
Calculator 
Floor or Bedside Lamp 
Surge Protector 
Fan 
Posters and Decorations 
Snacks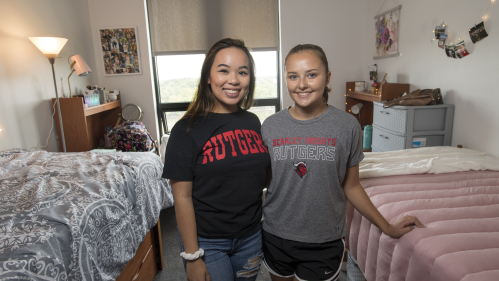 Some additional items are needed if you are moving into on-campus apartments: 
Plates and bowls 
Cups and Utensils  
Pots and Pans  
Toilet Paper 
Bath Mat
Paper Towels  
Tissues  
Hand Soap  
Coffee Maker  
Tea Kettle  
Groceries 
What Not to Bring: 
Pets  
Candles or Incense  
Refrigerator  
Toaster  
Hot Plate   
Air Conditioner  
Weapons of any kind 
Fireworks 
Grill and Charcoal  
Lighter Fluid  
Halogen or Oil Lamps 
Heaters 
Hoverboards  
Drones