Rutgers senior Andrew Peng was thrilled to learn that some in Congress and at the White House are reading the weekly online publication he cofounded two years ago to track Asian American and Pacific Islander politics and activism.
But he admits interest in The Yappie, launched in 2019 before the coronavirus pandemic, is a double-edged sword.
"Of course I'm glad that our publication is being read," said Peng, who will graduate from Rutgers University-New Brunswick this month with a degree in strategic communications, political science and entrepreneurship. "But the reason may be because of what is happening in the Asian American and Pacific Islander (AAPI) community this year, which is particularly bad."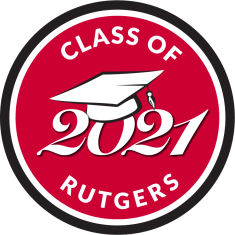 While interest in the nonpartisan online publication has increased – recognized in 2020 by the Asian American Journalists Association as a "must follow" newsletter and featured in POLITICO, Yahoo News and PBS NewsHour – Peng believes that it is due in part to the hateful rhetoric, violence and crimes occurring to the AAPI community from San Francisco to New York.
"The day after the killings in Atlanta, which left six Asian women dead, The Yappie received the most donations ever," said Peng. "People were telling us how important they think our work is, which we were glad to hear even though it felt like the donations were blood money."
What is happening in the Asian American community, he says, has been rough on even those like him who have not been on the other side of this hateful language and violence.
"I haven't suffered personally, probably because I have been staying home, inside, so I feel lucky," said Peng, who moved back to California in September with his family after COVID-19 led to economic shutdowns and most classes at Rutgers shifted to remote learning. "But I know people who have been spat on and called names."
At his home in San Diego, Peng has been able to finish his final year at Rutgers, keep in contact with friends in New Jersey on Zoom and work on tracking Asian and AAPI advocacy organizations while empowering people to get involved.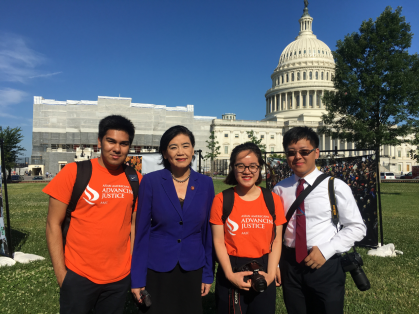 This past summer and through the fall, Peng was even able to remotely participate in internships with two civil rights nonprofit organizations in Washington, D.C. – the NAACP as a legislative assistant and as a civic engagement communications intern with the OCA-Asian Pacific American Advocates. He created messages and toolkits to help boost census and civic participation among Asian American communities, tracked broadband legislation and compiled data to strengthen policy agendas of both groups.
Before the pandemic, Peng interned at the U.S. Department of Education's Office of Educational Technology where he created materials and documented a youth summit organized by the White House Initiative on Asian Americans and Pacific Islanders. He also interned for Asian Americans Advancing Justice/AAJC.
"Andrew could always be found in our office past his hours, working on a project, stubbornly refusing to finish unless it was exactly as he wanted," said Jordan Shyi, acting director for Leadership and Experiential Learning at Rutgers where Peng interned last year. "I was also so excited for him to be able to apply that creativity and his passion for uplifting Asian American stories into his personal work with The Yappie and other AAPI-centered outlets. His ability to share stories from behind a camera is amazing and we are certainly sad to see him graduate but excited for him to continue his work and reach."
When Peng arrived at Rutgers in 2018 he wasn't certain exactly what direction he would take. He had always been interested in politics. At Livingston High School in Essex County, Peng was the communications director for the New Jersey High School Democrats and later the communications director for the national organization.
Of course I'm glad that our publication is being read, but the reason may be because of what is happening in the Asian American and Pacific Islander community this year, which is particularly bad.

Andrew Peng
But not until the spring of 2019 after taking the political science course "Asian American Identity and Politics" did Peng feel a passion to learn more about his heritage and community.
"It lit a spark in me," said Peng. "After that course I wanted to know how I could do more for the community. My passion hasn't diminished."
The spark led him and a friend from middle school, Andrew Huang, to create The Yappie. Once it went live, Peng spent evenings writing for it at the Livingston dining hall/student center after class. Today, The Yappie has a team of more than 10 volunteers producing it.
"I've dedicated significantly more time to it now," said Peng, who took additional courses when he started at Rutgers and only needed to take two classes this semester to complete his degree. "The reality is that this has sometimes meant sacrificing sleep, communicating less with friends, and feeling overwhelmed at times."
A blessing and a curse is how Peng describes the past year connected to the world through his computer. It has allowed him to do the work that he started at Rutgers as a member of Rutgers' Chinese and Taiwanese cultural organizations, an intern in the Rutgers Office of Leadership and Experiential Learning and public relations captain at the March virtual 2021 MARK Conference, one of the country's largest student-run leadership events.
 "But I do feel a bit drained because of the lack of real social interaction," said Peng who hopes to find a job in Washington, D.C. in public service or advocacy. "I definitely want to see people but it's easier virtually to connect with more people than you might have if you had to do it in person. It has allowed me and others to continue important work."