The Rutgers community is fully back together again for the first time since March 2020. That means seeing old friends, reconnecting with colleagues and having face-to-face conversations for the first time in more than a year.

To celebrate the return to Rutgers, we asked faculty from across the university to share what they are most excited about and snap a selfie at their favorite spot on campus.
Here is what they had to say.
Yonaira Rivera
Assistant Professor of Communication
School of Communication and Information
Rutgers-New Brunswick
As a Rutgers alumna (Douglass College Class of '06!), it was a dream to start my new role as a faculty member in the fall of 2020 at my alma mater. Sadly, COVID-19 kept me from being able to experience life on campus during my first year as a professor. Now that we're slowly transitioning back, I'm most excited to be on the other side of the classroom teaching a new cohort of students about the importance of health communication during such a relevant moment in history. I also can't wait to visit some of my favorite Douglass College landmarks on the EE Rutgers bus (hello, Passion Puddle!) and on College Avenue (Thomas Sweets, anyone?). Also excited to visit new landmarks like The Yard. Though, I will say… #RIPgreasetrucks! You are thoroughly missed.
(Photographed at The Yard on College Avenue)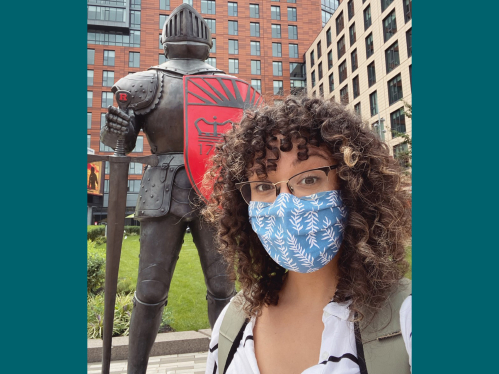 Angelo Soto-Centeno
Assistant Professor of Evolutionary Biology
Department of Earth and Environmental Sciences
Rutgers-Newark
Over the last three semesters, COVID-19 really disrupted our normal campus activities. It took only about a month for me to realize that a full virtual experience is not for me. I miss the connections that can only happen when chatting across the hall at Boyden or as we walk to grab a coffee at Paul Robeson. I miss those informal but deep discussions I had with lab members, colleagues, staff, and students that made it so much fun to be on campus. I miss the countless quick chats about biodiversity we had in our BioBlitz events. This whole experience made me think more deeply about these connections and how important even a five-minute chat over coffee is to keep us happy and sane, to help us stay creative and productive. As we gear up to return to campus, there are still things that make me a little uneasy, but goodness, it will feel so good to sit under a tree in Norman Samuels Plaza. Coming back to me is a relief and it gives me the sureness that we can still create personal connections without the need of those Zoom breakout rooms. 
(Photographed in his lab with a 3D-printed bat skull, left, and an actual bat skull)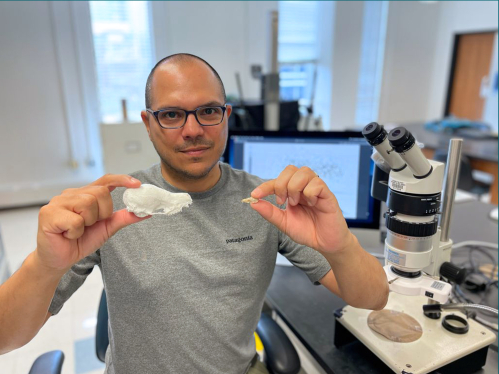 Monica Adya
Dean and Professor of Management
School of Business-Camden
Someone asked me recently – "Are you a pandemic hire?" to which I responded "Yes." I started as dean of the School of Business-Camden on March 30, 2020, just as the world shut down and braced for the onslaught of the past year. Eighteen months later, I am most excited to be on campus for those many spontaneous moments of interaction that I have missed – conversations with students about their future, hallway discussions with colleagues about their research projects, and brainstorming with our School of Business teams about innovative programs.
I am excited to be on campus to leverage the potential and opportunity that Rutgers-Camden and the City of Camden offer. Together with our corporate and community partners, we can make important differences in the communities we work and live in. I look forward to collaborating with our alumni through the newly formed RSBC Alumni Association. Together we can create many experiential opportunities for our students.
I look forward to seeing the beautiful fall colors on campus, walking across the inspiring Ben Franklin bridge, and looking back from the Camden waterfront to assimilate the opportunities that lie ahead of us.
And finally, I am looking forward to being on campus so I can experience first-hand the warm campus environment that I have learned to love through virtual meetings. And to say a thank you, in person, to the many colleagues who have worked so hard to develop this close-knit campus and School of Business.
(Photographed on the Campus Quad)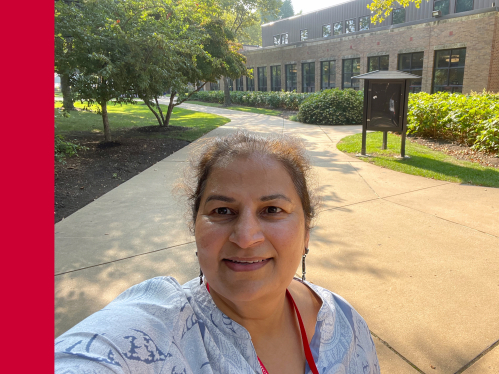 Mark Gregory Robson 
Distinguished Professor of Plant Biology and Faculty Director, Byrne First-Year Seminars
School of Environmental and Biological Sciences
Rutgers-New Brunswick
I have looked forward to the fall semester at Rutgers every September for almost half a century. This year it is more meaningful and more important to me. I am happy and excited to be back in the classroom in front of my students. We all discovered how to manage remote learning and after some trial and error we are able to make the classes interesting and fulfilling for our students, but nothing beats being in front of 100+ bright, motivated and energetic young people! 
My mom dropped me off at Rutgers in September 1973 and I am still waiting for her to come back. So, after 48 years, four degrees and three different roles at Rutgers, I still look forward to every day on campus and this fall semester will mean more to me and hopefully I will give more to my students to bring us back to some sense of normal, to bring back a sense of inquiry, enthusiasm and hopefully fun to the classroom.
(Photographed near the teaching greenhouse on Cook Campus)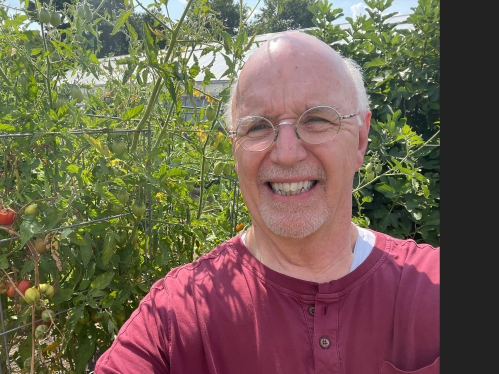 Jonathan Holloway
President and University Professor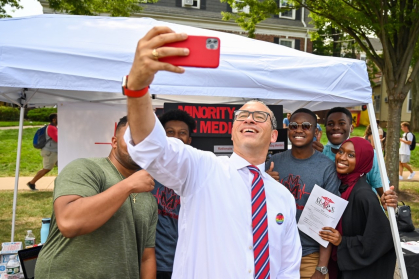 I joined this community on July 1, 2020, and since then I have been waiting for this moment when we would greet each other face to face. Now that you are here, I am on the verge of being overwhelmed. As first-year students you have been anticipating this moment, too, curious to learn what it means to be at a place where so many choices lie in front of you that are yours alone to make. It is a lot to take in.
Your college years are meant to be a time of discovery, intensity, passion, and strong beliefs. This is as it should be; and this is not enough. If you want to participate in the work of making this place ever better, if you want to take advantage of the abundance that surrounds you, if you want to make a positive difference that will improve your community, yes, bring all of that energy, but also bring an awareness of your limitations, understand that your views are never sacrosanct, appreciate that today's brilliance might be viewed as tomorrow's error, recognize that everyone has earned the right to be here and to be respected, and know that your privilege should always be tempered with an equal dose of humility.
Welcome to a place that was born in 1766, but that you get to remake in 2021. We are excited to see you, to have you here, and to discover what you will make of the gifts you brought with you as well as those which you will receive through your Rutgers experiences. As you think about how to use your time and your voice, remember the awesome responsibilities that come with both.
(From President Holloway's speech at the Rutgers-New Brunswick convocation. Photo taken at the Rutgers-New Brunswick Involvement Fair)
Todd Nichols
Assistant Professor of Music, Director of University Bands
Mason Gross School of the Arts
Rutgers-New Brunswick
Having been isolated and working from home on a computer for almost 16 months was a surreal and challenging experience for me. As a musician, conductor, and educator most of my work is done in a large ensemble setting. While creative solutions were found to adapt to our new virtual reality, there is no substitute for being on campus together. Working live and in real time is an exhilarating and thrilling experience that cannot be accurately reimagined, redesigned, or recreated in a virtual format. Creating great performances is a collaborative effort involving many individuals working together in person as one collective unit. The thing I missed the most was being able to see and work with my students in person. What I am most excited about and am looking forward to more than anything is getting back on campus and reconnecting with my students. They are the heart and soul of our university and what makes Rutgers so incredibly special. I can't wait to get back on campus and see them and make great music together live and in person! 
(Photo taken during pre-camp band rehearsal)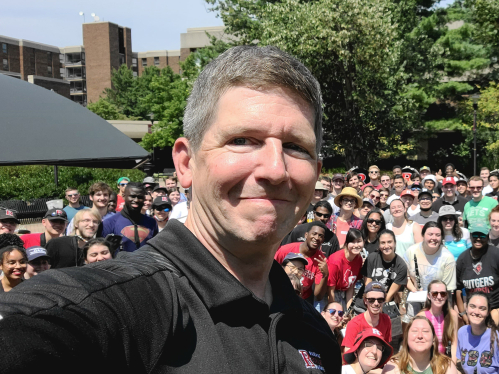 Jeffrey A. Robinson 
Associate Professor and Academic Director 
Center for Urban Entrepreneurship and Economic Development 
Rutgers Business School-Newark and New Brunswick
Every September I get excited about a new school year. This year, I am looking forward to it even more because I miss being in the classroom. I believe we all lose something when we aren't able to engage one another in person.
One of the classes I'll teach this fall semester at Rutgers Business School is Social Entrepreneurship. After a few weeks of learning the basics, the students will pitch their venture ideas to make a difference in their community or places around the world to one another. These ideas can become one of 10 team projects that students can work on during the semester. But, to work on your own idea, you have to convince two or three other students to work on it. In my class, I want students to see and listen to one another and then give constructive feedback to their classmate's ideas. This part of the class is enhanced when we are in person and I know this kind of experience is what students are looking for. This new school year may have more than our share of challenges but the optimist inside of me knows that if we work together – faculty, students and staff – we can work them out.
(Photographed at the business school in New Brunswick)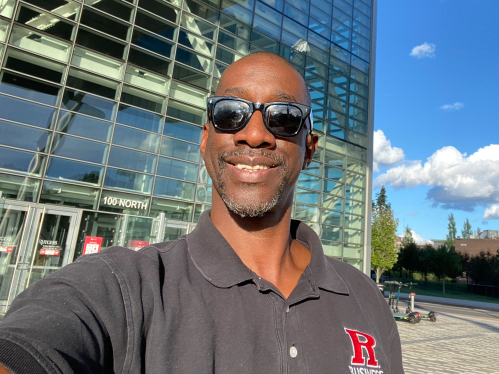 Donna Gustafson
Interim Director
Zimmerli Art Museum
I'm most looking forward to discovering new stories in conversation with others in the Zimmerli Art Museum, which welcomes back the community Sept. 1 after being closed since March 2020. 
One of the great pleasures of working in an art museum is having time everyday to visit galleries filled with extraordinary works of art. Looking at art is a solitary pleasure, but conversations with other people about what we see really enables us to fully unpack the complexities and stories embedded within each individual work of art. I like to compare the joy of deep looking with a friend or a group of students to the pleasure of opening an intricate box with many hidden compartments; these compartments open one by one and the more participants in the unpacking, the better. A deep dive into a work of art yields a great deal of pleasure and reminds us all that stories and lives are multidimensional, that nuance makes a text into a story. Some of my favorite moments in the museum have been with students and visitors who challenge me to explain art. I don't believe that you can fully explain a work of art, all you can do is open yourself up to it.   
(Photographed outside the Zimmerli)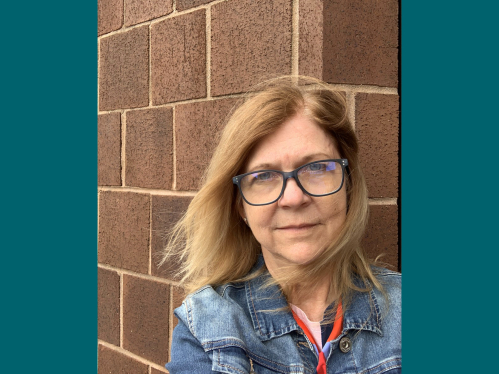 Geeta Govindarajoo
Department of Chemistry and Chemical Biology
School of Arts and Sciences
Rutgers-New Brunswick  
I am looking forward to hearing the spontaneous conversations that happen between me and the students and among the students themselves before and after class – some amazing discussions have evolved from such conversations. Being amid students during the first day of class where old friendships are being revived and new friendships are forming is always exciting.  I have missed seeing the "aha" moments when a difficult concept suddenly makes sense or when a fun story helps clarify a topic. After being away from campus for such a long period, I believe many of us will be seeing the spaces on campus with new eyes. Who knows what great discoveries that could lead to?  
(Photographed in front of the Zimmerli Art Museum, a partner in her Chemistry of Art course)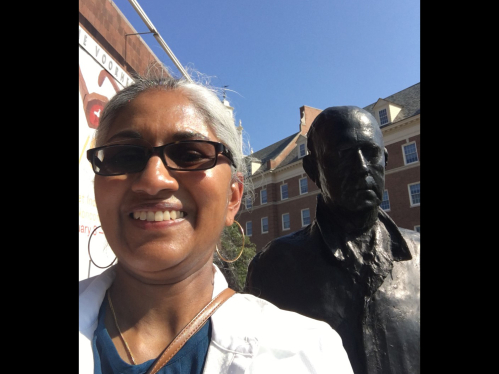 Karyn Malinowski  
Professor and Director
Rutgers Equine Science Center 
Rutgers-New Brunswick
I am so excited about the return to in-person learning. I have never, in my 42 years as a faculty member, found myself to be so devastated by having our in-person teaching and research come to a screeching halt. I miss my students and the Rutgers horses terribly and look forward to working with them on a regular basis again. Both populations are an inspiration to me and are the reason why I am still here after all these years! 
Equally important to me is the in-person learning we deliver to our constituents in the equestrian community through our many events, lectures, workshops, and stakeholder meetings. I look forward to kicking that off again soon with a day-long workshop at the Equine Exercise Physiology Lab on Oct. 2 for veterinarians sponsored by the New Jersey Association of Equine Practitioners. We'll be back in the saddle soon!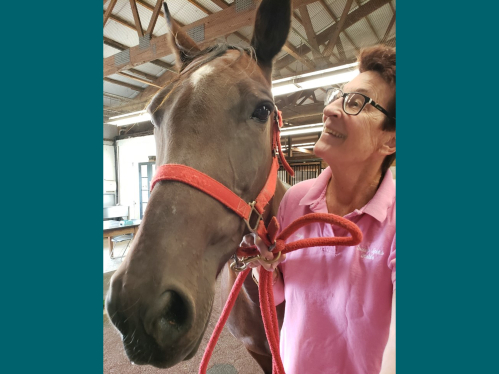 Yla Eason
Assistant Professor of Professional Practice
Rutgers Business School-Newark and New Brunswick 
Growing up, like most kids in my neighborhood, back-to-school time was always a highly anticipated and exciting event! It meant you got to see your classmates who you had not seen all summer and got to move up to a new grade once classes started. 
Plus, I liked the fact that I would have new teachers and meet new friends. The wonder and delight of approaching each fall have never left me. 
This 2021 fall semester is even more special because we could not be a part of that greeting and anticipation of seeing new faces beyond the Zoom screens last year. 
I am especially delighted to be able to catch those glimpses of "aha" moments when a new fact is revealed. I am anticipating hearing one student spontaneously challenge an insight or opinion raised by another student. I am looking forward to clarifying a point because I see a look of confusion cross a student's face. 
In other words, it's back to faces – inquisitive eyes, quick comments, laughter, smiles, gestures, expressions and all the energy that infuses a classroom when it is occupied with students! 
Welcome back! I can't wait until I get to meet all those business school scholars I only saw as boxes on a screen or flat images on a call. I am happy to be a part of that spirit of togetherness and camaraderie again.  It never loses its freshness for me and this year I embrace in-person learning as the real gift it is! 
(Photographed outside the business school in Newark)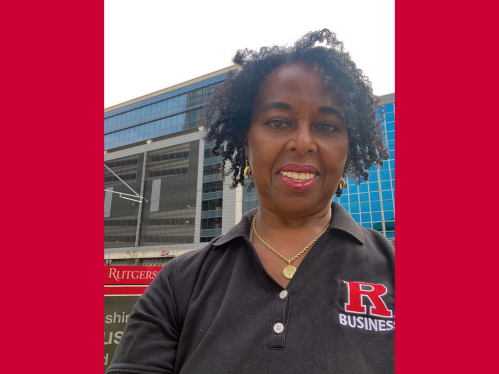 Steven Miller
Professor of Professional Practice and Director of Undergraduate Studies, Journalism and Media Studies
School of Communication and Information
Rutgers-New Brunswick
I have been fortunate enough to have come back to campus a few times over the past 18 months and have found it to be a soulless shell of a ghost town languishing in its own emptiness. At times, I thought I would see a tumbleweed rolling down College Avenue. I would go inside the School of Communication and Information building and hear the echoes of my footsteps as I made it down the hollow, vacant hallway to my office door. It was as if I had been dropped into an episode of The Twilight Zone. 
I look forward to seeing the students. They will change the campus back to what it should be. I want to feel that unequalled energy, passion, and vibrancy that only they can bring. I have desperately missed interacting with their unbridled power to look at things in different ways, at different levels. Whether it's discussing the latest news event, course schedules, or just shooting the breeze, they have an unmistaken, electric, and enthusiastic way of navigating the Rutgers world that has been absent from my life during the COVID crisis. This isn't something you can feel over Zoom or WebEx, those impersonal technologies that enable people to hide behind empty screens.  No, this is something you can just get in person.  
I can't wait to see students bounding down the hallway, smiles on their faces, bursting at the seams, coming in to tell me about their latest accomplishment or to just say hi.