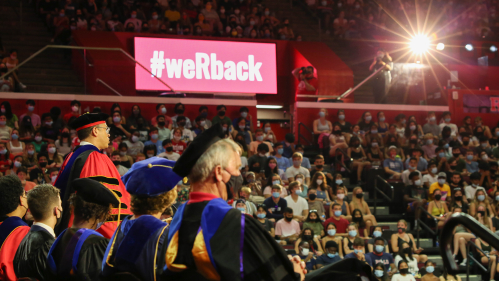 Meet Rutgers' Class of 2025: A Resilient Group Ready for New Challenges
Rutgers welcomes more than 13,000 students this fall, one of the most diverse classes in history 
The incoming Class of 2025 – more than 9,200 first-year and 3,800 transfer students, among the most diverse in university history – is coming to Rutgers after having stood up to challenges unseen in generations that disrupted their education and their lives.

They adjusted and sometimes struggled to meet the demands of remote learning that filled many school days since the start of the pandemic. They overcame tragedy and faced difficult circumstances but are accomplished and eager for a second chance in the classroom.
Courtney McAnuff, vice chancellor for enrollment management at Rutgers University-New Brunswick, said the incoming class has shown unparalleled resilience in the face of adversity.
"These students have largely operated within a virtual or hybrid classroom environment since spring 2020, and many have experienced various hardships with regard to physical and mental health, financial security, and quickly adapting to an ever-evolving new normal," McAnuff said. "We look forward to welcoming this tenacious group back to in-person instruction on campus."
The incoming class will encounter an academic community that is encouraging in-person learning while continuing with strict safety protocols amidst a national surge in COVID-19 cases. Earlier this year, Rutgers became the first university in the country to announce that all students will be required to be fully vaccinated by the fall semester.
"I joined this community on July 1, 2020, and since then I have been waiting for this moment when we would greet each other face to face. Now that you are here, I am on the verge of being overwhelmed,'' President Jonathan Holloway said during the Rutgers University-New Brunswick convocation.
''Welcome to a place that was born in 1766, but that you get to remake in 2021. We are excited to see you, to have you here, and to discover what you will make of the gifts you brought with you as well as those which you will receive through your Rutgers experiences,'' Holloway said. "As you think about how to use your time and your voice, remember the awesome responsibilities that come with both.''
Meet some of the outstanding members of the Class of 2025.
Class of 2025 by the Numbers
Total Number of Applicants
Rutgers-New Brunswick First-Year Enrollment
Rutgers-Newark First-Year Enrollment
Rutgers-Camden First-Year Enrollment
Alisson Lopez
Honors Living-Learning Community
Rutgers-Newark
Alisson Lopez has been focused on mental health and helping struggling classmates since long before the pandemic disrupted her life and presented new challenges in high school.
While still in her first year, Lopez teamed with a group of seniors to create a "safe room" for her classmates: a place to chill when they're stressed and struggling with depression, loneliness and the pressures of performing well academically and socially.
Demographics at her diverse high school – students from low-income families or immigrant families, struggling with the burden of breaking the glass ceiling – were her motivating force.
"Mental health has an enormous impact on how we react to the world around us," says Lopez, who earned a 3.9 average at Newark's Science Park High School in addition to being named to the National Honor Society and the Spanish Honor Society. "The history of humanity has been worked out in the brain."
Entering her first year at the Honors College at Rutgers-Newark and the Honors College Living-Learning Community, the Newark resident hopes to major in neuroscience, with an eye toward delving deeply into the workings of the human brain.
The ability to conduct undergraduate research, coupled with the opportunity to study with world-renowned scientists while remaining relatively close to home, drove her choice of Rutgers. She's particularly excited to spread her academic wings after more than 18 months of COVID-19 restrictions.
"Like nearly everyone else on the planet, the pandemic hit me hard," Lopez says. "I found myself isolated, having to mature in an unconventional way. Now, actually going to class, participating in sports and clubs – these will be very different. I have a new appreciation for life that I didn't have before."
The daughter of parents who brought her to New Jersey from El Salvador when she was 5, the young scholar wants to pave the way for her sisters, ages 12 and 7. Doing that, Lopez says, includes fighting for gender equality, assuring that her siblings become "proud Latin women, never being made to feel like lesser people."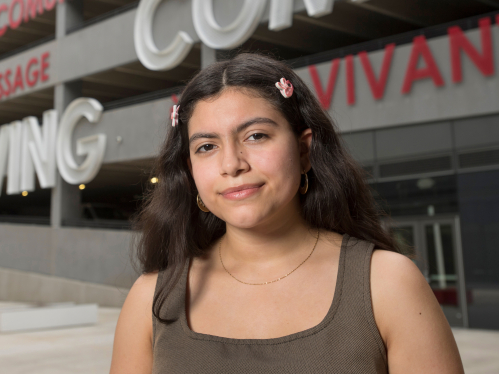 Travis Anane
School of Environmental and Biological Sciences
Rutgers-New Brunswick
When Travis Anane was in elementary school, he remembers getting bullied for being overweight, feeling lonely and wondering whether he was doing something wrong.
But a move with his mother to Clementon, a more diverse neighborhood with other Black kids about 20 minutes outside of Camden, started him on a path that led to new friends, many academic and athletic awards and about $60,000 in scholarships to pursue his dream to become a physician.
"That move changed everything for me," said Anane, who will enter his first year in the School of Environmental and Biological Sciences (SEBS) at Rutgers University-New Brunswick. "I had friends. My teachers motivated me, wanted me to do good and wanted me to succeed."
The graduate of Camden County Technical School in Gloucester, who took classes at Camden County College during his senior year at the specialized high school, did just that. Finishing school with almost a 4.0, in medical arts, he participated in the Health Occupation Students of America, the Future Business Leaders of America, the National Honor Society and the National Technical Honor Society.
"My classes were very diverse, which is so important to me," Anane said. "There were African Americans and Asians, and it was the first time I had an Islamic woman in my class. What that experience did was teach me how important it is to respect other people and their opinions."
Besides school, Anane has spent time volunteering at local hospitals, setting up blood drives and scheduling athletic events for charity.
"I really like being able to experience new opportunities," Anane said. "I might not think I'm ever going to go into business, but I think it is important to sharpen your skills just in case."
Anane's drive comes from his mother, who works long hours as a nursing assistant at a New Jersey assisted living facility to take care of him, his 3-year-old sister and his grandfather, who is retired.
"My mom wants more for me than barely getting by," said Anane, who was a 2021 recipient of a $25,000 Horatio Alger National Scholarship given to low-income students with at least a 3.88 GPA. "And my grandfather wants me to be happy in life."
Combining his love of biology and his passion for basketball, Anane hopes to become a physician for the NBA.
"I know I am going to get there, and I know that I have to check off what I will need to do to make it happen," said Anane. "It's not going to be simple. There's a lot of school to get through. But I'm ready to work for it."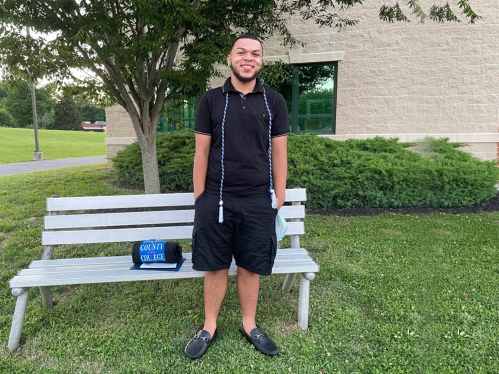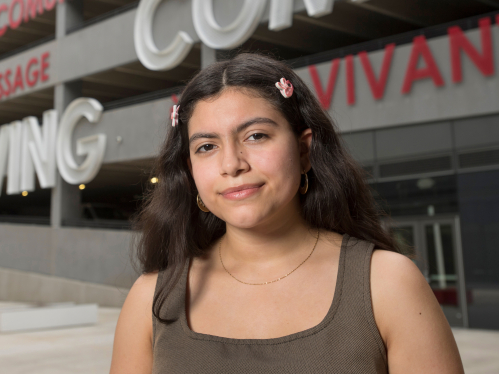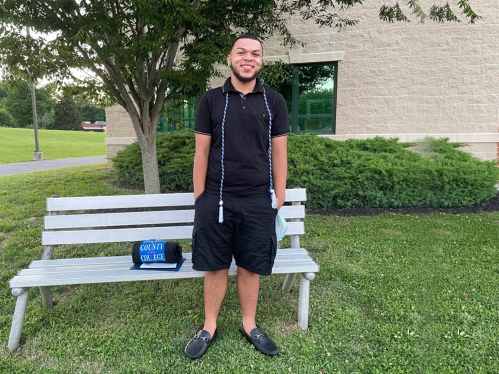 Out-of-State and International Students
The distance between New Brunswick, N.J., and Werribee, Australia, the farthest a student traveled to attend Rutgers
We R Back: Scenes From Students' Return to Campus
President Jonathan Holloway kicked off Welcome Week with a new student convocation at the RAC, followed by days of events for first-year, second-year and transfer students arriving at Rutgers.
Emily Mason
School of Arts and Sciences
Rutgers-New Brunswick
Emily Mason may not remember the first time she kicked a soccer ball – understandable, since she was only 2 or 3 years old at the time. But she easily conjures up one of her most thrilling moments on the field.
"I was with the U.S. Under-20 USA Women's National team last year, playing in the Dominican Republic, and we qualified for the World Cup," says the Flemington native, who will bring her skills as a defender/midfielder to Rutgers-New Brunswick School of Arts and Sciences this fall.
Mason was the youngest member of that team, playing in four out of seven games in the winning series.
The student-athlete will bring more than memories with her when she arrives on campus. She also boasts a ton of titles, most notably that of 2020-21 New Jersey Girls Soccer Gatorade Player of the Year. It was a repeat for the graduate of Hunterdon Central Regional High School, who walked away with the same honor the year before.
She also was named the 2019-20 National Gatorade Player of the Year, selected from among all the other state honorees.
Additionally, Mason is a two-time United Soccer Coaches High School All-American, as well as the 2020 New Jersey Girls Soccer Coaches Association Player of the Year. TopDrawerSoccer.com ranked her as the nation's No. 3 recruit in the Class of 2021.
Mason has left her mark not only on the soccer pitch, but also on her community. She participated in the Hunterdon Outreach Program, which supports special-needs children through athletics, and has volunteered with her school's Connect Club, which works to empower such children through socialization events.
Is it any wonder that her goals for 10 years down the road focus on playing soccer on a national team as well as teaching students with special needs, preferably on the elementary school level?
After 18 months of relative isolation, Mason is looking forward to sitting in a real classroom, surrounded by other students and learning from a professor who is more than a tiny square on a computer screen.
"I had to maintain a lot of self-motivation during those months, especially when it came to training," she remembers. "Often, I would run by myself in a nearby field to keep my skill level up."
When it came time to apply to colleges, there was little question where she would wind up: walking the same campus paths that U.S. soccer superstar and Olympic medalist Carli Lloyd – a Rutgers Athletic Hall of Famer – walked while playing for the Scarlet Knights from 2001 to 2004.
"Ever since I was little, I knew I wanted to go to Rutgers. Later, I fell in love with the coaching staff and the players – they made me feel so welcome," says Mason, who will join seven other nationally ranked soccer stars in the incoming class.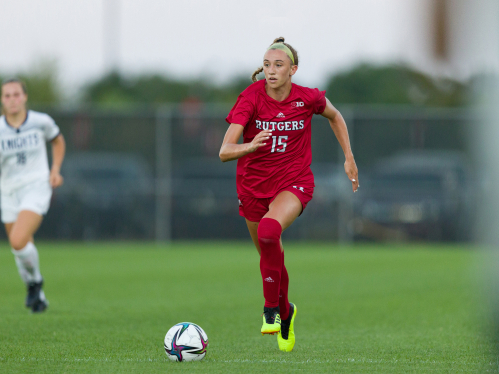 Brandon Mejia
Mason Gross School of the Arts
Rutgers-New Brunswick
Brandon Mejia's music sustained him after Hurricane Sandy displaced his family from their home in Newark for six years. It nurtured him through the isolation of the pandemic lock-down.
That passion for music made the choice of Rutgers' Mason Gross School of the Arts, and the decision to major in jazz studies, as natural as breathing in and out.
Ask the Newark-born and bred Mejia his favorite piece of music, and the answer comes in a staccato burst: Moanin', by the famed musician Charles Mingus.
"It was one of the first jazz songs I ever heard, with its convoluted music, which is both chaotic and melodic. I really fell in love with the clashes of sound – it was a heck of an intro to this music," he says.
Mejia tumbled head-over-heels for the sound of the saxophone – how it sounds, how it feels in his hands, how it connects him to other musicians.
Now he hopes to take that love to the next level: joining the Rutgers Mingus Ensemble, under the direction of Abraham Burton, himself a lauded saxophone player and long-time inspiration to Mejia.
"I fell in love with Mr. Burton's sound, and I want to be somewhere I can continue to learn from him," says the Science Park High School graduate, who first met his mentor at Jazz House Kids, an educational and performance-oriented program based at Montclair University.
From that program came one of Mejia's proudest possessions: a new, professional-level saxophone he received for winning the Jazz House Kids R.S. Berkeley Musician of Distinction Award, given annually to two youths who demonstrate leadership, creativity and dedication to excellence.
Mejia points out that the other recipient of this year's award was Kianna Johnson, who also graduated from Science Park High School and who will join him at the Mason Gross School of Arts this fall.
For Mejia, the coronavirus isolation was brutal.
"Music is universal, and the fact that the pandemic almost took that away was hard on me – I felt emotionally drained," he says.
Since the seventh grade, Mejia has been enrolled in the Rutgers Future Scholars program, which helps first-generation, low-income and academically promising middle school students from Camden, Newark, New Brunswick, Piscataway and Rahway prepare for college.
In addition to providing mentoring and other forms of academic support along the way, the program encourages service to the community. In Mejia's case, that took the form of helping out at local food banks and distributing food to the needy during the holidays.
Mejia has also participated in the Cooperman College Scholars program, which provides motivated students attending public school in Essex County with resources to help ensure success in college.
Rutgers-New Brunswick is a partner in the Cooperman program.
Throughout the summer, Mejia counted the days until he could be on campus.
"I can't wait to return to a setting where I can play with people face-to-face," he says.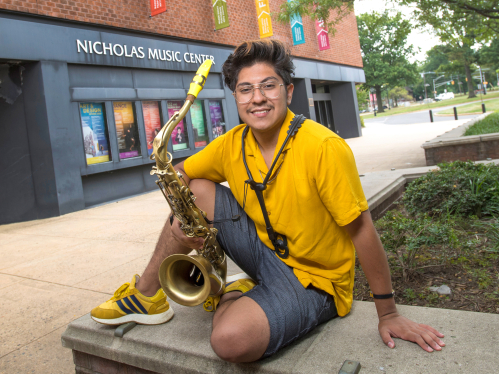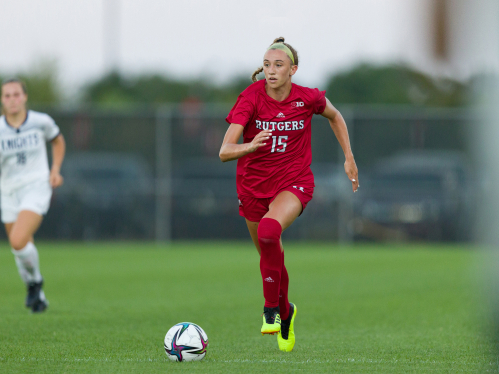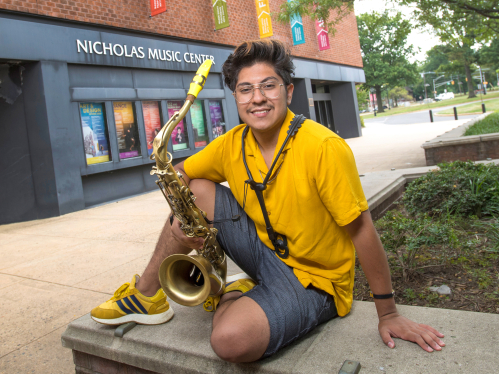 African American, Latino and Asian-Pacific Islander Students
First-Generation Students
The Children or Grandchildren of Alumni
Je-Naya Shipley
College of Arts and Sciences
Rutgers-Camden
During her first two years at Rahway High School, Je-Naya Shipley ran track, served on the cheerleading team, was a member of the dance team, and pulled down a GPA in the 3's. Then the world shut down.
As she enters her first year at Rutgers University-Camden, Shipley feels as though she's been given a second chance.
Hybrid learning during the pandemic provided challenges that made some of her goals feel out of reach. But now that she is poised to start college, she says her desire to become an anesthesiologist or a neurologist again seems possible.
"It was tough, but I had to adapt. I had to be stricter with myself, master a whole new way of learning," Shipley recalls.
Still, Shipley thrived as a member of the first Rutgers Future Scholars cohort in Rahway.
"She is a bright young woman who has made an impact on the program ever since we met her in 7th grade," said Ashley Douglas, program coordinator. "Je-Naya has represented Rutgers Future Scholars at many a donor meeting, been featured at our 10-year celebration, and has been accepted at multiple divisions within Rutgers."
Already envisioning the excitement of the first week on campus – moving into her dorm, establishing budding friendships, sitting in on her first classroom lecture – Shipley says she's eager to "try a little bit of everything" in her new environment.
Two of her four siblings won't be far behind. Her sister Nyjae, 16, and her brother Jayden, 14, have also been tapped for the Future Scholars program.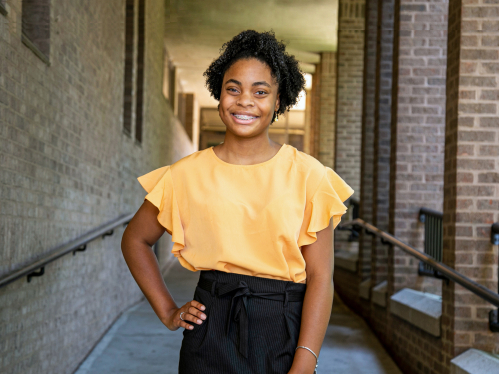 Janice Cefaratti
School of Nursing-Camden
Watching her younger brother Michael die of non-Hodgkin's lymphoma 10 years ago when he was 46, Janice Cefaratti felt profound grief matched only by newfound determination.
The mom of three, then closing in on age 50, discovered she wanted to be a hospice nurse, modelling herself after the men and women who so tenderly and professionally cared for Michael and his family during his final weeks of life.
This fall she'll be entering the School of Nursing-Camden, having spent the last decade chasing a goal which is now within reach after numerous setbacks and stumbling blocks.
The Sewell resident has plenty of inspiration close at home.
Cefaratti's daughter Torianne Rota, 29, received a degree in health sciences from Rutgers in 2018 before graduating from Rutgers' accelerated nursing program in 2020; she now works in a hospital intensive-care step-down unit.
Tori's sister, Talia Rota, 23, entering her senior year in the nursing program, hopes to finish in May 2022 and possibly find work in the office of a plastic surgeon.
Is there any doubt what mother and daughters chat about during family dinners?
"Of course, we talk shop," Cefaratti says, chuckling. "When Talia was doing a maternal nursing semester, learning it virtually because of the pandemic, I was able to explain the whole process, because I was actually there when a baby was being born."
Cefaratti worked as a paralegal before opting to stay at home with twins Talia and Salvatore. The two were in 8th grade when she first enrolled at Gloucester County College and began the first steps on her nursing path.
After she received her associate degree in health science, she ultimately transferred to Rutgers-Camden to continue working toward her goal, although it wasn't always easy. At one point, when she didn't pass her statistics class the first time, she had to retake it – this time getting an A.
With the necessary coursework under her belt, Cefaratti was accepted to the School of Nursing-Camden, where she will begin her studies in the fall. She expects to graduate with a bachelor's degree in nursing.
"I feel as though I've been jumping hurdles for the past 10 years," says Cefaratti, who cleans houses for a living, an occupation that allows her to tailor her work around her class schedule.
Rather than a liability, she sees her age as an asset, not only in the classroom but also in her chosen field.
"I have a lot of life experience that will make me a good team player as a hospice nurse," Cefaratti says. "I'm not afraid to put myself out there. I've learned that you have to keep pushing through – stay on your path, and don't let anyone talk you out of your dreams."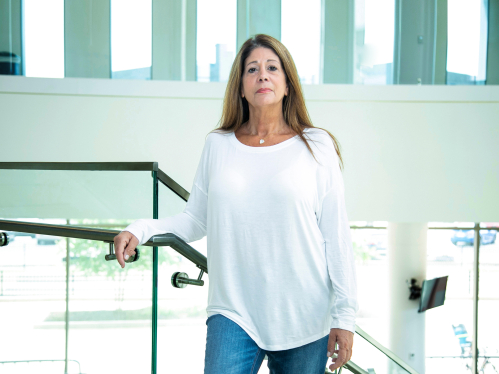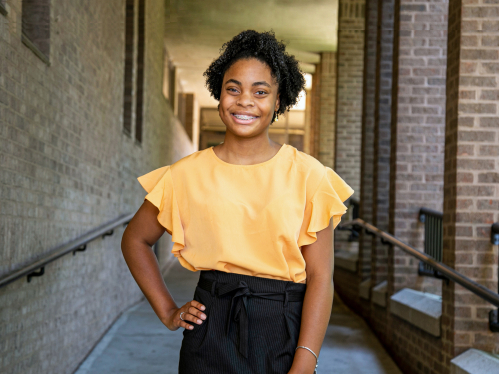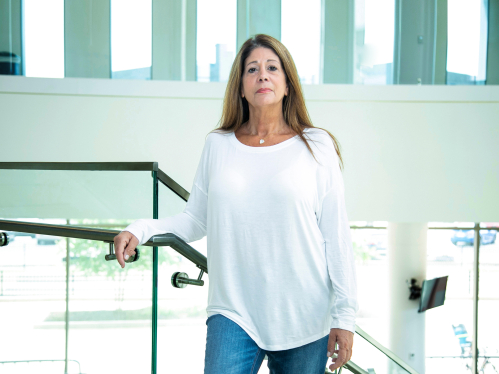 Story written by Fredda Sacharow
For media inquiries contact Carissa Sestito at csestito@ucm.rutgers.edu or Andrea Alexander at andrea.alexander@rutgers.edu
Published Aug. 30, 2021
Robin Lally contributed to this article