We are so excited to have our students back at Rutgers. We've made it through some difficult and challenging times but now we have a chance to reconnect with old friends and get back to life on campus. 
It's been too long since we have all been together, so we've compiled a list of some favorite and forgotten spots and some new sites at the university to visit now that we are back. 
Take a Walk Across the Kissing Bridge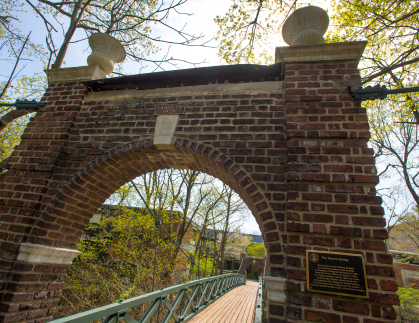 Ravine Bridge, also called the "Kissing Bridge," across the scenic ravine near the Mason Gross Performing Arts Center, is a suspension bridge on the Douglass campus that was engineered by the same firm that built the Brooklyn and George Washington Bridges. 
Visit Rutgers Garden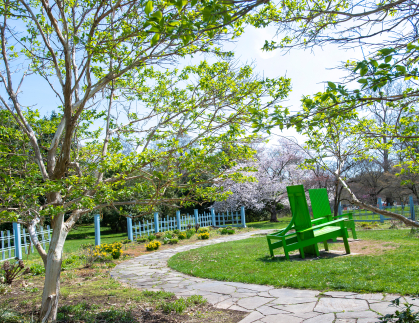 Rutgers Gardens is a 180-acre public garden off Ryders Lane, that includes a rhododendron and azalea display garden, an ornamental tree collection, bamboo forest, a student farm and farmer's market. It's an ideal spot to escape to for a peaceful walk and some breathtaking views.
Enjoy the Rutgers Farm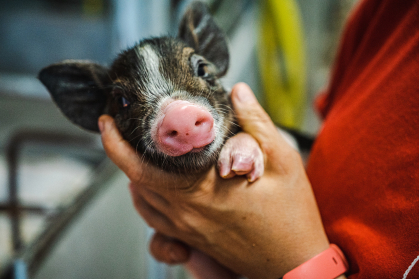 Rutgers Farm is a 150-acre teaching, research, and production farm where you can take a break and watch horses, cattle, goats and sheep grazing and pigs getting comfortable in the mud. Depending on the time of year, you may also spot some piglets and other baby animals. The Rutgers Farm Store, open 1-4 p.m. on Fridays, offers eggs and goat milk soap among its farm-fresh products. If you are interested in an official tour, check back soon to find out if they have resumed after being put on hold in response to the pandemic. 
Take a Walk Around Passion Puddle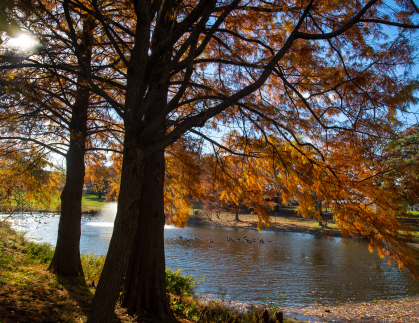 Visit the spot that has been recognized as one of the top 25 most romantic spots on an American college campus. Situated between the Cook and Douglass campuses off Red Oak Lane, the small pond is surrounded by trees and benches and is a favorite campus location for young lovebirds. According to a long-standing legend, if a male student from Cook College and a Douglass College woman held hands and walked around the pond three times, they would be married and live happily ever after. But Passion Puddle isn't only for strolling lovers. It's also a favorite spot for those studying or enjoying nature between classes.
Compete at the New Esports Center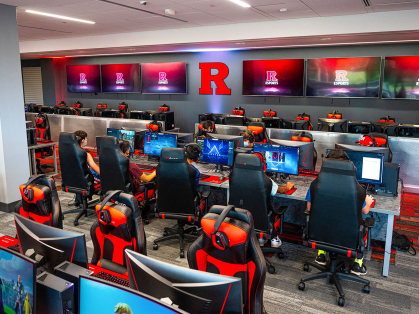 Rutgers Esports Center is a place where gamers from around Rutgers University – both competitive and casual – can come together. Located inside the Busch Student Center, the 2,700 square foot facility has 60 MSI gaming computers, 12 of which are equipped for players to play in national competitions. 
Stop by Kirkpatrick Chapel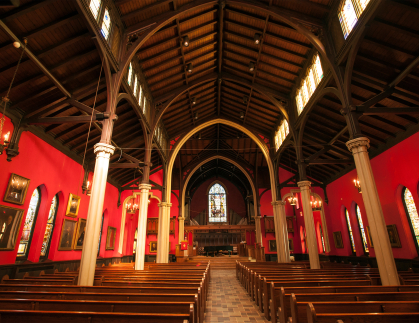 After graduation, you might find yourself coming back to Kirkpatrick Chapel, a popular wedding venue for alumni. The chapel, located on the historic Old Queens campus, was designed by Henry Janeway Hardenbergh, the great-great-grandson of Rutgers' first president, before he went on to design New York City's iconic Plaza Hotel as well as the Dakota Apartments on Central Park West. Some notable visitors to the chapel include Pulitzer Prize-winning poet Robert Frost and Academy Award-winning actor and activist Geena Davis. 
See the Mastodon at Rutgers Geology Museum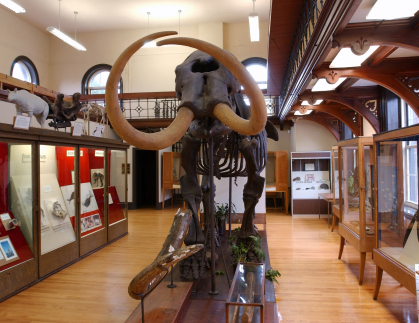 Visitors can check out the fluorescent mineral collection, a mastodon skeleton from Salem County discovered in 1869, a dinosaur trackway discovered in Towaco and a 2,400-year-old Ptolemaic era Egyptian mummy brought to Rutgers by a missionary of the Dutch Reformed Church that was the inspiration for an episode of The Cake Boss. The museum is located on the historic Old Queens campus in Geology Hall, which is listed on both the state and national registers of historic places. Check back after Labor Day for information about the museum's reopening.
Visit the Zimmerli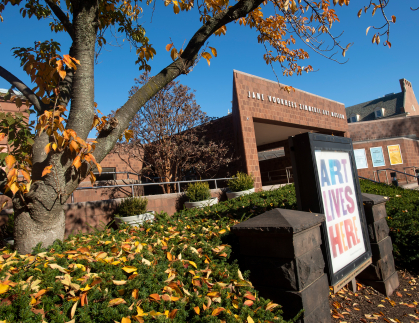 Did you know Rutgers is home to one of the largest university art museums in the country? The Zimmerli Art Museum, just re-opened its doors to the public. The museum has one of the largest collections of underground artists from the Soviet era in addition to other notable collections including art of the Americas, Asian art, European art, and original illustrations from children's literature. 
Attend a Big Ten Sporting Event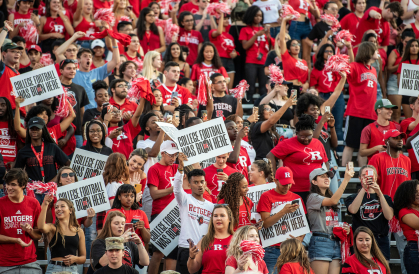 Watch the Scarlet Knights compete against Ohio State, Michigan, Penn State and more in the nation's premier athletic and academic conference. Undergrads can claim a free student ticket. Eight Rutgers athletics programs were nationally-ranked in 2020-21, as Rutgers posted its best league winning percentage since joining the Big Ten in 2014. 
Snap a Selfie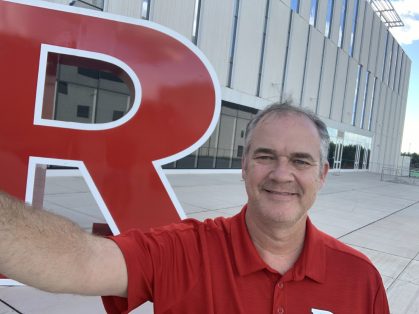 Whether it's "William the Silent" on Voorhees Mall, the Scarlet Knight raising his sword in victory atop his steed outside SHI Stadium, or the giant "Block R" on Livingston campus in front of the Athletic Performance Center, public sculptures make for plenty of great photo ops on campus. Special thanks to men's basketball head coach Steve Pikiell for showing us how it's done.
Learn About Rutgers History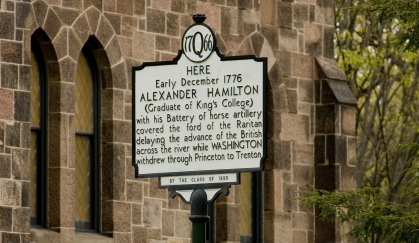 Check out some of the historical markers around New Brunswick. Stand at the site of the first college football game in 1869, located outside the College Avenue Gymnasium. See where Alexander Hamilton and his artillerymen delayed the advance of General Cornwallis in 1776 at the marker atop the bluffs beside Kirkpatrick Chapel. Walk Will's Way from Old Queens to the Voorhees Mall named for an enslaved man who laid the foundation of the historic administration building in 1808 and visit some of the other historical markers placed around campus as part of the Scarlet and Black Project that confronts the university's ties to slavery. 
Stop by Student Street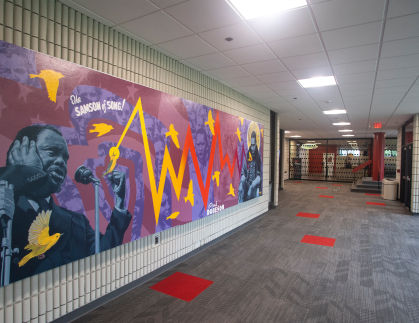 The Paul Robeson Campus Center Student Street is one of the busiest places on campus usually, packed with students studying or relaxing between classes.  
Visit Dana Library 
Check out the improvements to the Dana Library, which include expansive new study areas, a first-floor café, new elevators, a stairwell with cool lights, and fabulous collaborative space. Stop by the fourth floor to visit the Institute of Jazz Studies, the world's foremost jazz archives and research library, or the newly opened Rutgers–Newark Archives and learn about the university's history in the state's largest city. 
Walk Along the Global Piazza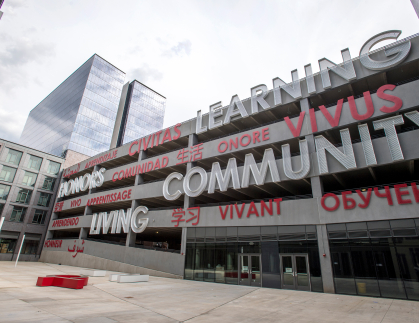 The Global Piazza, is public courtyard within Rutgers-Newark's newest building, the Honors Living-Learning Community, that opens this fall. How many words do you recognize among the large-scale signs in different languages that translate portions of the building's name? 
Honor Ruth Bader Ginsburg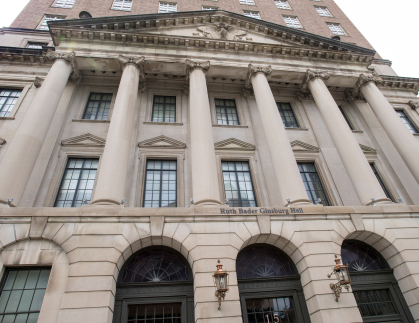 The building at 15 Washington Street, a 17-story neoclassical icon of the Newark skyline, was recently renamed as Ruth Bader Ginsburg Hall to honor the renowned and trailblazing jurist whose lifelong pursuit for equal rights and justice began as a faculty member at Rutgers Law School in Newark, where she taught from 1963 to 1972. Take a picture under the new building sign that bears her name. 
Visit the New Starbucks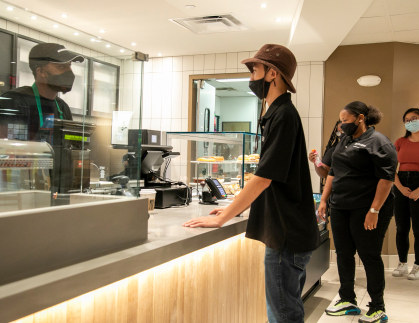 Come grab a cup of tea or coffee or another drink and snack and reconnect with friends at the new Starbucks in the Campus Center. While most of us were working and learning from home, Starbucks was getting a new look. 
Take a Break at the Campus Quad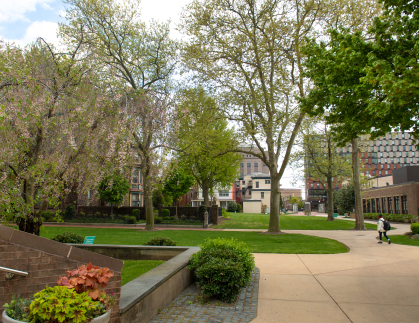 Stop by and see old friends at the Campus Quad, the tree-covered, park-like gathering spot between the Campus Center, the Paul Robeson Library, and the Fine Arts Building. Take a moment to connect and enjoy this relaxing environment every day. 
Check Out A New View in Camden 
A New View, an exhibition made possible by a $1 million Bloomberg Philanthropies grant brings public art to vacant lots in Camden. The Rutgers–Camden Center for the Arts – in partnership with the City of Camden and Camden Community Partnership – has transformed six sites across the city into spaces for their neighborhoods. Exhibits include "Invincible Cat," a 36-foot-long, 7-foot-tall, and 10-foot-wide sculpture made with a structural steel armature and repurposed black car hoods created by two Rutgers graduates.  
Catch a Game
Come cheer on the Scarlet Raptors when they take the field in NCAA Division III sports. Men's and women's soccer teams will open their 2021 season with a home doubleheader today. Fifth-year Head Coach Steve Weaver will lead women's soccer after coming off the first regular-season New Jersey Athletic Conference title in program history last season. The men's team will begin Head Coach Tim Oswald's 16th season when they host Arcadia University. Oswald is 201-88-39 in his 15 seasons at Rutgers-Camden, including 12 NJAC playoff appearances, four NJAC titles and a berth in the 2013 NCAA Division III championship game.