Rutgers-Eagleton Poll Confronts Industry Challenges as It Marks 50th Anniversary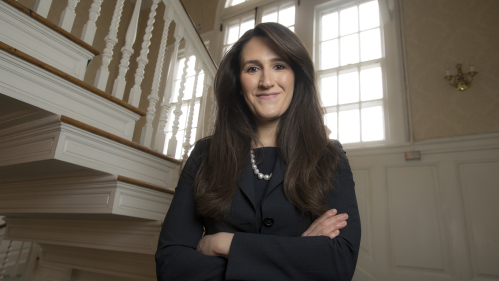 The first of academic state polls adapts to change in survey research
The Rutgers-Eagleton Poll is marking its 50th anniversary as the polling industry finds itself at a crossroads brought on by changes in how we communicate and the loss of confidence in public opinion polls in presidential elections.
As telephone survey response rates continue to drop, academic and other pollsters are struggling with how to best assess public opinion. Cracks in the industry were brought to light in 2016 and 2020. Few pollsters predicted the election of Donald Trump in 2016, and many believed the Democrats would win in a blowout election in 2020.
To confront these challenges, the Rutgers-Eagleton Poll – the oldest academic state poll in the country established in 1971 – has been conducting research on how to improve the methodology of polling.
"The only constant in survey research is change," says Ashley Koning, an assistant research professor and director of Rutgers' Eagleton Center for Public Interest Polling, who is currently the only woman academic pollster in the state. "In the last few decades, polls have dealt with the advent and near-universal adoption of cell phones and computers, making it arguably both easier and more challenging to conduct survey research. It's now standard to call mostly cell phones, a huge shift in the last decade alone, and online polling – while still debated to some extent – has become much more prevalent and accepted in recent years."
True to its mission, the Eagleton Center for Public Interest Polling continually investigates the effects of wording, order, survey mode and sample type, particularly when it comes to statewide public opinion polling.
While online surveys have become more common and more credible at the national level, it has not yet at the statewide level, making it more difficult for statewide polling organizations to keep up with plummeting response rates and escalating costs.
"Statewide survey research is the backbone of public opinion polling. It importantly assesses the issues that affect citizens every day on a more immediate scale and allows us to explore in-depth the diversity across and within various parts of the country," Koning said. "Statewide polling also best reflects the way in which our presidential elections work by mimicking the Electoral College."
Koning says telephone surveys have become far more difficult and expensive due to cell phones and caller ID, which have prompted behavioral changes leading to fewer people answering their phones in order to avoid spam calls as well as a lack of trust in the polling process.
"The beauty of polling is that this statistical randomness in selecting who gets invited to participate allows us to draw a sample that looks very much like the population under study and from which we can make generalizations that apply back to that population," says Koning.
In the 2021 gubernatorial election, Rutgers moved beyond the phone-only statewide polling – including connecting to individuals through text messages.
The Rutgers-Eagleton Poll was conducted with live interviewers both calling and texting residents to ask about the race between Gov. Phil Murphy and Republican challenger Jack Ciattarelli. The polls indicated that those who replied via text message that they would participate and then took the survey online appeared to more closely resemble the final Election Day vote count than those who had spoken to a survey interviewer on the phone.
Koning – who has been leading the Rutgers-Eagleton Poll since 2016 and is the eighth director – says pollsters need to become better at explaining the statistical uncertainty that underlies poll results if the public is going to have confidence in the results.
"The polling process and the decisions that go into it are just as much of an art as it is a science, and we often overlook that surveys are exercises in statistical estimation," says Koning, who is also the current president of the Pennsylvania-New Jersey Chapter of the American Association for Public Opinion Research. "We as pollsters need to get better at explaining the uncertainty that underlies poll results, and the press and public need to get better at embracing this understanding."
The Eagleton center has conducted more than 200 polls over the past five decades reflecting important events and issues in U.S. history, from Watergate and the Vietnam War to September 11 and the global pandemic.
While one in 10 of these polls have focused on a specific election, most others chronicle the state's political, social and economic life – taxes, education, transportation, quality of life, political corruption and the environment. They have also explored the state's culture and history, focusing on religion, vacations at the Jersey shore and even HBO's The Sopranos, Star Trek vs. Star Wars and ongoing Taylor Ham vs. Pork Roll debate.
"While pre-election polling gets the most news coverage, I've always believed the most useful form of polling is the non-election issues," says Koning. "It's just as important – if not more so – to poll on issues that might not get their day at the ballot box."
Classically trained in opera in college, Koning has always been concerned and passionate about one's voice – whether her own or the voice of the public.
"I still believe in what George Gallup thought was the purpose of polling 70 years ago," she says. "It is the most representative tool we have in our democratic process because somebody, somewhere, is most likely representing your opinions even if you are not selected. No other participatory act does that in the same way, requiring little time and no money of a citizen to have their voice heard and scientifically counted."
Visit the poll website to view more than 50 years of questionnaires, data, news releases and reports. Learn more about the Eagleton Center for Public Interest Polling's services.