Rutgers professor Anthony Tobia will use the Netflix show to help medical students identify psychiatric disorders
This summer, Stranger Things fans learned the fate of our beloved Hawkins crew as they battled the Upside Down's new uber villain, Vecna, who preys on people's trauma and painful memories.
What fans might not have noticed, though, was that the entire season was a metaphor for mental illness. That's that focus of Anthony Tobia's new course, which opens this January. 

Tobia, interim chair of psychiatry at Rutgers Robert Wood Johnson Medical School, who is a fan of the sci-fi series, said he is avoiding the latest season until January, when he will watch it in real time with medical students for his elective course "Twittervision."
Using the hashtag #RWJstrangerthings, the class will share their psychiatric opinions about the characters and plot lines. It isn't the first time Tobia has integrated pop culture into his classes. In the past, he's used the Halloween series of horror films to help students study psychiatric disorders.
Without providing too many spoilers, we offered Tobia a few details about the similarities shared by Vecna's prey – depression, anxiety, personal trauma/PTSD – and described the tactics used to escape his mental grip. Based on that information, Tobia offered his psychiatric insight on Season Four.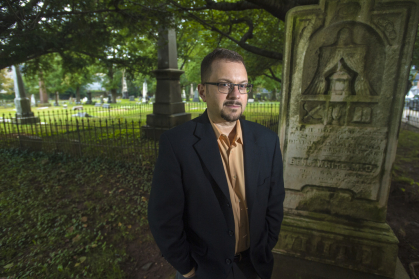 How did you decide on Stranger Things as the focus of your fall elective? Will the class watch the entire series or just Season Four? And why did you think the show would lend itself to discussions about psychiatric disorders?
Through interaction with students, whether a formal poll or talking with them, they come up with a top five list. When I get that top five list, I find one that is  psychiatrically rich. That's how I landed on Stranger Things. It's very Stephen King-ish. It identifies a vulnerable cohort or population – children – it delves in the subjective experience of psychosis (unreality) vs. dissociation. As soon as you open that door, you can go in any direction you want.
For most people, it comes from left field when you incorporate films and TV shows into curriculum, especially medical school curriculum. But the bottom line is great shows make for great lectures. If you really want buy in from students, 95 percent of whom are not going to go in psychiatry, I found if you let the students tell you what that great show is, the buy in is that much easier.
During their visions, Vecna's victims experience that telltale darkness associated with the Upside Down. Can that waking nightmare be a metaphor for the dark thoughts that tend to consume those suffering from depression, anxiety or PTSD?
Yes. There are early warning signs for those struggling with those mental illnesses. Be aware of your surroundings and situations, and when you see things 'go dark,' do not ignore that warning sign. This idea of, 'Well, if I don't pay attention, it will just go away.' Doesn't work. When things go dark, metaphorically or literally when they enter into the Upside Down, that is not a time to ignore your surroundings, it is a time to take action.
What actions can you take? One, with the help of a psychiatrist, identify the risk factors, talk to your doctor and come up with strategies and how to mitigate them. Two, identify your protective factors and make sure you learn how to access them to get out of that darkness. When risk factors outweigh protective factors is when individuals are at increased risk for suicidal thoughts.
By addressing mental health – even as a metaphor – can a wildly popular show like Stranger Things normalize conversations about mental health?
The simple answer is yes, definitely. It's hard to discuss Stranger Things without simultaneously discussing mental health. Because of that, there is a wonderful opportunity to mainstream this discussion.
When you watch a series as thought provoking as Stranger Things, there is a tendency for people to not only watch but identify with the characters with similar feelings. To identify those feelings in oneself, ushered with a relationship forged with a fictional character, there is a window of opportunity for individuals to identify and therefore take action in their own lives.