Infectious Disease Expert Named National Academy of Inventors Fellow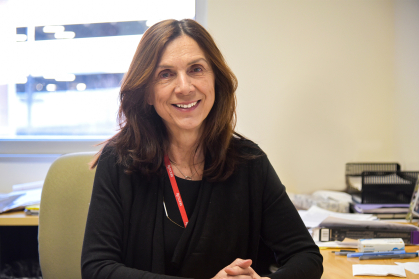 Maria Laura 'Marila' Gennaro, whose research focuses on diagnosing tuberculosis (TB) and the antibody response to the SARS-CoV-2 infection that causes COVID-19, has been recognized as an academic inventor making a tangible impact on quality of life, economic development and the welfare of society.
The professor of medicine at Rutgers New Jersey Medical School and a professor of epidemiology at Rutgers School of Public Health, has been named a National Academy of Inventors Fellow, which is the highest professional distinction accorded solely to academic inventors.
"We are thrilled for Marila to receive this recognition for the research she has conducted and the innovations she has developed," said Tatiana Litvin-Vechnyak, associate vice president of Innovation Ventures, part of Rutgers Office for Research. "For many years, Marila's team has been working to advance discoveries around infectious disease and specifically tuberculosis that have been instrumental to improving diagnosis and treatments of TB. More recently, her research on the antibody response to COVID-19, alongside other Rutgers colleagues, continues to help us gain a better understanding of how to combat the disease."
Gennaro, who recently participated in the Innovation Ventures Road to Commercialization webinar License to an Existing Company or Launch a Startup, has focused her research on infectious diseases. She and her team have pursued both fundamental and translational studies on the stress responses of host and pathogen in tuberculosis, on new methods and platforms for tuberculosis diagnostics and on antibody responses to SARS-CoV-2 infection.
Her TB research contributed to the development of a blood test that distinguishes between TB infection and Bacillus Calmette-Guerin (BCG) vaccination against TB, leading to a more definitive and accurate diagnosis faster and more efficiently than previous tests.
"Our work has always looked for connections between basic and translational research, and I have been lucky to work in institutions that have promoted novelty and innovation," said Gennaro. "I am honored that National Academy of Inventors has recognized the value of this effort and selected me as an NAI Fellow."
More recently, using the knowledge gained through her research into TB, Gennaro and her colleagues at Rutgers' Public Health Research Institute developed laboratory tests to detect antibodies generated against the viral protein that allows the SARS-CoV-2 virus to enter human cells. These antibody tests have been used in a joint study with the School of Public Health seeking to understand the spread of COVID-19 in a diverse local community and with investigators at the Robert Wood Johnson Medical School to monitor the response to SARS-CoV-2 infection and vaccination in Rutgers health care workers.
"It has been an honor for me to work with Dr. Gennaro, who is an incredible scholar, conducting timely and innovative work," said Perry N. Halkitis, dean of the Rutgers School of Public Health. "Her contributions to the study of infectious diseases, particularly TB and COVID-19, will certainly help address any future pandemics."
"Tuberculosis infections can hide in the body for years, only to emerge and cause serious illness, death and transmission of this disease to others. Dr. Gennaro's inventions have been critical for the development of new, better and more accurate test for this type of infection. This work and others, covering a diverse set of infectious diseases, has and will continue to improve health globally," said David Alland, director of the Public Health Research Institute, Center for COVID-19 Response and Pandemic Preparedness, Rutgers Regional Bio-containment Laboratory, and Center for Emerging Pathogens, as well as professor of medicine and the chief of the Division of Infectious Diseases at Rutgers New Jersey Medical School.
Among other projects, Gennaro's lab currently serves as the central serological core for the pediatric RECOVER cohort, an NIH-funded initiative on long COVID in children. Over the years, Gennaro's research has been funded by the National Institutes of Health, the National Science Foundation, the Bill and Melinda Gates Foundation, the European Union and several intramural and privately sponsored awards.