Student interns at the International Rescue Committee were among 100 participating in a new Rutgers Summer Service I

nitiative
Gerardo Leal and Ardita Mirza are 30 years apart in age, but the two Rutgers undergraduates share a similar passion for helping people in crisis survive.
Leal, 51, now a naturalized citizen, came to the United States at 17 from Mexico with others smuggled in the trunk of a car. "It was someone I didn't know who picked us up, charged us a lot of money and treated us like cattle," he said.
Undocumented, he lived under the radar for years in a gang-infested community during the crack epidemic of the 1980s while working in New York City restaurants. Facing racism in those jobs, Leal found himself becoming an activist fighting for higher wages and better working conditions.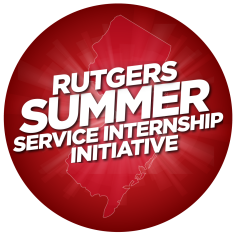 This summer, Leal, a senior at Rutgers University-Newark, and Mirza, who is in her final year at Rutgers University-New Brunswick, were among 100 students who participated in Rutgers' first Summer Service Internship (RSSI) initiative. The program provides funding to open up public services opportunities for students and connect them with nonprofit organizations or direct-service government offices.
Both students interned at the International Rescue Committee (IRC), a global nonprofit organization that helps people affected by humanitarian crises to survive, recover and rebuild their lives.
Mirza, 21, who grew up in Flemington in a middle-class family, was influenced by her mother's research into women being killed over money through dowry murders in South Asia. Her mother was studying the treatment of women for an undergraduate degree at Rutgers.
"I listened to my mother practice her presentation in front of me as a 9-year-old," she said.
Today, Mirza has a long list of honors and academic achievements for her advocacy, mentorship and outreach to other students and the community. At Rutgers she has been a policy advocate, peer educator, mentor, fundraising fellowship intern and research fellow, besides being an honor student.
But her successes didn't come easy.
As a brown woman in a predominately white high school of over 3,200 students, she felt isolated and frustrated and found herself in a downward spiral with sinking grades. It wasn't until she received the top grade in a math class, where her grade had been slipping, that her perspective changed.  
Her teacher told her that she did well because "she said she would," which made her begin to feel better about herself and her future.
"These words have stuck with me, and I approach every unexpected bump in the road with this philosophy," she said. "I do well when I say I will."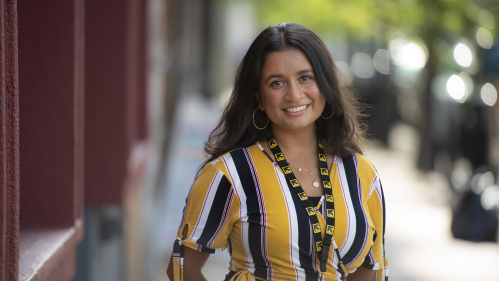 Mirza and Leal were selected from a group of nearly 600 who applied to the initiative first announced by Rutgers President Jonathan Holloway last year during his inauguration as Rutgers 21st president. Holloway said he believed the internships could change a life, open a mind and save democracy by bringing people together to build understanding of their similarities and differences.
Students earn up to $5,000 after completing the 200-hour public service internship and take a 3-credit (tuition-free) virtual course as part of the program.
For Leal, the experience was a dream come true, giving him the chance to help others who face the same kinds of obstacles he did when he was younger.
After staying at home and caring for his two children for several years while his wife earned her master's degree and worked as an ESL teacher, Leal took the advice of family and friends and enrolled in a community college.
As a semi-finalist for the Jack Kent Cooke Foundation Undergraduate Transfer Scholarship, which supports high-achieving community college students, Leal declined the opportunity to apply to other universities, including Yale, because he always wanted to attend Rutgers.  He transferred to Rutgers-Newark in 2021 from Hudson County Community College, decades after he first left Mexico.
He is now working toward an undergraduate degree in social work and plans to follow up with a master's degree.  
This summer, Leal dedicated his time, through the internship, to helping those like his 17-year-old self find shelter and food banks and connecting them with employment and legal services. He said the IRC was at the top of his list of the 71 organizations that students were paired with when he applied to be part of the RSSI initiative because he saw it as an opportunity to use his experiences to help others.
"The idea that I could go back there at 51 and work with the same type of people like me, I knew would help me complete my healing cycle," said Leal who lives in Weehawken. "I feel super happy and proud to be helping people with their dreams. Sometimes I can't believe that I'm here but there have been so many people who have helped me along the way."
Vera Liu, an attorney and legal representative in the IRC New York office who supervised Leal, said he made a difference in the lives of the people he helped.
"Gerardo used his excellent language skills to make sure clients were properly served," Liu said. "He contributed his enthusiasm, empathy and cultural awareness daily."
Mirza, who spent the summer teaching English as a Second Language (ESL) to refugees at the IRC site in Elizabeth during her internship, wants to work to stop international human trafficking after she graduates. She says the experience she gained this summer has been something that she would never have had in a classroom. She has been asked to stay on at IRC through December.
Vera Liang, adult education coordinator at the Elizabeth site, said Mirza "demonstrated strong project management, cross-cultural communication and leadership skills during her internship. She had a great impact on our clients' education by reaching out to educational providers and advocating opportunities for them."
Mirza's experience advocating for IRC clients as she helped them fill out applications, answered questions and connected them to services gave her insight into the value of the work being done. 
"On my first day I realized just how important the IRC is and why the work they do has to exist," said Mirza, who is majoring in political science and criminal justice with a minor in critical intelligence studies at Rutgers-New Brunswick. "When I spoke to the children who came in, I recognized the terrible experiences that they already had to go through in their very short lives and understood that they experienced so much more hardship than I have or ever will."