President's internship initiative puts focus on engaging with and serving others
Lucas Torres's decision to study public health at Rutgers has everything to do with his parents, who volunteered to be emergency medical technicians in their hometown while working full time. His mom, an occupational therapist, and his dad, a business owner, were committed to making a difference in their community while raising Torres and his two sisters in River Edge, New Jersey.
"With as little free time as they have, they really like giving back and helping others and have shown me how important this is for several reasons," said Torres, a first-generation Rutgers-New Brunswick junior in the School of Environmental and Biological Sciences. "They put so much effort into taking care of others. What would I be doing with my life if I didn't follow in those footsteps?"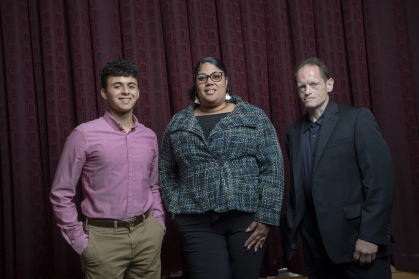 Torres is among the first 100 students selected for the Rutgers Summer Service Internship (RSSI) Initiative, which provides funding to open up public service opportunities for students. He will be working at the United Way of Central Jersey, one of 71 organizations that students are paired with this summer.
The initiative grew out of an op-ed President Jonathan Holloway wrote for The New York Times about requiring a year of national public service from all young people before age 25 so they can help others while getting to know others' similarities and differences through a common purpose. "The kind of experiential education I am advocating could change a life, could open a mind and could save a democracy," he wrote.
"Once you recognize you share something in common, the nature of your disagreements will be fundamentally different," Holloway told the students who gathered Thursday at the College Avenue Student Center in New Brunswick. "That's the magic of a beloved community. It takes a lot of hard work. You're going to have to put your heart into it. You're going to have to take the time to learn about the people you'll be working with. You'll have to listen. You'll have to speak up. But if you do all those things, some really magical things are going to happen."
RSSI provides selected Rutgers sophomores and juniors from Camden, Newark and New Brunswick an opportunity to earn up to $5,000 to complete a 200-hour public service internship over the summer at a nonprofit organization or direct-service government office. Students take a unique 3-credit virtual course, tuition-free, to apply their experience, expand career development skills and build knowledge of civic engagement and the value of public service. They also participate in two program events with President Holloway.
Nearly 600 students applied for the internship program, which continues to raise funds to allow more students to work at more nonprofits and direct-service government offices in future years. RSSI is coordinated by the Eagleton Institute of Politics, Rutgers-New Brunswick Office of Career Exploration and Success, Rutgers-Newark Career Development Center and Rutgers-Camden Career Center.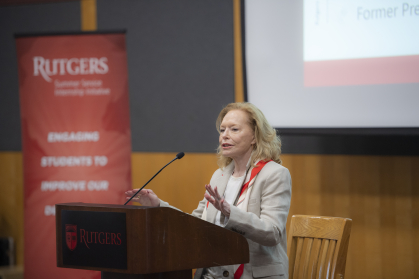 Connie Hughes – who with her husband, James Hughes, former dean of the Edward J. Bloustein School of Planning and Public Policy, was among the first donors to make the initiative possible – told the students there is no greater reward than learning your actions have helped someone.
"I want each and every one of you to experience that visceral feeling – that joy, that warmth, that glow," Hughes said.  
Danna Green, a junior majoring in psychology and childhood studies at Rutgers-Camden, is aiming to bring her expertise to her internship at the Camden Redevelopment Agency this summer. "I believe the voices of children should influence the future development of the city of Camden," said Green, a Camden resident. "Interning for the Camden Redevelopment Agency could be the giant stepping stone I need to help make a difference within the city."
Clifford Graf, a Highland Park resident who is earning his degree in criminal justice at Rutgers-Newark, began his Rutgers education through the New Jersey Scholarship and Transformative Education in Prisons (NJ-STEP) program, which provides college courses for incarcerated individuals and helps them transition to college life upon their release.
Graf will intern at La Casa Don Pedro, which responds to the needs of families in Greater Newark. He plans to use the opportunity to expand his social justice advocacy.
"I want to learn as much as I can from a lot of people who have been doing this for a long time so I can be in a position to help more people in the future," Graf said. "I've got to give back. I got a lot of help from the STEP program, from Rutgers. A lot of people were helpful to me and I want to pay it forward."
Holloway told the students they are the first in a program designed to foster a culture of public service and civic engagement at Rutgers. After the students complete their summer of public service, they will share their experiences, lessons learned and insights gained with their RSSI peers and other Rutgers students.
"It's a national project, and it's starting here. I believe so deeply in this idea, this project, that you believe in too, and we're going to grow the program," Holloway said. "This is a very good thing that you all are doing. You are going to make a difference."
Torres, from Rutgers-New Brunswick, is looking forward to working with community members through the United Way this summer and building relationships with others committed to helping others.
"I can't believe I got paired with an internship to start doing what I want to spend the rest of my life doing," Torres said. "I want this to be the first step in my overall career. I don't want this to be one summer and that's it."