The First Person to Make U.S. History by Leading Two Medical Schools at Rutgers
Dean Robert L. Johnson has been an inspiration in health care for more than 50 years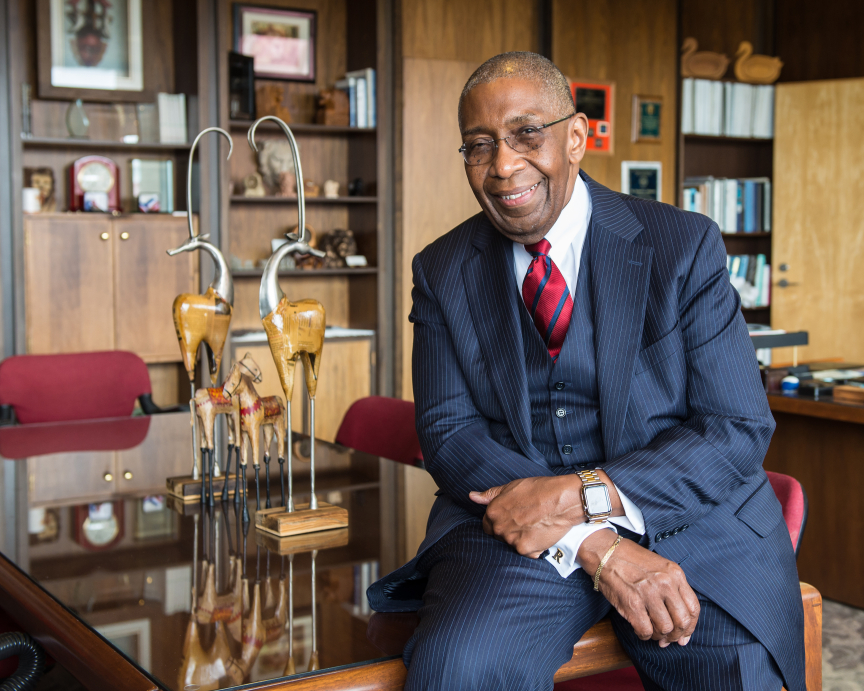 Robert L. Johnson, who will forever be entrenched in the city of Newark, is often the only black person in the room.
Almost 50 years after being the only African-American man graduating from Rutgers New Jersey Medical School (formerly UMDNJ) in 1972, Johnson, who last year became the first person in the United States selected to lead two independent medical schools, looks at this racial dynamic as an opportunity.
"I've strived to push forward and not let that awareness hold me back," said Johnson, dean of Rutgers New Jersey Medical School in Newark and interim dean of Rutgers Robert Wood Johnson Medical School in Piscataway. "I've always viewed it as a positive and continued to make a difference anywhere I've found myself."
A renowned pediatrician, health advocate and author, Johnson said his mission over the years has been to inspire medical students to serve their communities.
"For more than 50 years, my life has been firmly rooted in the city of Newark," Johnson said. "As my career led me toward becoming an educator, I remained in this city to teach aspiring medical students along their journey of becoming doctors to develop a similar passion for serving the community."
According to a 2015 study by the AAMC, the number of black male applicants for medical school declined between 1978 and 2014 from 1,410 to 1, 337. At the same time, research shows that diversity among doctors, nurses and other health care providers can make communities of color healthier.
Johnson is trying to shed light on this inequity as he navigates the daily operations of two Northeast medical schools.
"I fully understand that in my current role, I represent the two schools, but I also represent my race and community of people," said Johnson, who is also the director of the Newark-based Division of Adolescent and Young Adult Medicine of NJMS
Johnson, who attended a segregated elementary school through fifth grade in South Carolina, has called for many changes in health policies at the state and national levels. An advocate for attracting more black men in medicine, Johnson also believes the health outcomes of adolescent youth, young adults, minority groups and marginalized groups in the areas of adolescent violence, sexuality, physical and mental health, family strengthening and HIV/AIDS, need to be improved.
Although Johnson has dual roles on two campuses 30 miles apart, he still works five clinical shifts a week and contributes to research studies in the areas of reproductive health care, behavioral health counseling, general medical care and HIV treatments. He continues to advocate holistic approaches to health care by looking closely at social factors such as jobs, education, housing and discrimination, which impact health care delivery.
"It's a long-term problem for various reasons," said Johnson, who credits his success to his family, community and church. "The shortage of black men in medicine cannot be solved at the medical school level. It has to be addressed in high school and college. In my medical practice each week, I have the privilege of meeting many young black men, and I do my part by leading by example and getting to know them, and I encourage them to strive for excellence in all areas of their lives."