The Promise of Our Students
MESSAGE FROM THE PRESIDENT: Scarlet Promise Grants and opportunities to serve the public help students from all backgrounds realize their educational potential.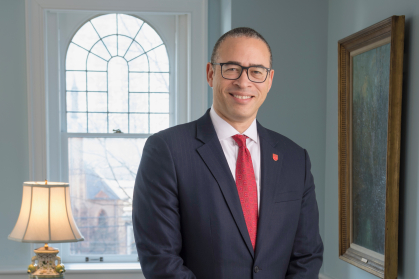 With my deep thanks to all those who had a hand in making my inauguration as Rutgers president so meaningful, I want to reiterate two pledges I made to our students that day: one, that we are committed to strengthening their access to a Rutgers education and, two, that we want to inspire in them an ethic of serving the common good.
Like few other schools, Rutgers illustrates the democratic possibilities of this nation. If you've studied at Rutgers—a university of great socioeconomic complexity—you understand the transformative potential of a Rutgers education as a vehicle for social mobility.
That's why I'm so committed to programs like the Scarlet Promise Grants, which provide need-based aid to our undergraduates and short-term emergency relief to those facing unexpected hardship. Receiving one of these grants can be the reason a student is able to remain on course to graduate—or to come here in the first place. As I said at my inauguration, Scarlet Promise Grants are a means of allowing those from the most modest backgrounds the opportunity to lift themselves to a place where they can write the terms of their future.
Last year, with help from more than 3,600 donors, we raised $10 million to help more than 9,000 students receive Scarlet Promise Grants. Now, with your support, we are setting a goal of raising $50 million over the next three years for financial aid, precollege mentoring, emergency funding, and other means of building pathways to a better world.
My second pledge to students is to instill in them a desire to serve the public good. Acts of public service can have multiple benefits, not least of which is to help us appreciate our differences and improve civil discourse, which is too often sorely lacking in our world. Education paired with public service can do amazing things.
I believe that Rutgers should be a leader in its commitment to public service, and for this reason we are creating the Rutgers Summer Service initiative, to be run by the Eagleton Institute of Politics and the Rutgers Office of Career Exploration and Success. Each year we will place up to 150 students in their second- or third-year summers in public service internships, providing stipends to cover the money they would have earned in a summer job.
As these students help nonprofits serve the broader community—a vital good in itself—they also will have an opportunity to learn about people who are unlike themselves, those who face different struggles and come from different backgrounds, countries, races, or religions. They will see life in America from a different perspective, and I believe there is tremendous value in that experience.
Your support for Scarlet Promise Grants, as well as other access-based programs, will keep more of our students on the path to personal success. Participation in the Rutgers Summer Service program, likewise, will make our students better citizens and, I am convinced, help make our world a better place.