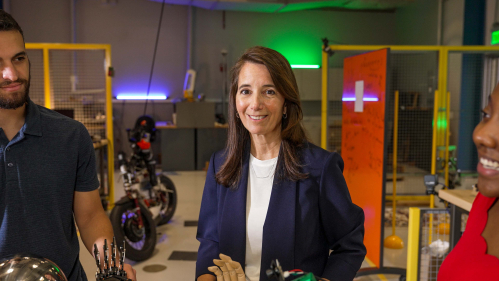 Faces & Voices of Rutgers: Kristin Dana
Professor Kristin Dana has taken Rutgers School of Engineering students "from curiosity to confidence" for more than 20 years. She has earned numerous honors and been awarded grants that have enabled the Department of Electrical and Computer Engineering to tackle issues of global importance.
Guided by research interests that include computer vision, pattern recognition, machine learning and robotics, Dana received a bachelor's degree from New York University, a master's degree from the Massachusetts Institute of Technology and a doctorate from Columbia University.
On July 29, Dana sat down with President Holloway at the Richard Weeks Hall of Engineering for a conversation on several topics, including the deep learning process, New Jersey's impact on technology, the job placement success of graduates, and the significance of an interdisciplinary approach to research.
"In order to make robots that have goals to affect humanity in a positive way, one has to consider humans and humanity in the early stage of the design process, not as an afterthought and not just by engineers and scientists," Dana says. "Rather, it's an interdisciplinary effort, so that the knowledge from each field can be used equally."
Through the conversation, we learn that such collaboration is key to not only engineering "socially cognizant robotics," but in developing the beloved community we strive to achieve.
"This is Rutgers changing the world for good," Holloway says. "That's a lovely thing."
Check Back Weekly for New Episodes