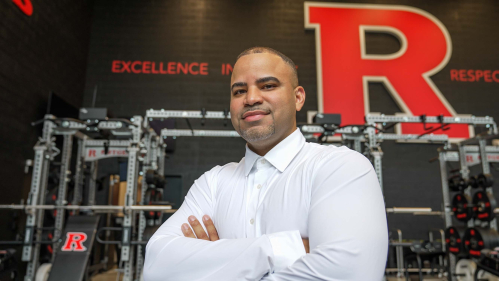 Faces & Voices of Rutgers:
Rudy Peralta
After growing up in New Brunswick with little consideration for a Rutgers education, Rudy Peralta now holds undergraduate and master's degrees from the State University of New Jersey and hopes to use his experience to inspire other residents to achieve.
Hired as a staff custodian in the Division of Intercollegiate Athletics in 2009, Peralta began taking courses in 2012. Five years later, he earned degrees in criminal justice and labor studies and employment relations as a double major. The father of two wasn't done, however. In May of 2021, he graduated once again, this time with an M.B.A. in finance and supply chain management.
On August 16, Peralta sat down with President Holloway at the Gary and Barbara Rodkin Academic Success Center for a conversation on several topics, including his journey from Remsen Avenue to assistant athletic director for support services. The undeniable impact of faith and family underscores the discussion, which highlights how pride is best manifested by empowering others.
In the end, we are reminded that the door to opportunity can be opened by a single person. The key, however, is that they hold the door open so others can walk through.
Check Back Weekly for New Episodes