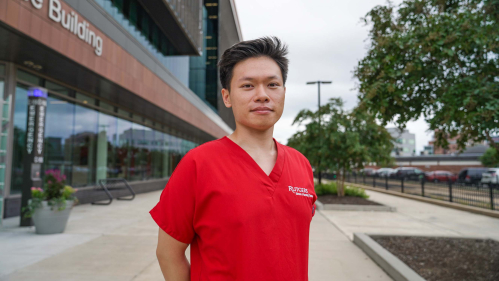 Faces & Voices of Rutgers:
Wai Kin Chan
On the day before his clinical rounds began, senior nursing student Wai Kin Chan welcomed Rutgers President Jonathan Holloway to the Nursing & Science Building at Rutgers–Camden for his latest Faces &Voices interview.
Clad in his scarlet, Rutgers-branded scrubs, Chan, an international student from Hong Kong, talked with Holloway about his experiences as a world traveler, working in restaurants from Australia to the United Kingdom, before settling in the United States and deciding to pursue nursing.
A recipient of the International Chancellor's Merit Scholarship, Chan completed the requirements for his undergraduate degrees in health and sciences and psychology before starting on his nursing degree in 2020—months before the COVID-19 pandemic shut down the world.
While preparing to enter the front lines of a global health crisis, Chan discussed with Holloway the moments that motivate him to press on with his studies, including his rewarding experiences volunteering in Camden vaccination sites and community health clinics.
Check Back Weekly for New Episodes