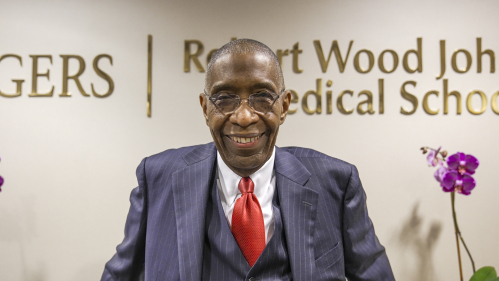 Faces & Voices of Rutgers: Robert L. Johnson
Robert L. Johnson's drive to become a doctor was nurtured from the time he attended a segregated elementary school in Spartanburg, South Carolina, through and beyond his 1972 graduation from the College of Medicine and Dentistry of New Jersey, where he was the only African American in his class.
A trailblazer whose research focuses on adolescent health, Johnson currently serves as the Sharon and Joseph L. Muscarelle Endowed Dean at New Jersey Medical School and as the interim dean at Robert Wood Johnson Medical School. The American Association of Medical Colleges has determined him to be the only dean in the history of the United States to oversee two medical schools at once.
On August 16, Johnson sat down with President Jonathan Holloway at the Clinical Academic Building in New Brunswick to discuss his journey among many topics that also included broadening perspectives on medicine and the evolution of healthcare education at the State University of New Jersey.
"I don't see myself as more important than anyone else," offered Johnson at one point. "Someone interviewed me once for a lifetime achievement award, and I said I didn't understand why anyone thinks that anything I do is a major achievement, because I genuinely love every part of my life."
Although the many who have been treated and educated by Johnson may disagree with his modest assessment, there is no denying the humanity of his approach and execution. It serves to remind us that excellence can be found anywhere. We just need to look.
Check Back Weekly for New Episodes