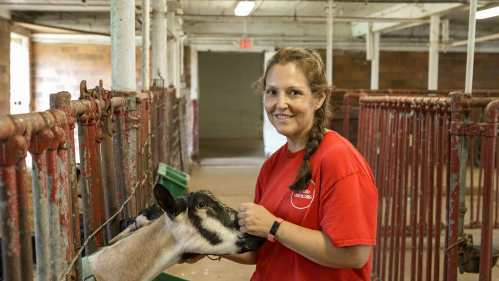 Faces & Voices of Rutgers: Rebecca Potosky
As an eminent historian, accomplished author, and leader of a Big Ten university, Rutgers President Jonathan Holloway's résumé boasts many significant achievements.
After touring Cook campus farm this summer with Rebecca Potosky, senior research animal care technician with the School of Environmental and Biological Sciences, he now has another skill to add to his CV.
Goat milking.
Holloway and his wife Aisling Colón got some hands-on experience under the tutelage of Potosky, a life-long animal lover who first found Rutgers through 4-H and now teaches the small ruminant practicum.
The native New Jerseyan and Rutgers alumna has been working at the university since earning her bachelor's degree in animal science in 2007. She sat down with Holloway in the Round Barn to talk about Rutgers' land-grant roots, the unique opportunities animal experience-based education provides students and her passion for both her profession and pastime training agility and disc dogs.
"I am living the dream," she said. "I'm doing basically what I set out to do and doing it with animals that I've always been passionate about. Hopefully, I'm passing that along to my students.
Check Back Weekly for New Episodes