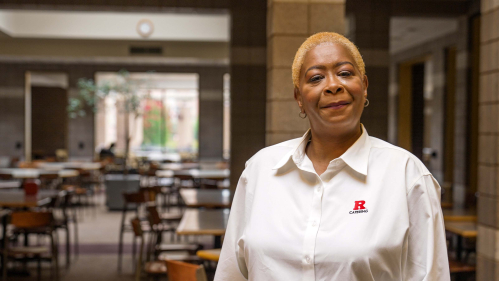 Faces & Voices of Rutgers: Nicole Bates
When people think of a university, students and faculty come to mind.
But President Jonathan Holloway knows there are many others who are the heartbeat of our "beloved community."
"If you don't have dining services, if you don't have grounds keepers, if you don't have administrative assistants, everything falls apart," he tells Rutgers Dining Services employee Nicole Bates in their Faces & Voices interview.
After 31 years working in Rutgers–New Brunswick dining facilities, Bates has served meals—along with her signature smile—to thousands of students. Even last year during remote learning, Bates was on campus feeding the football team at 5 a.m. five days a week—and reminding them to eat their vegetables.
During Holloway's first visit to a Rutgers dining hall, the Busch Dining Hall, he and Bates discuss her upbeat interactions with students past and present and the difference a just few moments with a friendly face can make in someone's day.
Check Back Weekly for New Episodes