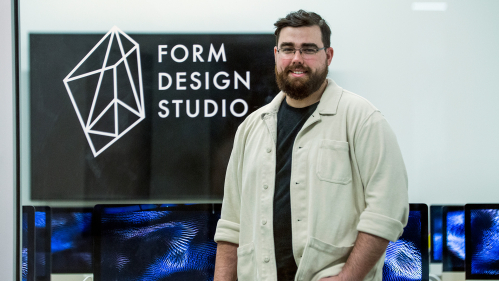 Faces & Voices of Rutgers: James Negri
Rutgers–Newark graphic design student James Negri has distinguished himself as being among the school's highest academic performers. After graduating in May, the 27-year-old plans to pursue a career that utilizes his skills in 3D design and augmented reality.  
But before starting his college career, Negri spent four years as a combat engineer with the U.S. Marine Corps. In his Faces & Voices interview with President Jonathan Holloway, the two connect about their love of travel and commitment to elevating the experience of Rutgers' student veterans.  
 
Seated in Express Newark's print shop surrounded by massive wood-and-metal printing equipment, Negri shares with Holloway his experiences melding art with social justice, opens up about the stigma and loneliness student veterans face when returning to civilian life, and commends Rutgers for the wealth of resources it provides to help student veterans succeed. 
Check Back Weekly for New Episodes