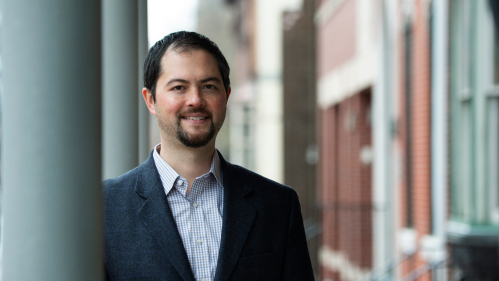 Faces & Voices of Rutgers: Nathan Link
As a teen, Nate Link had a couple brushes with the law that still inform his research as an assistant professor of criminal justice at Rutgers-Camden.  
 
It was nothing out of the ordinary, just an adolescent acting out. But the father of two tells President Jonathan Holloway he was acutely aware that his experience was very different when compared to the outcomes his friends of color had in similar situations with law enforcement. During this episode of Faces & Voices, Holloway meets with Link at the Rutgers-Camden Alumni House for a conversation about that double standard, the school to prison pipeline, and the hidden financial costs that often come with mass incarceration.  
A former social worker who earned his master of social work degree from Rutgers, Link shares with Holloway how his desire to make a real difference in lives of his clients led him to become a social scientist who studies the factors that keep people tied up in the criminal justice system. Find out why he feels fortunate to be at Rutgers-Camden working toward his goal: effecting change for an often misunderstood and overlooked community. 
Check Back Weekly for New Episodes