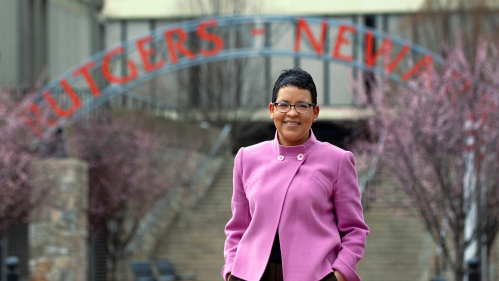 Faces & Voices of Rutgers: Elise Boddie
In March, Rutgers Law School professor Elise C. Boddie met President Jonathan Holloway at Express Newark, a center for socially engaged art and design where Rutgers-Newark and the city of Newark converge. The pair passed larger-than-life portraits and arresting mixed-media installations from the exhibit Picturing Black Girlhood: Moments of Possibility as they made their way to the second-story Shine Portrait Studio. There, overlooking Halsey Street, they talked about the opportunities and experiences that informed their scholarship and commitment to diversity, equity, and inclusion.
During this episode of Faces & Voices, Holloway interviewed Boddie about the road that led her to Rutgers–from the time she recognized her purpose as a student at Harvard Law School to her experiences clerking for Judge Robert L. Carter and serving as director of litigation for the NAACP Legal Defense and Educational Fund, Inc. to being appointed founding Newark director of Rutgers' Institute for the Study of Global Racial Justice.
Holloway acknowledged that with her credentials, Boddie could teach law at any prestigious university. Why Rutgers? The inquiry led to an impassioned dialogue between the two about their shared belief in the stewardship obligations of public universities and the joy they experience teaching students who are hungry to learn.
Check Back Weekly for New Episodes