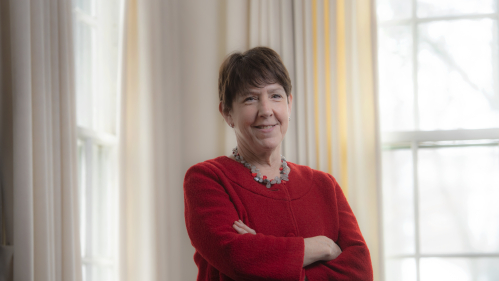 Faces & Voices of Rutgers: Debbie Walsh
This past winter, Debbie Walsh welcomed President Jonathan Holloway to Wood Lawn Mansion at Rutgers-New Brunswick, home of the Eagleton Institute of Politics and the Center for American Women and Politics (CAWP), which she has led for 20 years. 
As they passed framed photos of distinguished guests who have visited the historic home – from Eleanor Roosevelt to Hillary Clinton – Walsh shared the story of suffragist and founder of New Jersey's League of Women Voters, Florence Peshine Eagleton. Thanks to Eagleton's bequest to the university, the institute was established in 1956 for "the development of and education for responsible leadership in civic and governmental affairs and the solution of their political problems."  
During this episode of Faces & Voices, Holloway and Walsh discuss the importance of that mission – especially today – and how it permeates Walsh's 40 years of work with CAWP, where research, scholarship, and programming align to promote parity for women in politics.  
The two trade stories of their early civic educations, experiences licking envelopes and driving candidates on the campaign trail, and shared passion for good, old-fashioned data collection – which is how CAWP got its start tracking women's involvement in state and national government 50 years ago.  
Holloway marvels at CAWP's ascent from fledgling center – whose very purpose was questioned by critics – to become the leading source of scholarly research and data about women's political participation in the United States. The prominent center is a tremendous asset to Rutgers, said Holloway, and serves as a prime example of what excellence looks like. 
"We already have this gem," he says. "It's the best place in the country to study these topics, and I don't understand why we aren't shouting that from the rooftops." 
Check Back Weekly for New Episodes