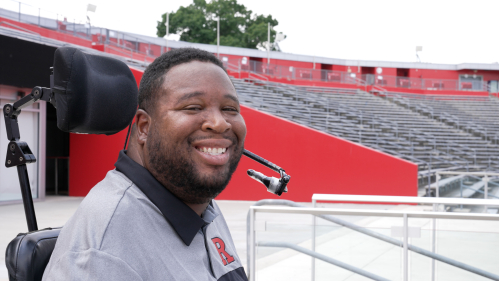 Faces & Voices of Rutgers: Eric LeGrand
Despite having more than 500,000 living alumni, almost 70,000 students and approximately 10,000 faculty and staff, zeroing in on the first interview for the Faces & Voices of Rutgers was exceptionally easy. Who better than Eric LeGrand?
At this unprecedented time in history, no one exemplifies the resolve, effort, and positive spirit required to move forward than the 2014 School of Management and Labor Relations graduate – who does it with an unmistakable smile.
On July 15, Karen LeGrand accompanied her son to SHI Stadium to have a wide-ranging conversation with President Jonathan Holloway. They talked about the significance of LeGrand being the only Rutgers football player to have his jersey number retired, the promise he made to himself after his life-changing injury on the field, the genesis of "bELieve" and his latest entrepreneurial initiative.
In the process, we not only learned more about the beloved alumnus and the university's 21st president, but we also gained valuable perspective on how to make a positive difference in our own lives and in the lives of others.
Check Back Weekly for New Episodes