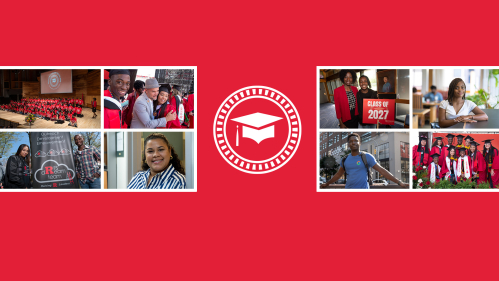 Rutgers Future Scholars:
Transforming Lives for 15 Years
Since 2008, Rutgers Future Scholars has guided more than 3,200 promising first-generation students from Rutgers' host cities – Newark, New Brunswick, Camden, Piscataway and, starting in 2016, Rahway – from seventh grade through college graduation. The program promises free access to higher education along with academic and, in many cases, emotional support along the way.
Now in its 15th year, Rutgers Future Scholars (RFS) was designed to remove the question of affordability for underrepresented students and was the first of its kind in the country, serving as a model for other universities. 
This summer, 215 seventh–grade students were welcomed into the Rutgers Future Scholars Class of 2032. For the next several years, they will visit one of the three campuses for after-school, weekend and summer classes and the chance to immerse themselves in college culture. 
"This will become your home away from home for the next five to nine years," Kim Williams, director of the Rutgers Future Scholars program at Rutgers-New Brunswick, told the new scholars in June. "We want you to see your future as one that has college in it."
We have a saying: Once a scholar, always a scholar. The secret sauce of the program is that sentiment. Once we get you in the fold of RFS, we will not leave you. We're going to give you our phone number. We're going to follow up with you and make sure you get reconnected. We built more than a program, we built a family.

Nyeema Watson

Senior vice chancellor for strategy, diversity and community engagement at Rutgers-Camden
Angeles Vivanco
Rutgers Future Scholars Class of 2019
Rutgers University-Newark, School of Public Affairs and Administration
Personnel technician, Paterson, N.J.
Angeles Vivanco was raised with high expectations. Her father wanted his three daughters to be honor roll students. To him, summer vacation wasn't a time to take off. He thought his daughters needed to spend part of the time continuing to learn.
"For him, our priorities were education, education and education," said Vivanco, 27, who works as a personnel technician for Paterson, overseeing pension benefits for city employees, police officers and firefighters.
Vivanco, the middle child in her family, was selected to be part of the second Rutgers Future Scholars class and graduated from Rutgers in 2019. The program, which now includes her younger sister, gave her access to tutors, mentors and a system that would guide her from seventh grade through high school at no expense to her family.
"My parents came from Ecuador three days after they were married because they knew they wanted to have their children in the United States where they could get ahead if they worked hard," said Vivanco. "The program gave me the opportunity to get the tutoring and mentoring that I couldn't have gotten otherwise because my parents couldn't afford it.''
Vivanco started out as a neurobiology major but changed career paths in her junior year at Rutgers University-Newark and ultimately graduated with a bachelor of arts degree from the School of Public Affairs and Administration and a minor in political science.
While many family members tell her she should go into politics, Vivanco likes being behind the scenes, helping to create policy and sees herself someday working as Chief of Staff. "I do like science but more as a hobby," she said. "My passion is public administration, that's where I belong."
Since graduating from Rutgers, Vivanco has worked with Rutgers Future Scholars, mentoring and teaching, promising help to first-generation students like her who are smart and committed and just need some financial and academic assistance.
"What I'm really glad about is that I never gave up my Newark roots," said Vivanco. "I realize that many of us might be immigrants or first-generation but that doesn't mean we shouldn't be seen. I think growing up in Newark made me stronger."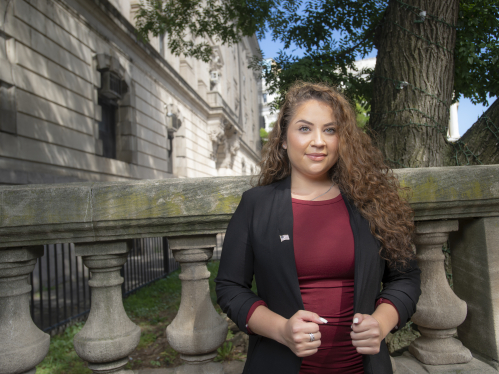 Je-Naya Shipley
Rutgers Future Scholars Class of 2025
Rutgers University-Camden, Faculty of Arts and Sciences
Junior, psychology major
Je-Naya Shipley credits Rutgers Future Scholars with giving her all the ingredients she needs for academic success.
"They've given me the tools. They gave me my meat, my lettuce, the bread and mayonnaise," said Shipley, a junior at Rutgers University-Camden. "But I had to finish my sandwich and go to school."
The oldest of six siblings and the first in her family to attend college, Shipley, 20, is studying psychology and considering a career as an occupational therapist or child therapist.
A member of the program's ninth cohort – the first from Rahway – Shipley vividly remembers scanning the room during the Rutgers Future Scholars (RFS) information session at her middle school in seventh grade.
"I was really surprised because there were a bunch of kids who looked like me and grew up not far from me," she said. "We were all going for the same thing."

Transitioning from high school to college can feel overwhelming – especially for first-generation students – but Shipley said leaning into the academic and social skills she gained through RFS helped her remain focused when she first arrived at Rutgers-Camden.
"The difference between high school and college is having self-discipline and structure," she said. "In high school, your teacher might let you make up an assignment. In college, if you miss a deadline there are going to be consequences. There is definitely a gap that needed to be bridged and RFS helped me, especially maturity-wise."
This year, Shipley's sister, who followed in her RFS footsteps, is a first-year student at Rutgers-New Brunswick, where she is a member of the track team. And her brother, a member of RFS's 12th cohort and a senior at Rahway High School, is about to begin applying to college. Her family is not unique. Many scholars' siblings are also recruited to the program, eliminating financial barriers to education for families like Shipley's.
"Having my tuition paid for is a big help. I just have to pay for my housing," she said. "Hopefully, all my other siblings will have that, too, and my mom can have that stress off her back."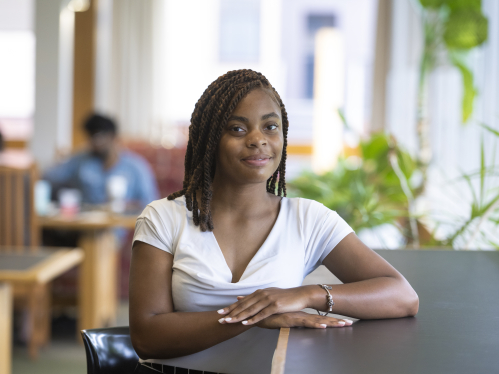 Emmanuel Baah
Rutgers Future Scholars Class of 2017
Rutgers University-New Brunswick, School of Arts and Sciences
Software engineer at Google
Emmanuel Baah is one of Rutgers Future Scholars' first success stories.
A member of the first scholars cohort, the computer science degree Baah earned from Rutgers-New Brunswick in 2017 helped catapult him into his career at Google in Manhattan as a software engineer.
"This 100 percent changed my life," he said.
He was a seventh-grader in Piscataway when he learned of the new education access initiative that promised a free Rutgers education to those who kept their grades up and stuck with the program's curriculum. It wasn't until his first year at Rutgers when Baah's father, a security guard, and mother, a home health aide, revealed that they did not have a plan B to pay for college had he not been accepted to Rutgers Future Scholars.
"At the time, I didn't understand the weight of the opportunity given to me," said Baah, 27, who emigrated from Ghana to New Jersey with his family when he was in second grade. "Without the program, I would have been much more lost. As we went through the years, we got to get a sneak peek of Rutgers. We would go on campus and take college-level classes. I came in with a few credits and just that familiarity with Rutgers. It helped ease the anxiousness, and felt like home."
The third of six children, Baah's younger two siblings are also making their way through the RFS program. His advice to them and other young scholars is to make the most of the experience and look to your mentors when you are lost. For example, he said, something as mundane as not placing into a prerequisite calculus course his first year almost threw his whole college trajectory into a tailspin – until an RFS mentor helped him rework it into his summer schedule.
"Alarm bells were ringing. I was freaking out. I reached out to RFS, and they helped calm me down and remind me it's not the end of the world," he said. "A summer class seems obvious now, but I didn't think of it. That's the boat I was in. RFS helped me out and pointed me in the right direction. The program is here to help you and see you succeed."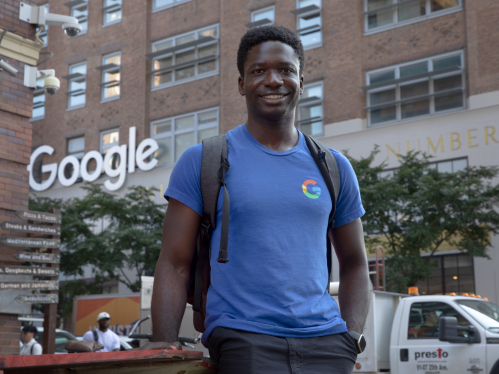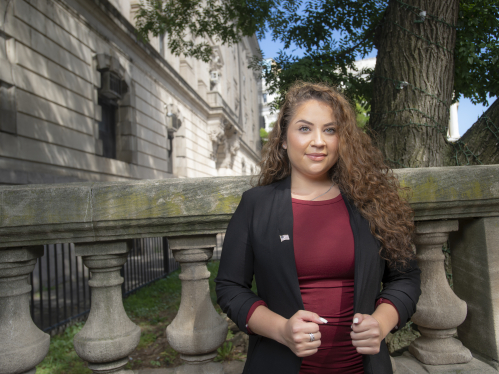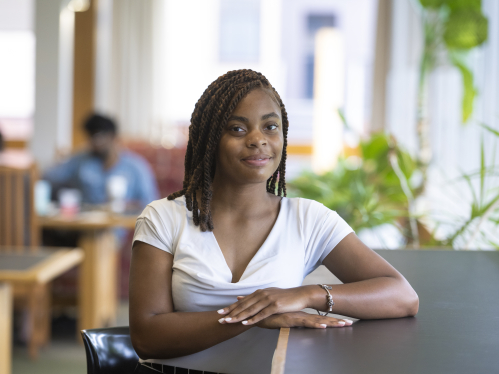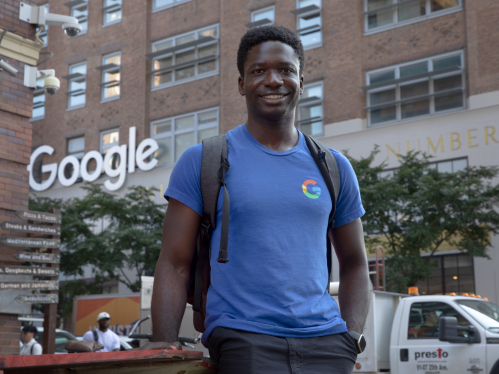 Middle and high schools represented
Rutgers' host cities and scholars' hometowns
Yauris Hernandez
Member of the 2017 first Rutgers Future Scholars Graduating class
Diversity, equity, and inclusion expert at Ernst & Young in Hoboken
"Rutgers Future Scholars made college attainable. They placed us on campus to learn from Rutgers professors and showed us that we were capable of going to college and we deserved the best education – without worrying about how we'd pay for it. The staff became family and were truly invested in our well-being and futures."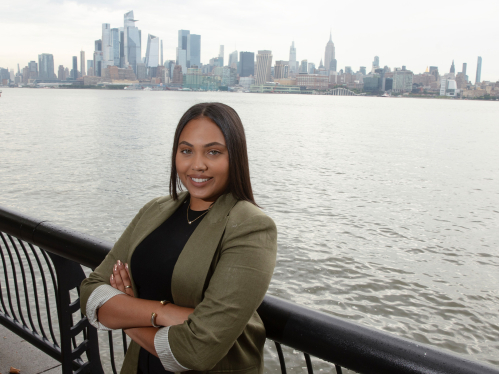 Jason Gaines Jr.
Member of the 2017 first Rutgers Future Scholars Graduating class
Director of client services at Fair360 and principal of J Gaines Consulting

"My favorite memory of Rutgers Future Scholars was the welcome celebration in eighth grade (and all the ones I attended thereafter). I felt so happy, so excited and prideful to be from New Brunswick. I'll never forget the welcome celebrations because they made me realize what was possible for me and my friends. I believed and I knew we would be successful."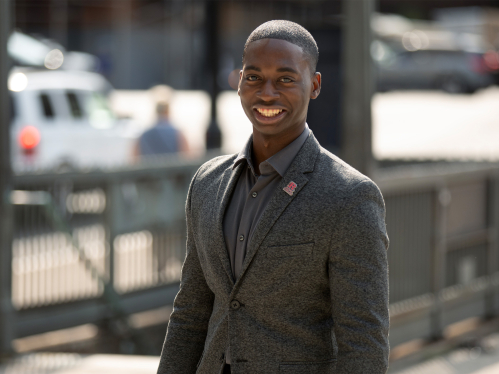 Veronica Delmonte
School of Social Work Class of 2021
Rutgers-New Brunswick
Addiction counselor in New York City
"Rutgers Future Scholars offered me the emotional support and connection that I needed, and reminded me that I was not alone, my journey is my own, and this was where I was meant to be regardless of the obstacles."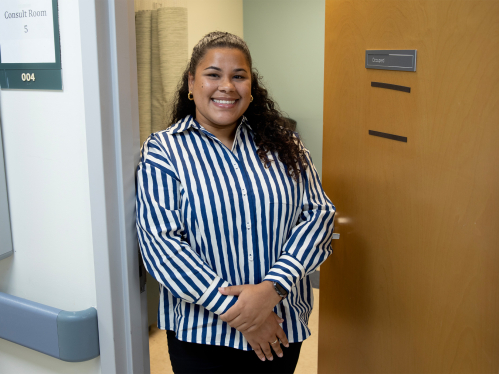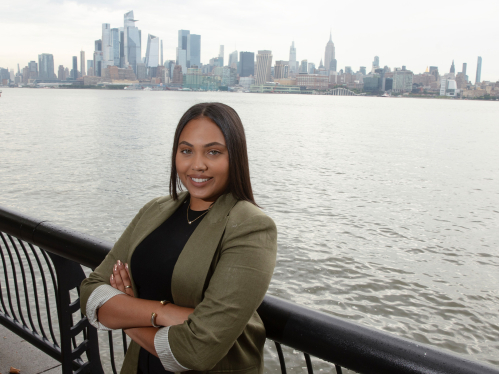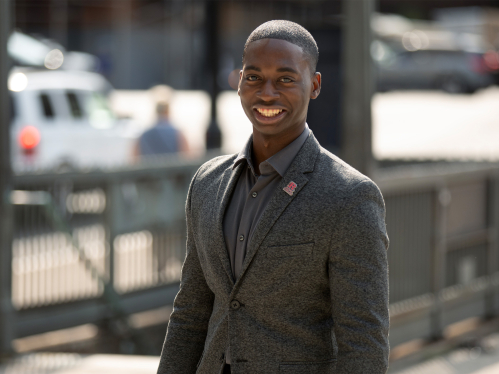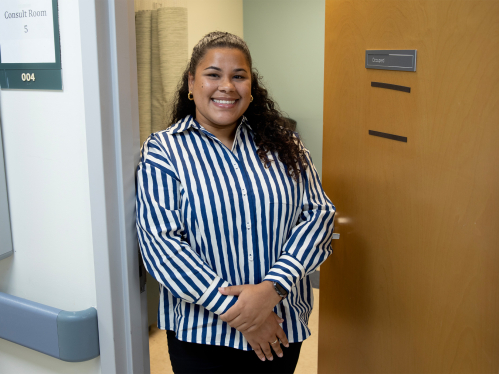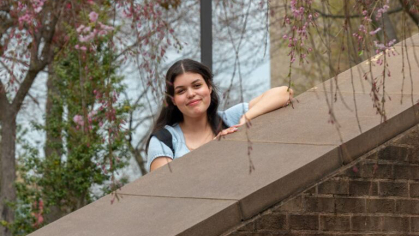 Follow Esmeralda Diaz-Calderon, a 2023 Rutgers University-Camden graduate and a Rutgers Future Scholar, through a day of her student life.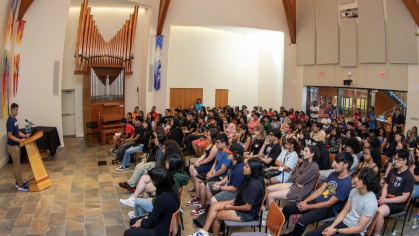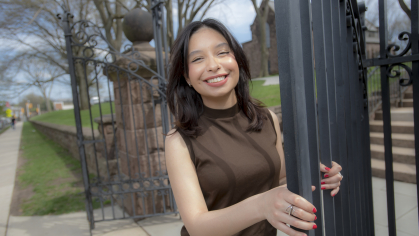 Social work graduate Valentina Gil is an advocate for immigrant rights and educational equity.
Stories written by Lisa Intrabartola, Robin Lally and Sam Starnes
Photos by Nick Romanenko and John Munson
Published Sept. 12, 2023
For media inquiries contact Dory Devlin at dory.devlin@rutgers.edu or Lisa Intrabartola at lisa.intrabartola@rutgers.edu