Social work student Valentina Gil is an advocate for immigrant rights and educational equity
Growing up as the daughter of Colombian immigrants, Valentina Gil thought a college degree was out of reach even though her mother stressed the importance of higher education.
But Gil was able to accomplish what she once thought would be an impossible dream. With the help of Rutgers Future Scholars, which provides mentoring and services starting in middle school and a full scholarship to college, Gil will earn her undergraduate degree in May and work toward pursuing a master's degree in social work.
"It would have not been a financially viable option for me," said Gil, 21, who graduated from Piscataway High School and has dedicated her time at Rutgers University-New Brunswick over the past four years to helping others like herself.
"I'm a Latina woman in spaces that were not originally designed for me," Gil said. "It gives me this inherent responsibility to show other people in my position that it is possible. It is not a burden, but a privilege, to be this mentor for other students, to show them you can do it."
Gil's first visit to any university was the summer after seventh grade, when Rutgers Future Scholars brought her and other participants to the College Avenue campus. Each student received a $10 lunch voucher, which to Gil held more value than what meal it could buy. "These little things made us feel we could do things others were doing. That was really validating," she said.
The Rutgers Future Scholars program is open to first-generation, low-income, academically promising middle-school students from New Brunswick, Piscataway, Newark, Camden and Rahway. Students are selected to enter the program in the summer before eighth grade and participate in special events, support and mentoring through high school and college.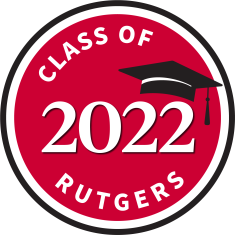 Gil remembers attending a workshop with her mother where Rutgers staff gave pointers about filling out the application for federal student aid. "My mom got very emotional that day," said Gil. "It wasn't even anything she said. It was really, wow, we're going to be able to get you to this higher place of education that we couldn't get to. It was gratitude."
Rutgers Future Scholars stayed with Gil throughout college, where she double-majored in social work and political science. She joined the program's dReam Team, which builds community for the scholars through activities and study nights. Gil received resume help from Zoe Makropoulos, a Launch Pad career specialist with the program. "It's this really strong network and support system," said Gil.
While working multiple jobs, Gil found time to be involved with many activities at Rutgers. She was scholarship chair for the Phi Alpha Delta International Legal Society and taught English as a second language through the Rutgers Bonner Leader Program, a network of students at 70 colleges and universities committed to community service and social justice. As co-president of UndocuRutgers, Gil drafted a proposal advocating for Rutgers to add an administrative position to serve the needs of undocumented students. Gil said the club's efforts resulted in an assistant dean position in the Dean of Students Office for the New Brunswick campus.
Gil also received the Rutgers-Eagleton Washington Internship Award, working with the Detained Children's Program of the Capital Area Immigrants' Rights Coalition. Working remotely because of the pandemic, Gil assisted with case management. "It opened my eyes to the arduous journeys that these migrants have to endure, and why they have to come to the U.S.," she said. "It showed me what struggles come with that lack of citizenship status. Everyone has a different level of privilege, and we have to use our privilege and act on it for those who don't have it."
Gil later became a mentor, helping young scholars as a summer ambassador after sophomore year, and then in a special position as an Accenture Ambassador the following summer.
"Spreading the knowledge to them was a humbling moment," said Gil. "It was a full-circle moment."
Aramis Gutierrez, director, Rutgers Future Scholars (RFS), said Gil embodies the program's spirit of community, compassion and action.
"Valentina has multiple passions guided by personal experiences which drive her to find the answers to some of the most pressing challenges of our time: immigrant rights and educational equity. Her achievements and involvement at Rutgers from UndocuRutgers and the RFS dReam Team, to her work at Eagleton, will leave a lasting impact on our university community and future classes of scholars.  She is an inspiration to us all, and especially to her RFS family," Gutierrez said.
Gil wants to study global policies that impact immigrants and work to alleviate larger macro issues through policy, research and advocacy. "Anything having to do with this population, I'm passionate about," Gil said.
Gil's mom, now single, works with a temp agency, doing factory and janitorial jobs. Gil's brother is 10. The trio was briefly homeless the summer before Gil's junior year, spending a week in a shelter. But despite the challenges she faced, Gil believes her story shows that it is possible to achieve goals that may seem unreachable.
"We all share this common feeling that we're going somewhere. We're slowly making progress as a family," Gil said. "I think it's important for me to be able to show others what can be accomplished.''