More than 500 graduating students participated in the 30th Annual Rites of Passage ceremony honoring Black and Latinx students from Rutgers-New Brunswick who, through resolute persistence, have successfully completed an undergraduate or graduate degree. Students from Rutgers-Newark have historically joined in the celebration and Rutgers-Camden will host their inaugural Rites of Passage ceremony on May 17.
"In a season full of rituals and traditions, the Rites of Passage ritual is as meaningful as it gets,'' President Jonathan Holloway said in a message delivered during Wednesday's pre-commencement celebration. "How could I not show up in some way? Congratulations to you and everyone who has supported you on this incredible journey. Today we show you how proud we are, but I hope you have known that all along."
Established in 1992 by Juanita Jones-Daly, Rites of Passage fills the need to provide a sense of community and belonging for Black and Latinx students and features distinguished speakers, live performances and the incorporation of African culture and traditions – specifically the culminating Kente Stole presentation. Often reserved for royalty, the Kente Stole presentation acknowledges that achievement is made possible by the support of family, friends and loved ones. This "passing of the torch" recognizes the contributions and sacrifices of ancestors on whose shoulders the current generation continue to stand in pursuit of their goals.
"Rites of Passage is a combination of endurance and perseverance of strength,'' said Keywuan Caulk, director of the Center for Social Justice Education and LGBT Communities and the chair of this year's Rites of Passage ceremony. "It's a display of all that we've had to journey through, for both staff and faculty, but especially students. This shows the village that it takes for us to get to this place of success and achievement. It's one of my favorite commencement ceremonies that we have at Rutgers."
The event also allowed the Rutgers African-American Alumni Alliance (RAAA) to present the Rites of Passage Graduate Scholarship, which celebrates the accomplishments of a graduating senior who will enroll in a Rutgers graduate program the upcoming fall.
"This is an amazing program and a great privilege to just celebrate our students and their moment,'' said Carlos Fernandez, director of the Center for Latino Arts and Culture. "I am looking forward to what this next generation of leaders will do to push us forward."
Check out highlights from the event as we continue to celebrate the Class of 2022!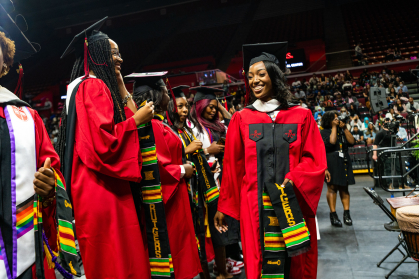 Students after receiving their Kente Stole.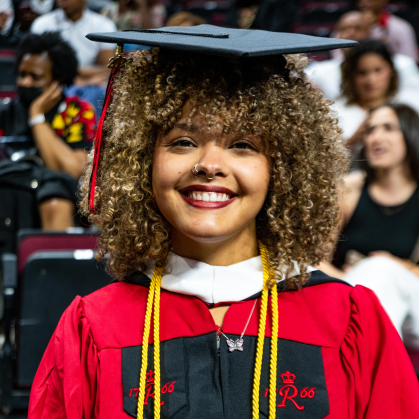 "I think we're all unsure about what's next. Whenever I need reassurance, there is this Bible verse in the Book of Esther: 'perhaps, this is the moment for which you are created.' Sometimes we have to remember that maybe this is the moment that we were made for, and this is the moment that was given to us where we're going to shine and prosper," said graduate Samantha Castro.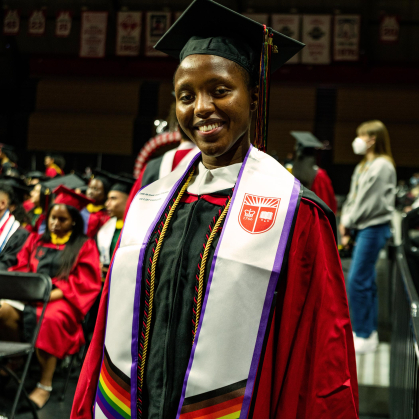 "I'm very excited. This is a great way that Rutgers celebrates diversity and everything good that can come from building community," said graduate Lindsay Genja.
What a fantastic afternoon @RutgersNB honoring the educational journey of our Black and Brown graduates at the 30th Annual Rites of Passage Ceremony👨🏾‍🎓👩🏻‍🎓🧑🏽‍🎓👨🏿‍🎓👏🏿👏🏽👏🏻👏🏾 pic.twitter.com/KC9Tb7auvg

— Salvador B Mena, PhD (@sbmena1) May 12, 2022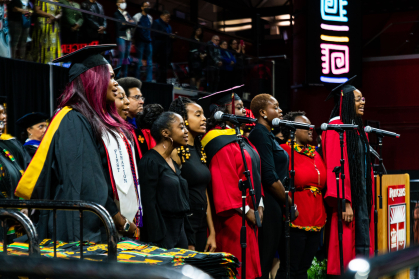 Liberated Gospel Choir singing the Black National Anthem.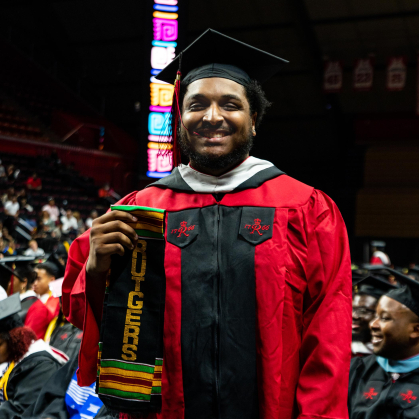 "To be part of Rites of Passage is a once-in-a-lifetime experience. From the spoken word to the music and the presentation of our stoles, it was a day I will never forget. I was proud to be surrounded by my community in celebrating all we have accomplished during our time at Rutgers. I am forever grateful to all of those who had a hand in putting this together," said graduate Marselis Middleton.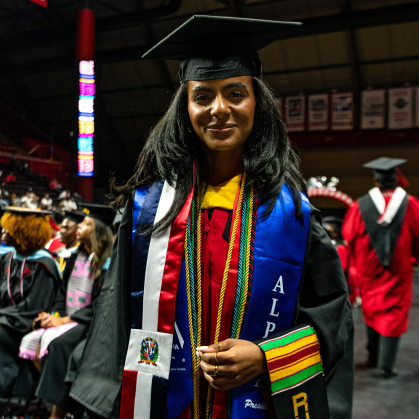 "I'm feeling empowered. I'm feeling alive. I love this celebration. I love what this stands for. Not only for me, but for my community. I'm happy to be surrounded with people that share the same passion that I do and have fought so hard to be in these spaces, being empowered by their ancestors," said graduate Susan Badia.
Thrilled to have celebrated with the amazing @RutgersNB Black & Latinx Graduates of the #RUClassOf2022 in the 30th annual #RitesOfPassage Ceremony!! @AnnaBranchPhD @jrobinsonphd @JoanCollierPhD @prccrutgers @RUDiversity pic.twitter.com/fMOOvtO3oB

— DrHazel-AnneMJohnson-Marcus (@DrJohnsonMarcus) May 12, 2022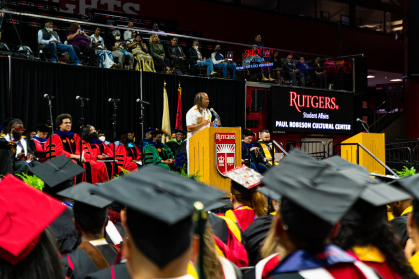 Bill Davis, professor of Africana studies, offering the libation.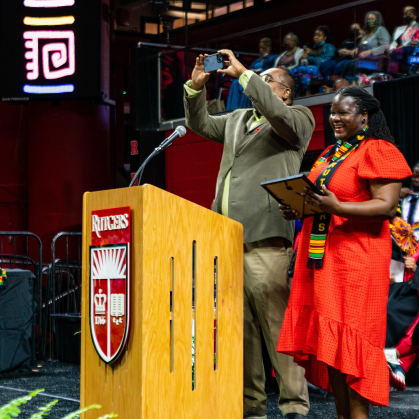 Denniston Bonadie, professor of Africana studies, presenting the 2022 RAAA Rites of Passage Graduate Scholarship and taking a photo of the graduates.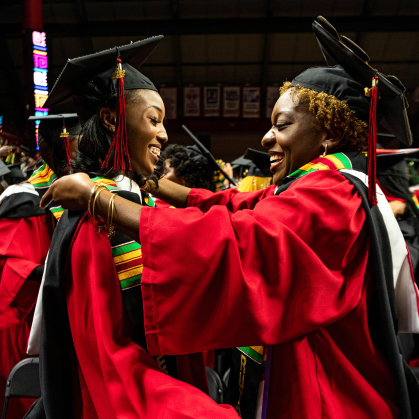 Graduates drape each other with their Kente Stoles in a celebration of community and togetherness.
1 ceremony of 4 - Rites of Passage on the road to graduation from Rutgers✔️✨🍾👩🏽‍🎓 pic.twitter.com/beFNFbvn2v

— Comadre D ☁️💞 (@yafavcomadre) May 11, 2022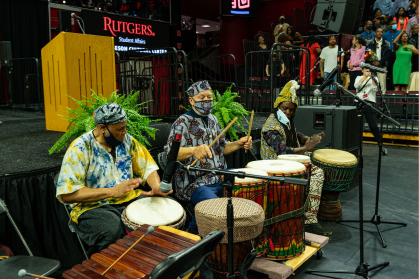 Victor Marshall Hand & Drum Ensemble provided music during the procession of graduates as well as throughout the ceremony.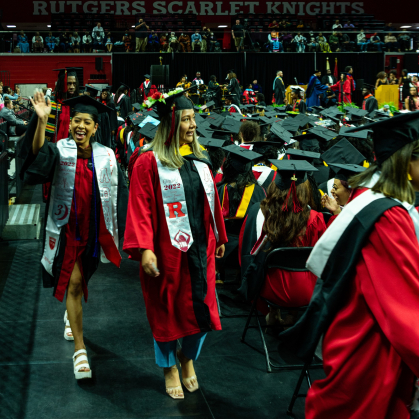 Students before walking across the stage to receive their Kente Stoles.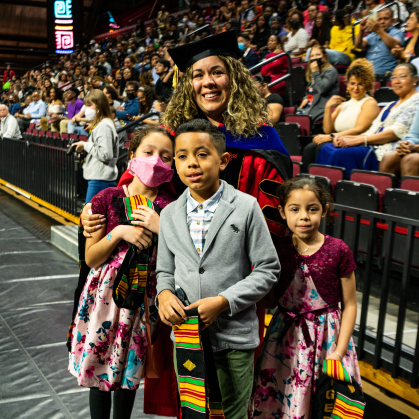 "Today's so important. It's taken me 11 years to get my Ph.D. in history. I want to thank my family who has supported me this entire time, my community and my students at Bard High School in Newark," said graduate Jazmin Puicon.