Groundbreaking program marks 15 years putting college within reach for underserved students
Wearing a red Rutgers Class of 2032 shirt, Madison Williams listened intently as more than a dozen Rutgers University graduates and students took to the stage at a recent event to share advice with the rising eighth grader and her peers.
The speakers at Rutgers University-New Brunswick's Nicholas Music Center were all once like her, newly minted Rutgers Future Scholars about to embark on a long journey toward a singular goal: college graduation. Their presence sent a powerful message to the program's newcomer. 
"I thought, maybe, one day, that could be me on the stage," said Madison, an honor-roll student at Newark's Hawthorne Ave. Elementary School.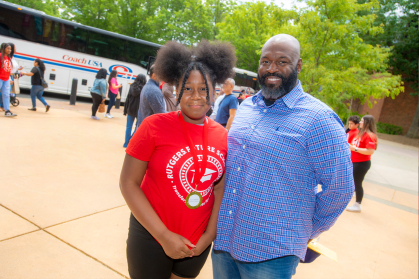 Now in its 15th year, Rutgers Future Scholars (RFS) has guided more than 3,200 underrepresented promising students like Madison from Rutgers' host cities – Newark, New Brunswick, Camden, Piscataway and, starting in 2016, Rahway.  The pioneering program for students in eighth grade through college graduation promises free access to higher education along with academic – and in many cases – emotional support. RFS operates within over 110 middle and high schools. Enrolling close to 70 percent yearly of its graduating high school seniors at Rutgers University while others attend other two- and four-year institutions.
The program, designed to remove the question of affordability for underrepresented students, was the first of its kind in the country and has served as a model for other universities. 
For several years, Rutgers has hosted ambassadors from the University of Michigan, James Madison University, University of Toronto and Louisiana State University and provided them with the blueprint to start their own programs. In tandem with robust financial aid programs including, RU-N to the Top, Bridging the Gap and Garden State Guarantee, RFS has made inroads into the communities where it was needed most.  
 
"Students, especially first-generation college students, must be given early access to spaces where they can receive support and feel empowered while on their academic journey," said Kimberly Brown, manager of Academic Programs for RFS at Rutgers University-Newark. "RFS has created these spaces on each Rutgers University campus allowing scholars, mentors, alumni and staff members to work together to successfully transition students from middle school through college."

For the next several years, the 215 students in the Class of 2032 will visit one of the three campuses for after-school, weekend and summer classes and the chance to immerse themselves in college culture. 
"This will become your home away from home for the next five to nine years," Kim Williams, director of the Rutgers Future Scholars program at Rutgers-New Brunswick, told the new scholars. "We want you to see your future as one that has college in it."
Over five years, scholars gain skills in public speaking, digital storytelling, workplace communication, and resume and college essay writing designed to ease their transition to higher education during many campus visits.
"We are honored to be able to help students develop the crucial communication skills they will need in whatever their field of study and whatever their futures hold," said Lynda Dexheimer, executive director of Rutgers Writing Program and director of Diversity, Equity, and Inclusion, who oversees the summer institute at Rutgers-New Brunswick. "We want to provide a sustaining rich curriculum so students can have confidence as scholars the minute they step into a college classroom."
The formula has been a rousing success, with 98 percent of active RFS students graduating from high school, and 90 percent of them enrolling in college the fall after graduating.   
"Rutgers sits right in these communities and many of our scholars say, 'I never thought I could enter those gates. I never felt I belonged there,'" said Williams, a Rutgers alumna, who like many in RFS was an Educational Opportunity Fund student and the first in her family to graduate from college. "We want them to say, 'That's where I belong. That's where I fit in.'"
RFS is the brainchild of Courtney McAnuff, vice chancellor for Enrollment Management at Rutgers-New Brunswick, who developed the idea after the issue of enrollment from the university's host communities came up at a Board of Governors meeting. 
"I went home and wrote a pie-in-the-sky concept, never dreaming it would go past that," he said. "That's when the economy was falling off the table, people were getting laid off, state budgets were being cut. I went into [then Rutgers president Richard L.] McCormick, and he said, 'This is a great idea, let's do this.'"
A few months later in the summer of 2008, the university welcomed its first cohort of incoming eighth graders.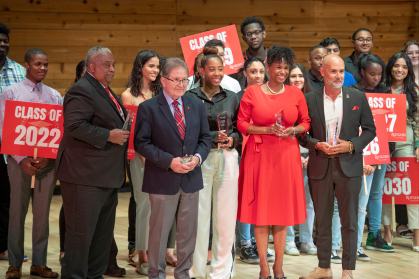 "I would say in those first couple years, it felt like we were building and flying the plane at the same time," said Nyeema Watson, senior vice chancellor for strategy, diversity and community engagement at Rutgers University-Camden. Watson's office is filled with the faces of scholars past and present. Like all RFS staff, Watson keeps in contact with many scholars and their families – not just while they are in the program, but long after graduation, attending weddings, celebrating children's births and new jobs. Sometimes, that means helping scholars who drop out of the program dust themselves off and try again.
"We have a saying: Once a scholar, always a scholar," said Watson. "The secret sauce of the program is that sentiment. Once we get you in the fold of RFS, we will not leave you. We're going to give you our phone number. We're going to follow up with you and make sure you get reconnected. We built more than a program, we built a family."
For Tiffany Nwafulume, who is about to graduate from Piscataway High School, RFS is "like a second family." Her older sister, Michelle, the first to enter the program, graduated in 2020 from Rutgers-Newark. Tiffany plans to explore computer science at Rutgers-New Brunswick starting in September. The sisters' twin siblings, Adrianne and Audrey, are part of the RFS Class of 2031 cohort.
"Being in this program has been a blessing," said Tiffany. "When I was younger, I wasn't really on top of my work. My family pushed me, and RFS taught me how to be more on top of things, which will help me with my future."
Her sister, who recently graduated from nursing school, returned to Rutgers last week to encourage the incoming scholars with her success story. A career as a nurse is something she said she never would have imagined for herself before RFS.
"Going back to my 7th grade self, I was shy and didn't know what the future held. RFS definitely opened up new doors for me," Michelle said. "It helped me meet new people and see there are people in your corner, and how far you can excel with that support system. Even after graduation, Ms. Kim [Williams] is always checking up on me."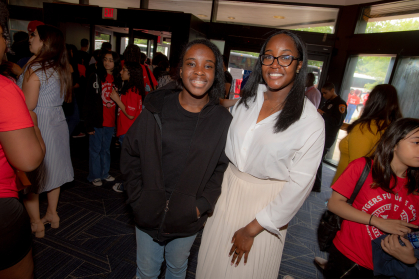 When their mother, Chinyere Nwafulume, first learned about the program, she said she didn't know what to expect. The mother of four, who emigrated to Piscataway from Nigeria, said the RFS experience has been life-changing for her family.
Like Michelle, RFS alumni have gone on to work as nurses, lawyers, computer scientists, neuroscientists and EOF counselors and have become Fulbright Scholars and graduate students at Princeton, Harvard and Columbia Universities. 
"RFS is a huge help financially, and it increased my daughters' confidence and gives them opportunities to grow in every way. I see what I've instilled in them coming alive," Chinyere said. "We have a saying where I'm from: It takes a village to raise a child. I consider RFS part of our village, and I do not take them for granted."