When Chris Tsakonas started watching sports growing up, it wasn't the game or players he found most intriguing – it was the voices narrating its action and telling their stories.
His family wasn't heavily into sports. But he was drawn into watching the 2010 World Cup, when the United States soccer team advanced to the Round of 16 with New Jersey native Tim Howard as its goalkeeper. Around the same time, the NHL's New Jersey Devils and NFL's New York Jets were also experiencing success, capturing viewers from around the Garden State.
Each time Tsakonas tuned into a game, he found himself listening as much as watching.
"Little by little I got the sports bug, because I was fascinated by the broadcast and the announcers calling the games," said Tsakonas, who later joined his high school paper, reporting on the West Essex athletics teams, coincidentally nicknamed the Knights.
Really what I do at the end of the day is tell stories. I have been very fortunate with support systems at home and at Rutgers that help me to do it.

Chris Tsakonas
The idea of doing live play-by-play and analysis came to him soon after arriving at Rutgers when he attended the annual student involvement fair sponsored by Student Affairs.
"I was a fish out of water, in my first weekend at college, doing things on my own for the first time," Tsakonas said. "I was walking down College Ave., hooked a left onto Morel Street, and saw WRSU. I had no idea what it was. A month later I was producing games."
Tsakonas's first live game was as a football sideline reporter, and his initial play-by-play call was during a men's basketball victory over Boston University. He became the primary WRSU voice for the men's lacrosse team and was a fixture during men's basketball's unprecedented run that saw the team earn three NCAA Tournament bids and receive two.
"To call so many men's basketball games – and so many 'big' games – over the last two years means a lot," said Tsakonas. "I was calling the senior day game against Penn State back in March and I'm not a very emotional person, but it was hard to get through the end of that broadcast."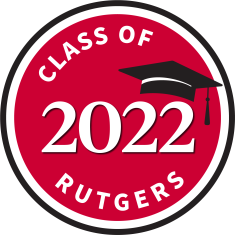 The sports director at WRSU, Rutgers-New Brunswick's student-and faculty-run radio station, for the past two years and a sports reporter with The Daily Targum for three, Tsakonas received more than a crash course in the process; he cannon-balled off the high dive. The COVID-19 pandemic created an uncertain landscape and challenged WRSU's students to find solutions for problems which even the most veteran of professionals lacked precedent.
"We got word pretty soon after the Big Ten Conference reinstated the 2020 football season that we were not going to travel," said Tsakonas. "It was disappointing, but understandable. We were still going to call those games, though."
To accomplish that goal, Tsakonas and broadcast administrator Mike Pavlichko created a socially distanced setup that featured two desks spaced 10-feet apart from a 40-inch television screen in a studio previously utilized for call-in shows. Microphones were replaced with headsets, a workable but imperfect solution without the natural sound essential to live broadcasts. A fake crowd noise file played in the background to help fill the void.
"There's no good option in that scenario, but that was the least bad option from an engineering perspective," said Tsakonas. "That's how I called the 2021 Big Ten Men's Basketball Tournament and the NCAA Tournament, when we were finally able to get an audio feed from the production truck. It sounded like we were courtside even though we were 1,000-miles away."
The reward for overcoming those challenges exceeded the numerous highlight clips that now adorn his resume reel.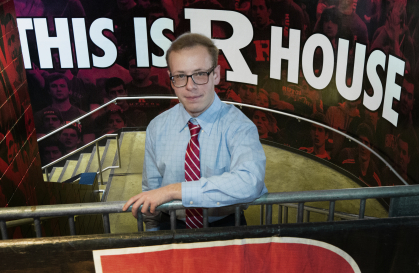 While Tsakonas, who will graduate with degrees in Journalism and Media Studies and Economics, has interned with SiriusXM NFL Radio and freelances for Central Jersey Sports Radio and Compass Media Networks, sports talk radio stations were not among the channel presets in the family car when he was growing up.
His father emigrated from Greece and worked in telecommunications, while his mother served as a Jersey City schoolteacher. Tsakonas and his twin sister, Maria, would see their dad casually watching European soccer or the NBA playoffs, but banter over major league batting averages or NFL Draft grades never entered family discussions.
Yet, there they all were during their family vacation to Florida in May 2021, listening to Tsakonas provide the play-by-play for a men's lacrosse game via a makeshift setup as the team returned to the NCAA Tournament after a 17-year absence.
"No one else who knew the team was available, so I took the station's sideline kit and called the game remotely off a TV in the master bedroom," said Tsakonas. "It was the first and, so far, only time that I did a game from a home studio."
Rutgers lacrosse won 12-5, its first NCAA Tournament victory in 31 years, as his family watched in the adjacent living room, where they had muted the national television broadcast and listened to WRSU's audio as they watched the game.
Looking ahead, Tsakonas welcomes the grind associated with the exhilarating and work-intensive world of sports broadcasting. After an internship with New York City Football Club broadcaster and former Rutgers women's soccer coach Glenn Crooks, he was recently hired by the team to deliver its halftime and postgame radio reports.
His dream job is to do play-by-play for a major league team in any sport, or to serve as the basketball or football voice at a major college. There is more than enough precedent to achieve this goal, with WRSU alums such as Rich DeMarco, Neil Solondz, Erica Herskowitz, Steve Cofield and Zubin Mehenti realizing success in sports broadcasting.
"Really what I do at the end of the day is tell stories," said Tsakonas. "I have been very fortunate with support systems at home and at Rutgers that help me to do it."