A 15-year-strong visual arts initiative in Newark blossoms in an unexpected location – a Rutgers medical school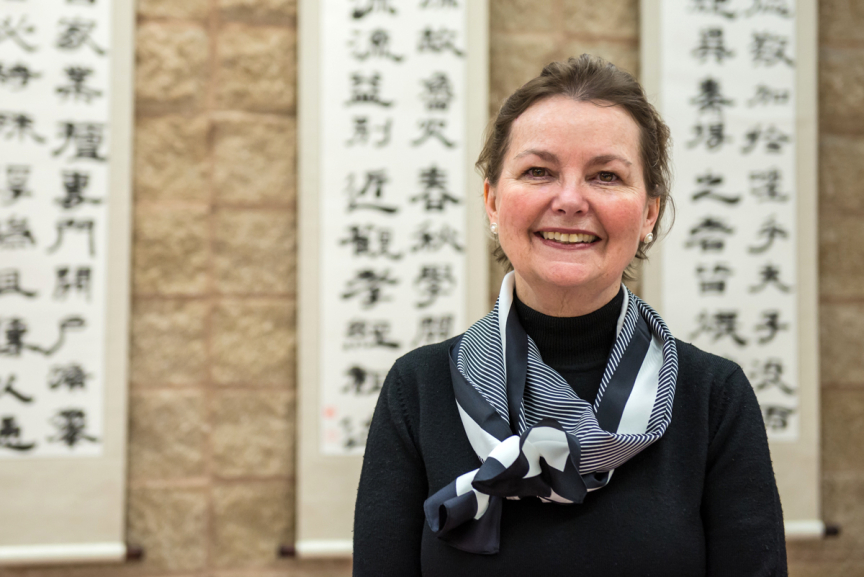 'The shows foster such a sense of community here in Newark. I love how these exhibitions bring people together in the name of art.'
–Noreen Gomez

 
Noreen Gomez, the facilities program specialist at New Jersey Medical School, has taught her colleagues how to make a bleak-looking and sterile maze of classrooms and lecture halls come alive with creative expression. Simple: Invite anyone who desires to show off their artistic talents to fill the walls.
The results have spoken volumes about how many talented artists are camouflaged as students, health care providers, academicians and business and professional staffers. Even a few art careers have been launched.

Gomez is the "curator" for the New Jersey Medical School community, despite personally claiming to have "no art talent at all." For the past decade, she has nurtured what has become one of Newark's most thriving arts initiatives: New Jersey Medical School Arts, a yearlong exhibition series showcasing hundreds of amateur and professional artworks created by the community at Rutgers Biomedical and Health Sciences as well as members of the Greater Newark community it serves.

NJMS Arts now consists of three four-month shows filling the calendar year, featuring creations ranging from paintings and photography to sculpture, jewelry and textiles throughout the medical school's walls and common areas.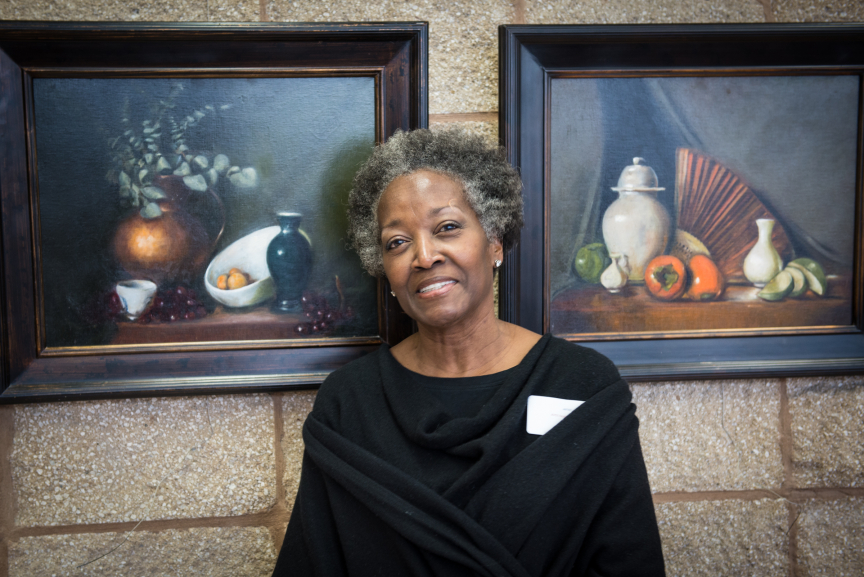 It's come a long way from a nearly obscure start. NJMS Arts began in 1999, with a one-week Spring Art Festival launched by Ernesto A. Amaranto, a psychiatrist at University Behavioral Health Care, to showcase the talent on the Newark campus, then eventually expanded into a six-week Fall Arts Festival.

"The school looked bleak when the art came down and the walls were empty," Gomez explains. "Many of the artists were interested in having their work up for longer periods of time, so I started inquiring if certain people would donate pieces to fill a whole wall at a time."

Shortly after the program moved to the fall in 2007, Gomez began transitioning the program to a year-round event. NJMS Arts soon blossomed into its current three-show structure: the National Arts Program (January-April), which is part of a national initiative to showcase employee and community art in the workplace; the Collaborative Art Exhibition (May-August), which displays works from four arts organizations serving the disabled community; and the Fall Arts Festival (September-December), which features the Rutgers community, their families and the public.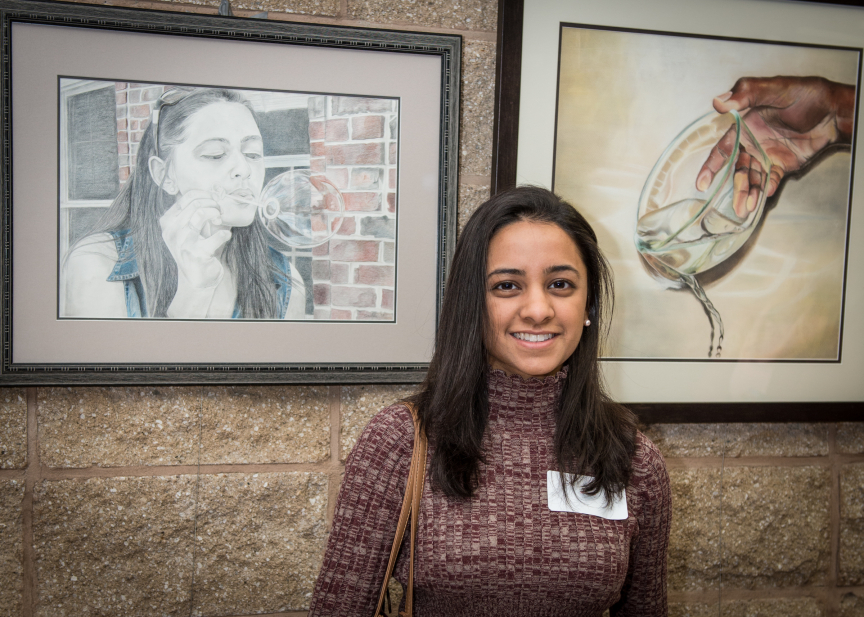 The upcoming Collaborative Art Exhibition at the Medical Science Building in May will spotlight works from disabled artists at the Matheny Medical and Educational Center's Arts Access Program in Peapack, the WAE Center of Jewish Service for the Developmentally Disabled in West Orange, the Arc Mercer in Ewing and the Hattie Larlham Creative Arts Program in Twinsburg, Ohio. "It's Hattie Larlham's third year exhibiting with us," Gomez says. "They learned of the exhibition through Matheny. They ship their paintings to us and then framers from Matheny come out and hang the art from both organizations."
Each show hosts pieces by approximately 120 artists, a number that continues to grow as word spreads. "Artists come to the reception to see what we're all about," Gomez says. "Then, they approach me to see how they can get involved next time. In the last exhibition, we had 80 new artists."

Working with the artists is Gomez's favorite part as director, especially seeing how the talent develops through the program. "I discovered that in the medical field there are a lot of artists – anyone who has to pay attention to keen details, like medical practitioners, is inherently an artist," she says.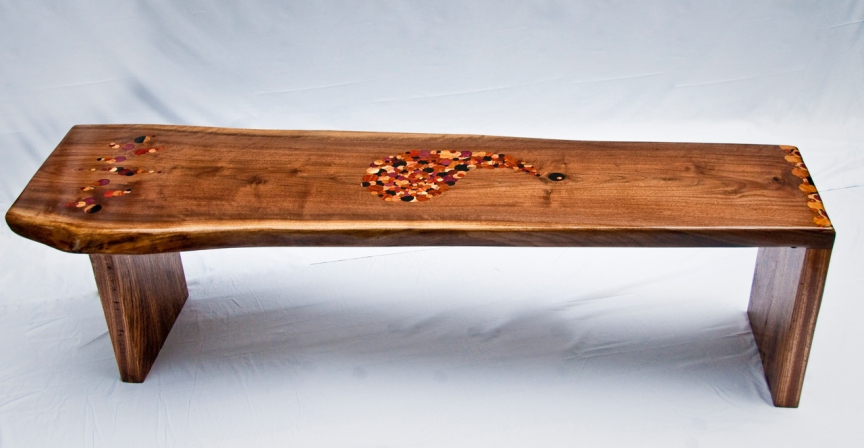 Barry Kreiswirth, who has participated in two exhibitions, is one such example. Director of the Public Health Research Institute and Tuberculosis Center by day, in his off-hours Kreiswirth is a skilled woodworker and furniture designer who sells pieces on the online artisan marketplace Etsy and at gallery shows, but mostly gives them away as gifts. "NJMS Arts is a great vehicle for the university," he says. "There are a lot of talented, passionate artists, and this is a perfect venue to let people know about them and give them recognition and feedback."

"The shows foster such a sense of community here in Newark," Gomez says. "It gives people an opportunity to see another side of their coworkers. I love how these exhibitions bring people together in the name of art."

Shepherding an arts program is a fitting progression for Gomez, one of seven children who grew up in a household steeped in art. "My parents always had art in the house and took us to museums. My mother started painting watercolors after she retired, and my older brother became a professional artist. I was always amazed by what he could do with just a piece of paper," she says. "It's wonderful that I am still filling the space around me with art – just now it's at the office."
---
Members of the media who are interested in learning more about New Jersey Medical School Arts can contact Iveth Mosquera at 973-972-1216.