Rutgers is only state university nationwide to have two scholars this year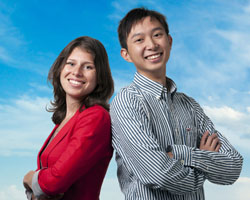 Two Rutgers University seniors are among 39 students nationwide to earn prestigious scholarships funded by the Bill and Melinda Gates Foundation to pursue graduate studies at the University of Cambridge in the United Kingdom.
Established in 2000, the Gates Cambridge Scholarships cover all fees and living expenses for a student's full-time master's or doctoral studies at Cambridge, one of the oldest and most esteemed universities in the English-speaking world. Counting this year's awards, Rutgers claims eight Gates Cambridge scholars since the program began.
This year's scholars are Devinn Lambert of Howell, N.J., majoring in biotechnology in the university's School of Environmental and Biological Sciences, and Kelvin Mei of Flemington, N.J., majoring in physics in the School of Arts and Sciences. Both plan to pursue Masters of Philosophy degrees at Cambridge, Lambert in plant sciences and Mei in physics.
Rutgers is the only state university to have two of its students selected this year. Only Harvard and Princeton universities exceed that number, while only Stanford and Yale universities match it.
"These students have excellent academic records, research achievements on our campus and abroad, and the respect of their instructors, mentors and fellow students," said Arthur Casciato, director of Rutgers' Office of Distinguished Fellowships. "They demonstrate how Rutgers students can be competitive at the highest academic levels in the country."
The students are no strangers to academic honors, as both earned Barry M. Goldwater Scholarships last year for excellence in mathematics, science and engineering.
Each student's award for the nine-month master's program is expected to be worth about $38,000.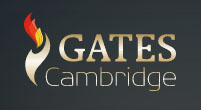 Competition for Gates Cambridge Scholarships is intense. Out of 769 applicants, the foundation interviewed 83 students for this year's 39 US awards. The foundation expects to offer 50 more scholarships to university students worldwide later this year.
Casciato notes that seven of Rutgers' eight Gates scholarships have been awarded in the past five years, reflecting the university's efforts to identify qualified students early in their studies and guide them in pursuing advanced academic and service opportunities. Lambert was also a Marshall Scholarship finalist and Mei was a Fulbright Grant finalist, and Casciato believes their Goldwater scholarships enhanced their standings with these exclusive programs.
About the students
Devinn Lambert approaches graduation from Rutgers with highest honors and more than three years of biotechnology research experience. She looks forward to getting more biochemistry and laboratory experience next year at Cambridge, where she will genetically engineer green algae to boost the amount of biofuel it can generate.
After completing her study at Cambridge, Lambert plans to pursue a doctorate in microbiology with a focus on synthetic biology and biofuels.
Lambert is currently doing a senior honors thesis, examining how an antibiotic compound may be a potential chemical signal for communication among bacteria as opposed to an agent to kill bacteria.
"My mentor gave me the opportunity to pursue independent research," she said. "I identified my area of interest and set the research objectives. "It makes me confident that I want to continue to do research at the graduate level."
She began her research at Rutgers through the university's Aresty Research Center genetically modifying a bacterium that has potential as a biological pesticide. The following summer, she initiated a 10-week research program with Singapore's Agency for Science Technology and Research after learning of the country's extensive investment in scientific development. Her research there involved testing drugs that promote the division of neural embryonic stem cells. Four other Rutgers students have since conducted research under that program and Lambert is hopeful that other students will continue to follow her lead after she graduates.
Her service work includes tutoring minority students in organic chemistry and working with the New Jersey government to increase partnerships between scientific industries and academia. She is a resident assistant in a residence hall for women in science and is president of Designer Genes, a professional development biotechnology club.
Lambert credits Rutgers for providing options and opportunities to excel in the sciences. "I would not have been able to accomplish this without the institution's support," she said. "Rutgers has a diverse group of students and faculty and the large size of the university lets students become engaged in many different ways."
Kelvin Mei conducted research in high energy physics last summer at CERN, the European Organization for Nuclear Research, in Geneva, Switzerland. His work involved detecting the decay of a subatomic particle more efficiently, thereby helping physicists determine that particle's mass more precisely. At Cambridge, he will help design and run simulations on an instrument that will measure the energy of subatomic particle collisions in a proposed next-generation linear particle accelerator.
Mei completed a study abroad semester at the Hong Kong University of Science and Technology last year. Approaching graduation with highest honors, his senior year research involves looking for exotic particles that form during subatomic collisions in CERN's Large Hadron Collider.
"Rutgers has one of the best programs for undergraduate research," said Mei. "The professors believe that undergraduates can do actual hands-on research, and they motivate their students to excel."
Mei is involved with the Rutgers Children's AIDS Network, a campus organization affiliated with the Robert Wood Johnson AIDS Program to raise awareness and support in the fight against AIDS. He raises funds to provide medication for children being treated for AIDS at Robert Wood Johnson University Hospital, and advocates AIDS awareness and testing among Rutgers students.
Mei plans to pursue a doctorate in high energy physics when he completes his study at Cambridge.
Media Contact: Carl Blesch
732-932-7084 x616
E-mail: cblesch@ur.rutgers.edu