After Rutgers and New Jersey gave Leia Rispoli what she wanted, the former academic soccer all-star embarks on medical residency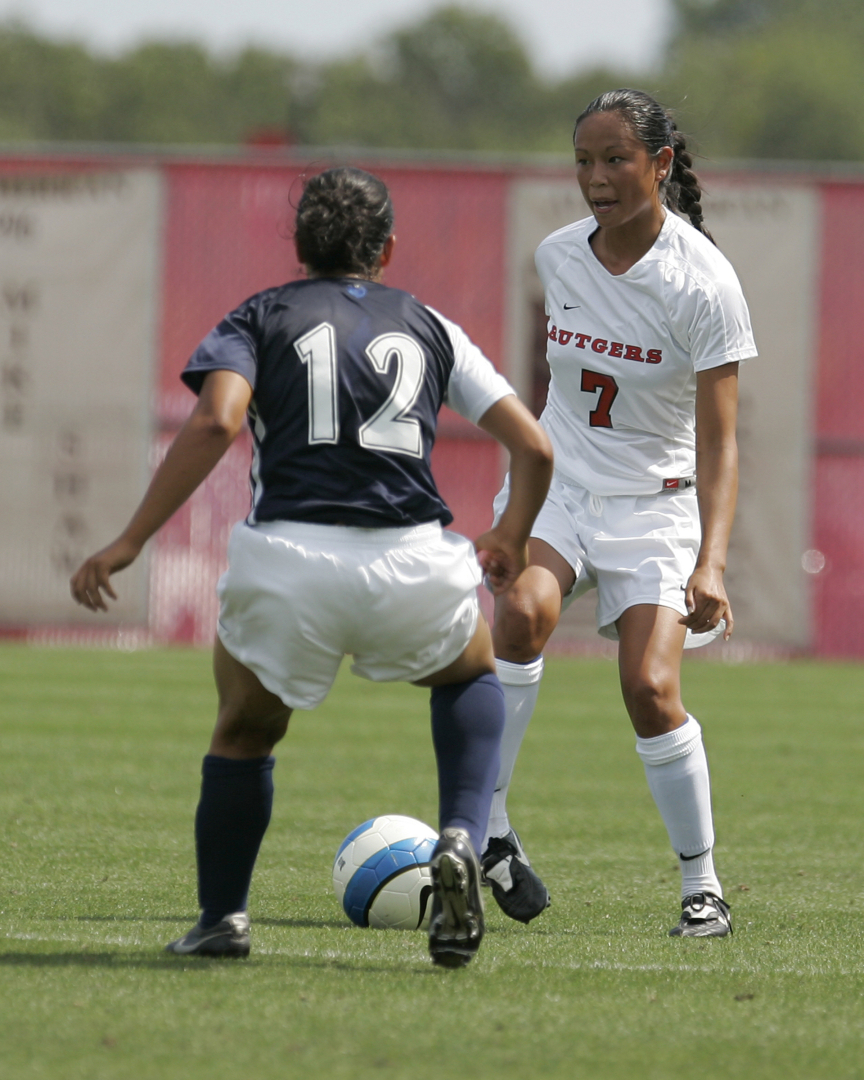 'I had this gnawing feeling that I didn't give pre-med enough of a chance.'

-- Leia Rispoli 
When she was accepted to veterinary school at the University of Pennsylvania, Leia Rispoli was less excited than one might expect.  She knew that down deep, she remained torn between a career treating animals and one treating people.
"I had this gnawing feeling that I didn't give pre-med enough of a chance," Rispoli remembers.
Rispoli called a personal timeout. She deferred enrollment in veterinary school for a year so she could make a more comforting career decision.  In that time away from the classroom, she shadowed doctors, volunteered at hospitals and worked in a research laboratory at a pharmaceutical company. 
It turned out to be a life-altering experience that focused the former soccer standout squarely on medical school, specifically New Jersey Medical School (NJMS).
Rispoli, 27, graduated from Rutgers NJMS this month and is preparing for her residency at New York-Presbyterian Hospital Columbia and Cornell Residency Program in Physical Medicine and Rehabilitation – just a few miles from her Hoboken home.
This time, however, the acceptance news triggered tears of jubilation.
"After I had taken the year off, I felt so relieved and excited that I was accepted into the program that I wanted most and so close to home and my family," said Rispoli, who had canceled interviews for residency opportunities in Boston and Pittsburgh because she longed to remain in or close to New Jersey to continue her medical career.
Rispoli's connection to Rutgers extends from her undergraduate days, which she relates to her love of New Jersey and her family roots.  Born in South Korea, she grew up in South Brunswick yearning for a quality college education in New Jersey that offered an opportunity to play Division I soccer.
"I wanted to play for my state and be close to home," says Rispoli.
She majored in animal science and played soccer four years, serving as the Scarlet Knights' women's captain as a senior while earning Big East Conference academic all-star honors each year.
After the veterinary school near-miss, Rispoli's commitment to her home state also led her to pursue New Jersey's oldest medical school.  "I applied early decision to NJMS. I wanted, again, to stay local. Plus, NJMS has a good reputation for serving a very distinct population in Newark, which I thought would be very beneficial for me," Rispoli says. 
Reflecting back, Rispoli also says that playing soccer laid the groundwork for knowing how to address the stresses that often confront medical students.
"The first thing I think of is how tiring and demanding it was," she says of her soccer-playing years. "I feel like I had way more free time in medical school than I did in college. The demands to perform every season, physically and mentally, prepared me a lot" for the rigors of medical school.
Rispoli boasts of a deep commitment to her family and a strong sense of pride in her unique background. She was adopted as a three-month-old by an Italian father and Jewish mother and grew up in an interracial family, which also includes an older brother. 
She smiles when she explains that her Asian looks, coupled with the name Rispoli, often invite questions about her heritage. "I always have to get into this in-depth story, but I enjoy it. It's something I'm proud of," she says.