Student Success Coach Office Helping Students Bring Their ''A'' Game
Camden resource helps ensure that "no one slips through the cracks"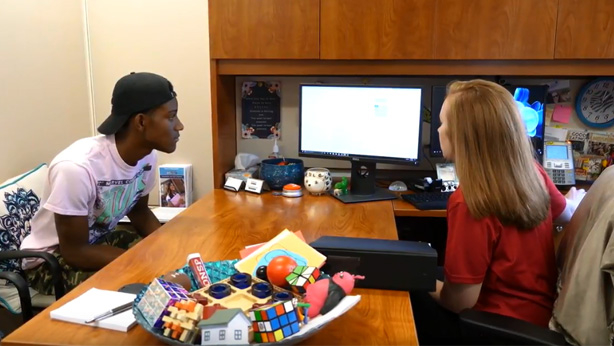 ''We know that students who are well-connected to someone on campus are more likely to remain in school. This is our way of ensuring that no one slips through the cracks."

 

– Kendall Depew
Sayyid Watson knew he needed advice.
As a first-year student at Rutgers University-Camden, Watson was faced with new decisions like what classes he should take, how he should manage his schedule and even when to wake up and eat breakfast.
"You become aware that you are much more in charge of your day," says Watson, a sophomore pre-engineering major, with plans to continue his studies at Rutgers University-New Brunswick.
The transition to college life can be stressful for many first-year undergraduate students, who often find themselves overwhelmed by the variety of opportunities and paths open to them at Rutgers. The Student Success Coach Office at Rutgers-Camden seeks to reduce the burden of planning on students by helping them set goals and identify key resources to help drive academic success.
Since learning about the services provided during his first days on campus, Watson has been working collaboratively with his personal success coach Kendall Depew, the associate director of the office, to set realistic goals, identify ways to build his skills and access resources and take steps toward fulfilling his objectives.
Since the 2017-18 academic year, the office has provided one-on-one coaching to incoming first-year students not already receiving services through other groups or programs on campus. Currently, more than 450 students benefit from the office's services, with the total expected to climb to more than 600 by next academic year, according to Depew.
"We know that students who are well-connected to someone on campus are more likely to remain in school," said Depew, who earned her BAfrom Rutgers-New Brunswick and an MSW at the University of Southern California . "This is our way of ensuring that no one slips through the cracks."
For many students however, getting help from the right resources on campus is only half of the adjustment process. Finding a personal connection to a mentor who will try to understand a student's needs and concerns is an important part of reaching success.
Watson recalls that from the earliest days his coach was personable, laughed at all of his "corny jokes," and was willing to go out of her way to help make him feel at home at Rutgers-Camden.
Entering his second year, he is "100 percent more at ease" and he is looking forward to seeing how working with Depew changes his academic trajectory in the coming years.
As Depew sees it, it's important for student success coaches to show students that they can relate to their struggles. She goes out of her way to reassure students, especially those in their first year, so they know they aren't alone in feeling anxious, overwhelmed or scared.
"It's important for them to know that it's normal to go through some of the common ups and downs as they get adjusted to college life," says the Mount Laurel resident, who adds that she is not afraid to throw humor into the session and keeps up on all the latest trends so she can relate. "I try to remind them that, at one point – much longer ago than I'd like to admit – I was also in their shoes.''
For Watson, his success coach's focused and personable approach has translated into advice on a wide variety of issues.
"She pointed me in every direction," says the pre-engineering major, who recommends that other students seek out the office as well.  "If you want someone to talk to, a shoulder to cry on, or just want to know some great places to eat."
According to Depew, the primary goal of the Student Success Coach Office is for students to graduate in the shortest amount of time, with the least amount of debt and with an academic record and experiences of which they can be proud.
"A success coach works with students to help identify strengths and areas of improvement and then individualizes an appropriate plan and activities much like an athletic coach or trainer assesses an athlete and develops a training regimen," she says. "Whether you're experiencing challenges and need assistance getting back on track, or you simply want to maintain or improve your success, our coaches are here to help every step of the way."
---
A version of this story appeared on Rutgers-Camden News Now.